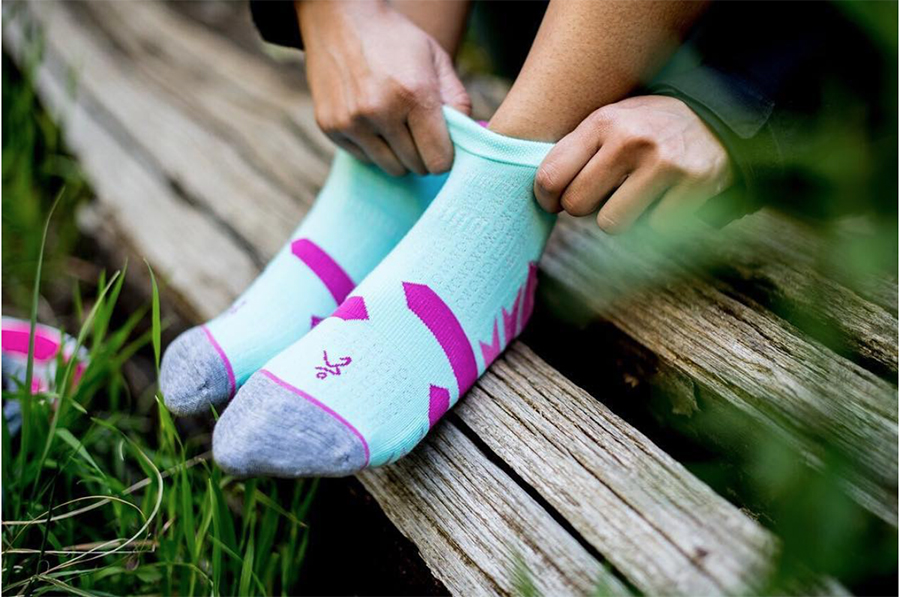 The only thing Balega chases is perfection. Creating socks that deliver fit, feel and performance with a long-standing tradition of commitment to quality and durability in every thread, seam and detail. 
Proudly made in the USA and South Africa, Balega running socks are hand-inspected and pre-washed before they reach the consumer. Super soft, rapidly wick moisture and made of fine, hi-tech performance yarns on a high-needle-count knitting machine, the socks are perfectly contoured to the foot from the moment you put them on, blister resistant and meet high-standards of sustainable packaging and manufacturing. In other words … Balega Socks Deliver.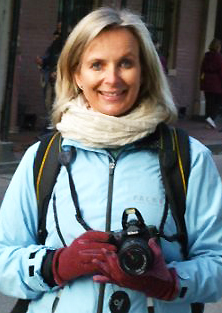 Tanya Pictor, VP sales & marketing, Balega, pictured left, shared with us the Balega difference.
—•—
We produce socks like shoes are produced. We lock in the heel, the mid-foot, and we leave the toes free to move. We can use up to three types of elastyane in our socks that offers the runner different types of compression in a really well-constructed running sock.
When we say that our socks are "made with the runner in mind," we really analyze what the runner needs, and we purposefully design socks with actual requirements in mind. There is nothing in the line that is a duplicate of anything else. Each sock style is designed for solution-driven purposes. This is the way we started Balega—designing socks that were different from other sock manufacturers—and that continues today.
We've always been proud of our giving back initiatives. We send boxes of socks to flood and hurricane victims worldwide. There is a given in business today that you should be giving back. For Balega, it is true to heart.
In the early years of the brand, it was just something that we wanted to do. Selling socks with a means to and end to be able to give back. As the business grew, more and more of our customers said that we should be talking about our philanthropy. It is not just giving boxes of product; we actively give back, from veterans in need to supporting breast cancer prevention.

This October marks our fifth year supporting Breast Cancer Awareness Month. We are offering a limited edition Grit and Grace Enduro Sock collection. With the mission of prevention in mind, Balega will donate $1 per pair sold to Breast Cancer Prevention Partners (BCPP).
We have three inspirational phrases embroidered into the toe of each brightly colored and uniquely designed sock—Be the Light, Courage Rules and Forever Forward. These phrases were submitted to us by Balega fans, inspired by people and experiences in their lives. The socks will be available at local running specialty stores and at Balega.com for a limited time beginning October 1.

Balega, historically, has had close ties to South Africa, and 80 percent of Balega production is still manufactured there. The factory used to be co-owned with Balega, but when we sold the business to Implus, the co-ownership was passed to them.
We are enjoying our partnership with Implus. It's been a benefit for both brands, putting us on another level completely. Our supplier agreements are beyond what you would normally receive with factories.
At the time we sold the brand to Implus, we needed more production, and having all of our production in South Africa was limiting our ability to open up more capacity in the U.S. We sold in order to free up capacity. Secondly, we were getting to a point in our business where we needed more investment. Implus is the strategic partner we were looking for to take the business further.
We have been very blessed in that we are are able to continue to run the Balega business as the brand. We are in a much bigger business, and we run it differently, but the brand is still very much upheld, and the brand is very much protected within the boundaries of Implus' business. It's been wonderful!
The Implus way is not always the Balega way, and yet we've been given great autonomy to run the business as we see it to keep the brand integrity in tact.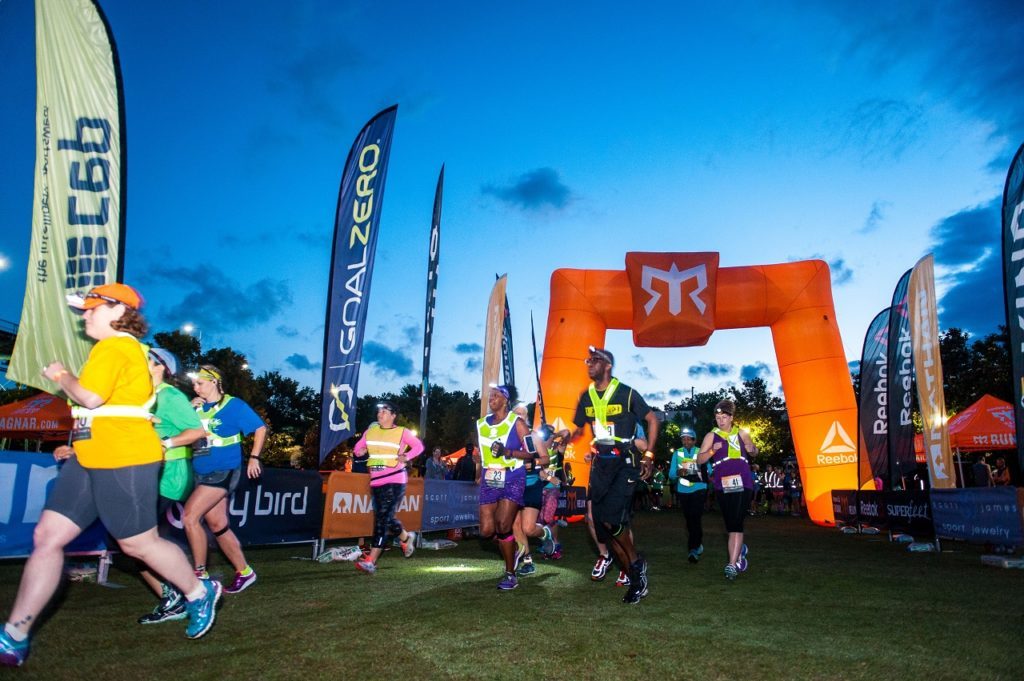 Balega is now part of the Ragnar Series, shown above. Trigger Point had a history with Ragnar, and it's been an interesting learning curve because a lot of our sales team selling product that will appear at the Series events did not know the brand Balega. We are new to the party and learning as we go. Balega does extremely well in the sell-thru at the races and is a community very close to what Balega stands for.
The Series has openly supported our Lesedi Program. For every pair of socks we sell through the on-site Ragnar shops at each race, they give 10 percent back to Lesedi, shown below.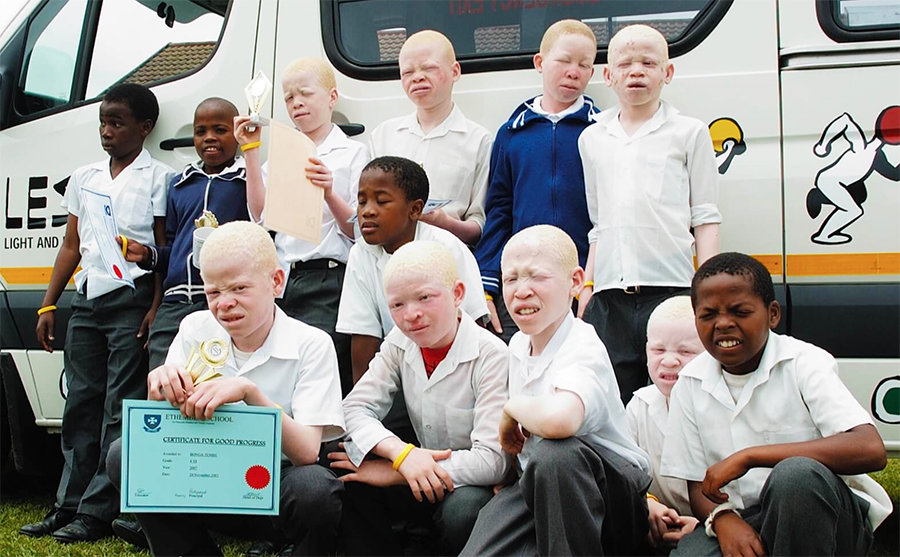 Is the customer different at the Ragnar events? Yes, it's very different than we are used to. Many of the race participants are not used to wearing proper running gear. Many are corporate groups coming to run as a team building exercise and are not seasoned runners. It's a completely new market for us. You would think because it's such a hardcore race, they would be prepared with adequate gear. The majority are new to the running market and absorbing everything that is being presented to them.
The series started very small in the early 2000s. Today we have about 50 trail races and more than 100 road races. We sell direct-to-consumer through the on-site Ragnar stores. They book the stock and sell the socks and give back 10 percent to the Lesedi Program. For Balega it's more about the exposure to the consumer.

For Balega, Go is more than putting one foot in front of the other. Go is progress. It's taking the next step. At Balega, we're always pushing further to help runners reach their peak performance in total comfort.
Photos courtesy Balega