How legging brand GoldSheep got in the gymbags of style makers and celebrities to become an underground sensation.
By Jahla Seppanen
Consumers and retailers alike are constantly on the hunt for the next big brand or apparel essential. In a snap you see celebrities all sporting the same plain white tennis shoe or cropped sports tank. No, there isn't a group text you're being excluded from. Much of today's trendwatching in activewear is done through connecting the dots on social media, weaving style and label connections between starlets.
SGB did some digging on the next big wave and struck gold — or GoldSheep, rather.
Worn by everyone from professional WWE female wrestlers, to renowned yogi and AMLA Founder Amanda Mills, to the NBA Blazers' dance team, Dallas Cowboy cheerleaders and award-winning singer Rihanna, this legging brand is slowly coming out of the shadows, amassing a social media army of consumers — average and celeb.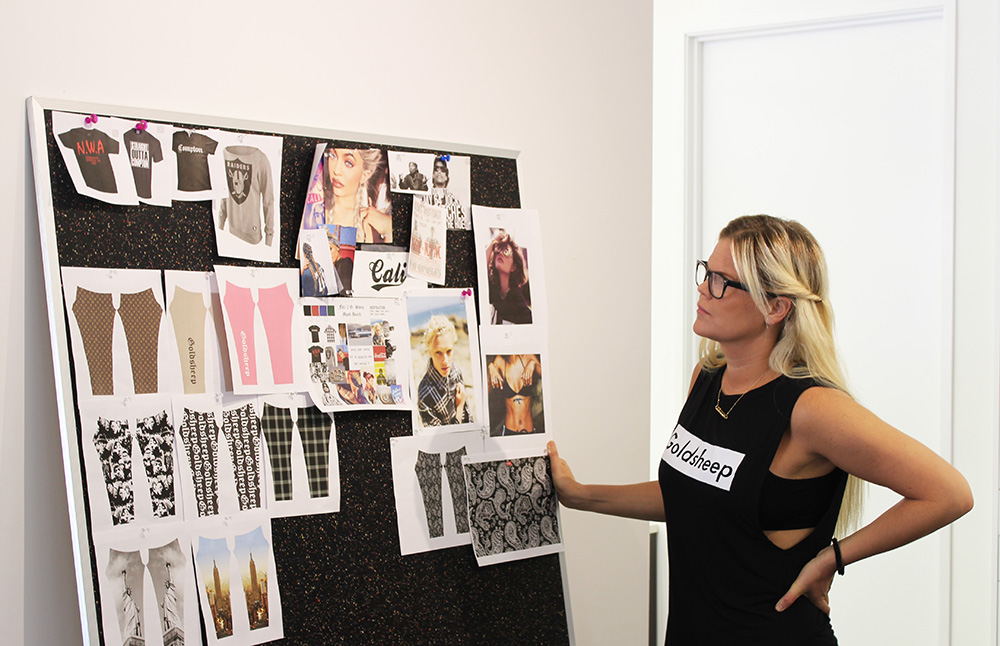 The allure of GoldSheep is masterminded by Founder, Owner and Designer Keri Wilson, who started out spray painting murals and sewing her friends' clothes in creative, unconditional patterns.
After crossing the country to land in New York, Wilson began the journey of what would become GoldSheep, drafting prints on her studio floor that referenced the greatest pop culture artists from Andy Warhol, Jeremy Scott, Mara Hoffman, Retna and even Terry Richardson. Her plan: turn culture into leggings.
So to answer one Twitter user's question, "What the **** are GoldSheep Leggings?" We'll tune you into the trend with the founder herself.
How do you find the next cool print? Every couple of months, I come up with a super fun theme. Usually inspired by pop culture, personal experiences or a feeling. Once I pick the theme, I make a list of everything that comes to my mind around the idea — I pull images, words, colors, random thoughts. Finally, I go out and find those objects and take photos or design art from them. I find inspiration from themes that have lots of objects involved in them. I look at every object as a pattern on a legging; I know right away how it will look on the body. My number one goal is to pick themes that make people happy, that give people a sense of adventure.
What does that feel like, when you know you found the right one? I get excited in the way people get excited about going to Disneyland.
Are the days of plain black leggings gone … R.I.P.? Black never goes out of style, whether it's leggings or a little black dress. Black is the perfect color for when you want to feel sexy, classic or modern. When you feel unkempt, and you put on black, you immediately feel pulled together. So no, black leggings aren't going anywhere.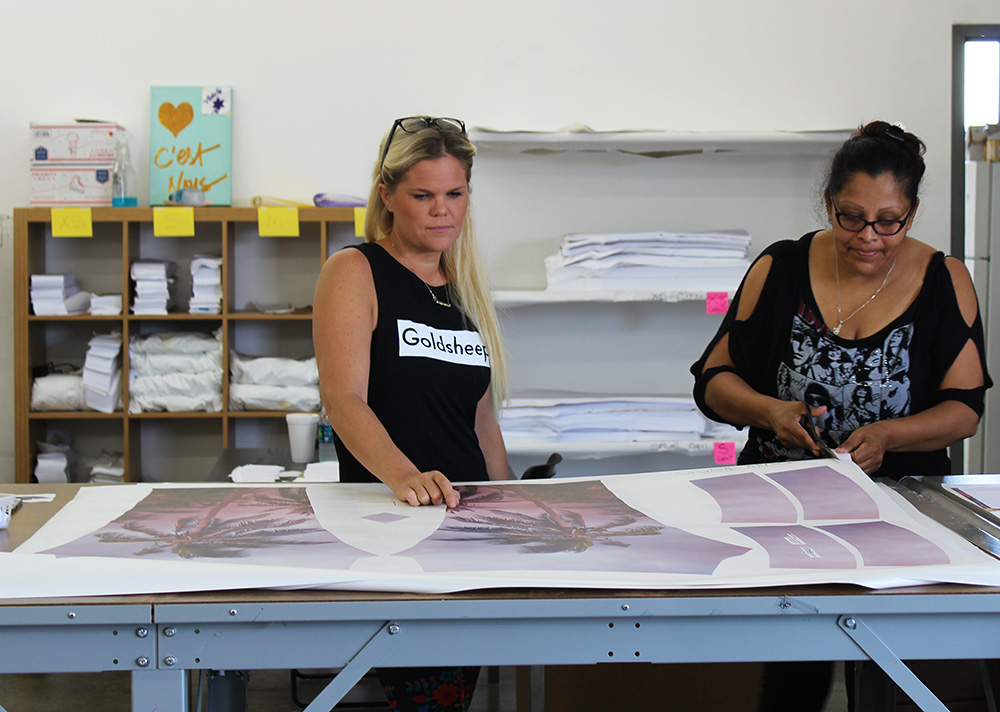 Piece together your style inspiration. I like to think of my style inspiration as a twist between Supra, Jeremy Scott, and Mara Hoffman with a touch of Gray Malin for good measure.
Did you plan on GoldSheep being an activewear essential? I didn't create it as an activewear brand. I created it as a lifestyle brand. But we flourish in activewear because of the fit and comfort in our pattern and fabrics. We shine in lifestyle because of the prints and art direction, and most importantly the people and stories behind GoldSheep — the GoldSheep behind GoldSheep.
I gotta ask, how did the name come to you? When I was growing up in my family I always knew I was different, but never did I feel like I was a black sheep — I was way too bright. A GoldSheep to me is someone who uses their God-given gift to uplift others.
How many times do you change your leggings per day? Twice. I love them so much I can never decide.
Online we see tons of celebrities wearing GoldSheep. Some of our "GoldSheep Girls" that always share the love with their fan base include Gisele Bündchen (she got a custom Patriots print legging), Kayley Cuocco (most seen in the custom bachelor leggings and the gold love leggings), Cindy Crawford, Nikka and Brie Bella, Victoria Secret Angel Behati Prinsloo (she absolutely rocks the pineapple print), The Total Divas, and Marie Menounos.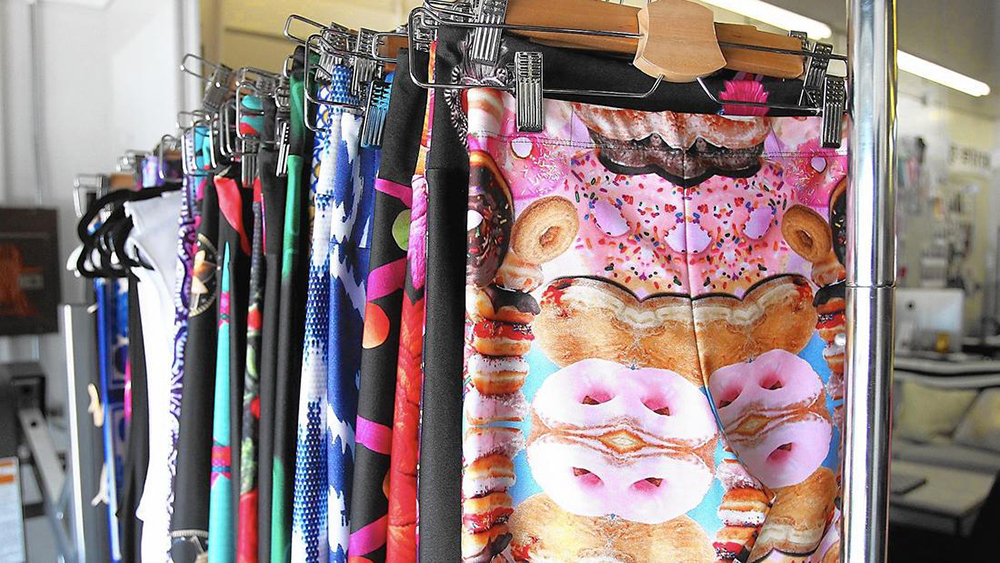 We heard about you during a talk with the Chief Marketing Officer at CorePower, Tess Roering. Yes, GoldSheep sells at some CorePower studios, along with Pure Barre and Barre3.
How has printing changed the legging category? It has redefined everything. The process of coming up with an idea and being able to turn pretty much anything into a print has allowed so much more creativity to take place.
Do you have any collaborations coming up? We just did a collaboration with PBR, a custom print done in support of the upcoming Summer 2016 Olympics. We were recently featured on Jimmy Kimmel for a custom print for the Bachelor that was really fun, too.
You have been living, breathing GoldSheep for the last five years. Are you where you want to be growth-wise? I had been trying to do GoldSheep for three years before the official launch of GoldSheep, LLC, which was two years ago. We are exactly where I want to be for growth. Today, we have an amazing team with an incredible in-house production facility. We have grown so much in such a short period of time and are positioned in an unbelievable spot for something that was started on the floor of my bedroom.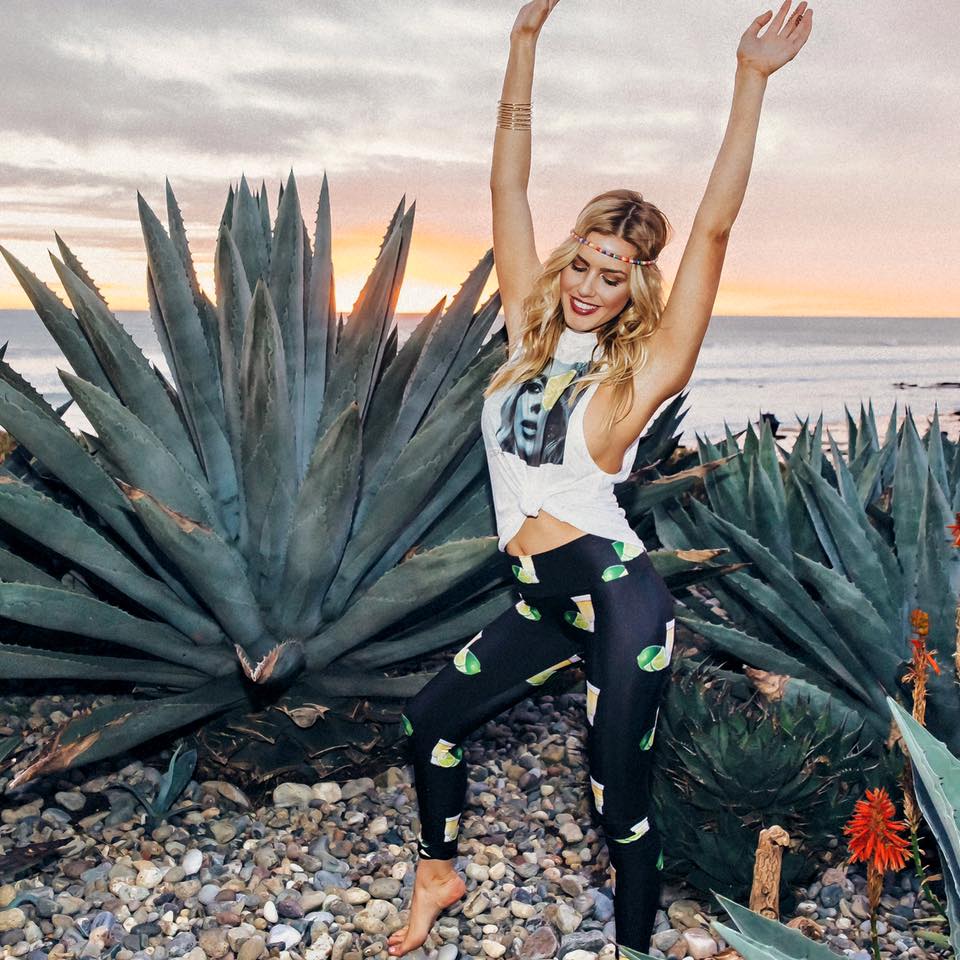 Photos courtesy GoldSheep