Five outdoor companies talk with SGB about the benefits of giving back.
By Carly Terwilliger
It's become expected for outdoor brands to have a social responsibility strategy integrated into their DNA. The outdoor consumer is increasingly cognizant of where its money goes, so it makes sense for companies competing for those dollars to take note as well. But the reasons to contribute time, money and visibility to a cause don't end at the bottom line.
For companies focused on outdoor recreation, attracting the best talent requires more than a competitive salary and benefits. Active, socially conscious employees want to feel like they're doing something besides marketing and selling a product, and employers are increasingly happy to oblige.
Whether it's using part of their proceeds to sponsor cleanups or partnering with a like-minded non-profit, these companies operate under the inescapable fact that in order for consumers to have a reason to purchase outdoor apparel and gear, there has to actually be an outdoors. In addition, a more responsible company is a more visible company in the eyes of hyper- conscious outdoor enthusiasts. Just ask Patagonia, which pledged to donate 100 percent of its Black Friday sales to environmental nonprofits, leading to $10 million in purchases on that day.
All of this is contributing to a desire to engage potential customers by connecting with them on a deeper level. Companies can trust that a growing number of consumers, if given a choice between buying a sweat-wicking baselayer that helps protect wildlife and one that doesn't, will choose the latter and feel great about it. They may even drop a little more of their cash if the cause – rather than the price – is right.
Barking Up The Right Tree
Trade shows like Outdoor Retailer present a rare opportunity to match up big, energetic dogs with active, outdoorsy owners. Dog gear manufacturer Ruffwear took note of this and learned that apparently, there's nothing better than a pack of friendly pooches to draw people into a booth.
At the adoption events, conducted in partnership with Best Friends Animal Society, Ruffwear pays the adoption fee and also covers the cost of transportation. For Ruffwear Brand Manager Greg Freyberg, it's a no-brainer: the company wants to help and the dogs need homes. Why wouldn't they do it?
"Sometimes you can't even get into our booth because there's so many people wanting to see the dogs," Freyberg said. "It's becoming quite a success because people come to the show knowing Best Friends is going to be there with us." And like all the brands exhibiting at the show, Ruffwear and Best Friends bring a carefully curated selection, so if someone is considering taking home a hiking buddy, they're more likely to find a match.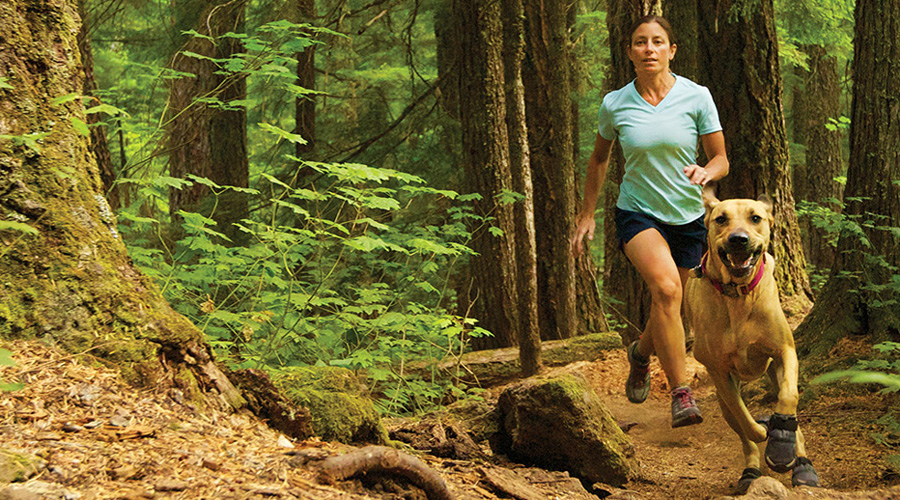 When asked about whether the company's efforts have a direct effect on customers choosing Ruffwear over another brand, Freyberg admits, "It's hard to say. You want your good intentions to result in action, but we don't do it to attract consumers. Honestly, it's just the right thing to do." Lots of companies make leashes, so in the end it's up to the person making the purchase to make a conscious choice.
The human component at Ruffwear is on board with supporting the company's efforts to give back. "People come to work for us knowing that this is what the company is about," said Freyberg. And the value-added job benefits of being able to bring their furry friends to work and getting together for group outings to the off-leash dog park aren't the icing on the cake; they're pretty much the whole meal. "It comes with the territory" when they apply for the job, he said. "They expect it."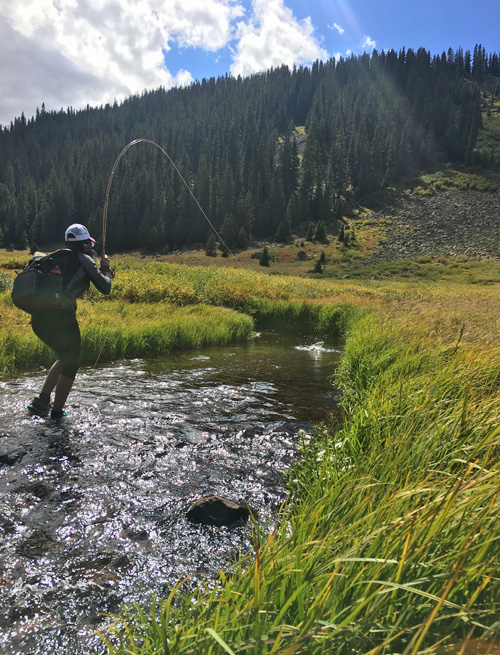 Plenty Of Fish In The Stream
A canine companion is optional for hiking, but for Scott Fly Rod Company's customers, a healthy fish population is absolutely essential. That's why the producer of high-quality custom rods joined Trout Unlimited's efforts to protect Colorado's Alpine Triangle in 2010.
"I think people who have experienced the incredible places fly fishing takes them become advocates for healthy ecosystems," said Scott Fly Rod Company President Jim Bartschi. "We support conservation efforts both close to home like the Colorado Alpine Triangle project or restoring minimum flows in the Dolores River below McPhee Reservoir, to ones farther afield like the effort to protect critically important fish and wildlife habitat in Alaska's Bristol Bay from the Pebble Mine project, or restoring freshwater flows into the Florida Everglades from Lake Okeechobee."
In addition to protecting fish and their habitats, Bartschi also takes care of his team members. "We structure our work schedule to integrate with our passions, so we operate from 6 a.m. to 3 p.m. to take advantage of Colorado's outdoor activities," he said. That, plus "doing what we love," keeps new talent flowing and encourages veterans to stick around for more than 20 years in some cases.
But no matter how many rods Scott puts in the hands of new anglers, if there's no fish and no stream, the outdoor industry loses an activity that's strongly associated with being in nature and the promise of contemplative solitude. As Bartschi puts it, "Access to healthy clean watersheds is the lifeblood of our sport and business. We want people to feel our passion for these places and take that away with them."
A Drop In The Bucket
Mountain Safety Research (MSR) was founded in 1969, but the idea for MSR Global Health didn't arrive until after 2004, when the company responded to a tsunami in Southeast Asia by supplying water treatment devices to victims. "We took a bunch of backpacking equipment and shipped it over, and this was stuff that we felt was the best in the industry for the backcountry," said MSR Business Development Manager Patrick Diller. However, it quickly became clear to MSR that water treatment products designed to be tossed in a backpack for a multi-day hiking trip translated imperfectly to disaster situations.
"They weren't big enough, their functionality wasn't quite right – we had all these issues," he continued. "Employees just wanted to help. That was the biggest donation we'd ever done, but we really didn't know anything about the developing world." Instead of letting the experience sink the company's fledgling aid efforts, it tapped into its core design and engineering principles to come up with viable solutions.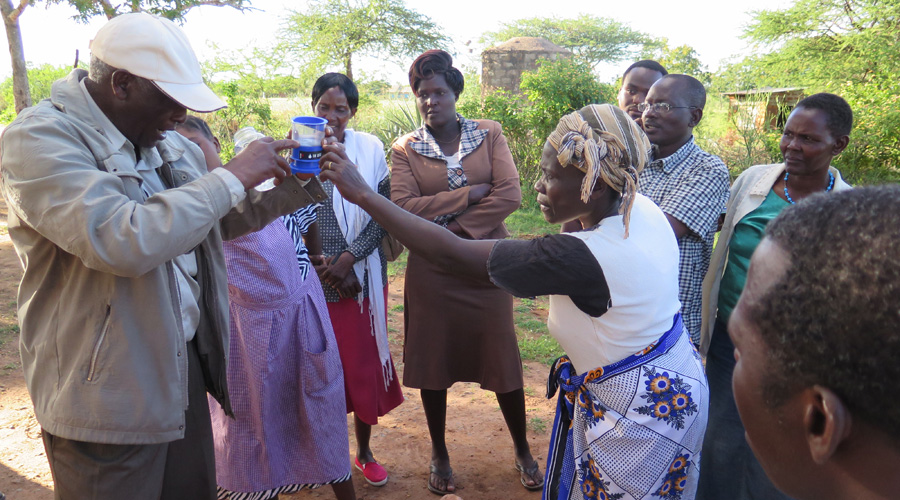 "We decided that since we have the know-how and the resources, we should really use it to fix these problems and create products designed to help people get what they need," said Diller. As MSR's various partnerships matured, organizations got what they needed, the company got valuable R&D funding and field testing, and most importantly people who needed clean water got it.
Diller makes it clear that MSR is a for-profit company that develops and sells products, not an aid organization, but he also acknowledges that the outdoor industry has "very conscious consumers" that want to feel good about what they're purchasing. "When customers learn that our company is also involved in bringing clean water to people in remote villages, they get excited," he said.
Copper Straws
Philadelphia-based outdoor brand United by Blue was created in 2010 with an in-house conservation program – for every product sold, it pledged to remove a pound of trash from oceans and waterways. Since then, its cleanup team has facilitated 176 cleanups in 26 states, from illegal dumpsites to local parks. "We do it because we feel a responsibility to protect these spaces," said United by Blue Content Marketer Kara Solarz, adding that "as a for-profit business we often have more resources and flexibility."
When the United by Blue team is out getting soggy, cold, hot or gross on a cleanup, they're also on the lookout for ideas that they can turn into innovative commercial products. Because they frequently find shards of plastic straws, they developed a practical copper version. The company's desire to replace disposable goods with durable ones is constantly being reinforced by the physical act of picking up discarded grocery bags, plastic utensils and water bottles. As Solarz sees it, "Since we all attend cleanups … we all see a direct connection between our work and the mission of the business."
What does the brand get in return for its sweat and effort?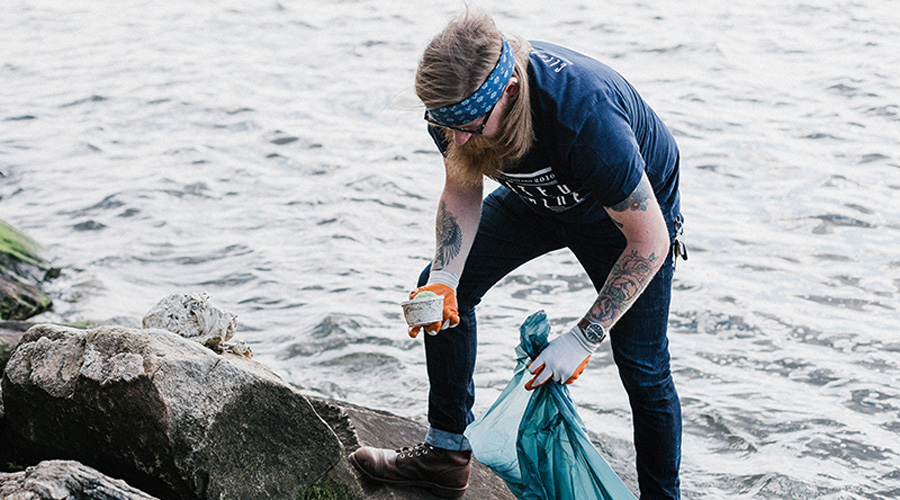 "Since we rely on volunteers to conduct almost all our cleanups, they frequently double as marketing outreach for us," explained Solarz. "We also find that cleanups are the perfect opportunity to partner with brands who'd like to get involved with our conservation efforts." And perhaps the team also gets a bit of fun and diversion, judging by Solarz's list of cleanup oddities: "We've found a $30,000 check, a college diploma, eight handguns, a hazmat container, and a startling amount of underwear."
The popularity of responsible brands continues to grow, "particularly with millennials," Solarz observed. In order to court that valuable consumer group, more companies would do well to "start measuring environmental impact metrics alongside financial metrics," as United by Blue does. It's a way to avoid the harmful optics of seeming like a soulless corporation, with the added perk of not being one in reality.
More Bikes, Fewer Bottles
Vista Outdoor, a global designer, manufacturer and marketer of outdoor consumer products, has upped its conservation game in the past year. By acquiring CamelBak, Jimmy Skyks and the Bell, Giro and Blackburn brands, the company indicated it was moving beyond its shooting-sports roots to target outdoor recreation consumers. It opened its new headquarters in Farmington, UT in August 2016 with an eye toward sustainability, at the same time launching its Conservation Counts program.
"We knew our brands were doing some great work in the conservation arena, but we wanted to unify those efforts into a single campaign," said Ryan Bronson, Vista Outdoor's director of conservation. By expanding its capacity for environmental stewardship, the company hoped to be able to make a greater impact but also "differentiate our brands at retail."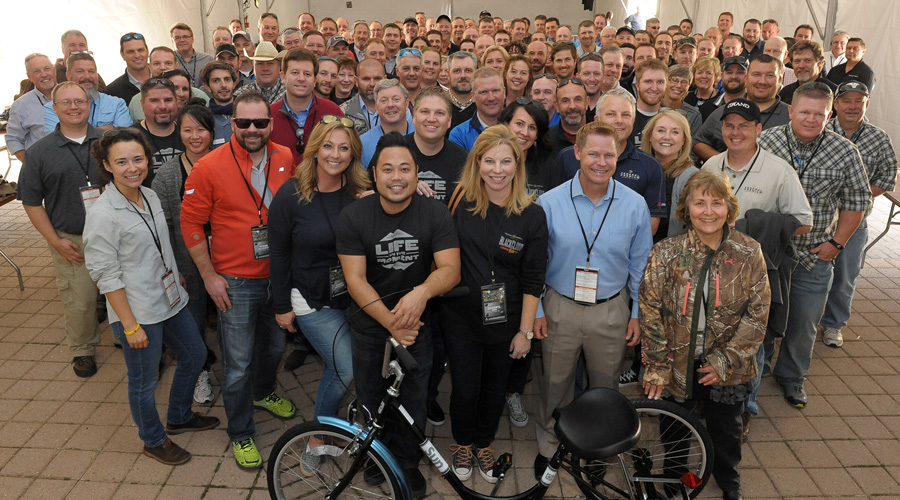 The natural backdrop of Farmington – nestled against the Wasatch Mountains north of Salt Lake City – is meant to inspire employees and provide a reminder of the importance of preserving wild spaces. Vista installed showers and a secured bike storage area "to encourage employees to bike to work," said Bronson, and added water-refilling stations to discourage the use of disposable plastic bottles. The latter initiative chimes with subsidiary brand CamelBak's "Ditch Disposable" campaign. According to Bronson, "employees – both at headquarters and across the company – have really embraced it."
Like many of its outdoor-industry brethren, Vista Outdoor can boil its decision to actively pursue conservation to a clear, simple reality: "If we want to stay in business for the long term, we need people to keep enjoying the outdoors in vibrant and accessible places," Bronson observed. The company stands as one more example of an emerging truth – in this business, the line between profitability and social responsibility is fading, perhaps into eventual non-existence. It's up to the industry – and its consumers – to determine what that will mean for the future.
Photos courtesy Ruffwear, Scott Fly Rod Co., MSR, United By Blue and Vista Outdoor