By Thomas J. Ryan
At the recent 2020 Tennis Industry Forum, executives at the United States Tennis Association (USTA), Tennis Industry Association (TIA) and the National Golf Foundation (NGF) discussed the rare opportunity tennis has to capture many Americans who have embraced the sport over the last few months due to COVID-19.
Much like golf, running and a wide range of other outdoor activities, tennis has benefited by being viewed as an activity that supports safe social distancing.
In his presentation as part of the virtual summit, Keith Storey, president of Sports Marketing Surveys, noted that multiple studies by public health experts rate tennis as one of the lowest risk activities for contracting the coronavirus.
Among the studies:
Tennis scored a "1" risk rating, the lowest risk possible, from a group of public health experts from Michigan. The group rated the risk of coronavirus transmission on a number of activities on a scale of 1 (lowest risk) to 10 (highest risk).
Physicians from the Texas Medical Association graded tennis with a low "2" risk rating on the same scale. The Texas study rated the risk of playing tennis on par with the risk of getting takeout food, less risky than grocery shopping, playing golf, or going for a run, bike or walk.
Sports Marketing Surveys' own PAC (Physical Activity Council) study showed Americans frequently mentioned tennis to be one of the safest sports based on an open-ended question. Tennis was ranked close to golf and just behind walking and running.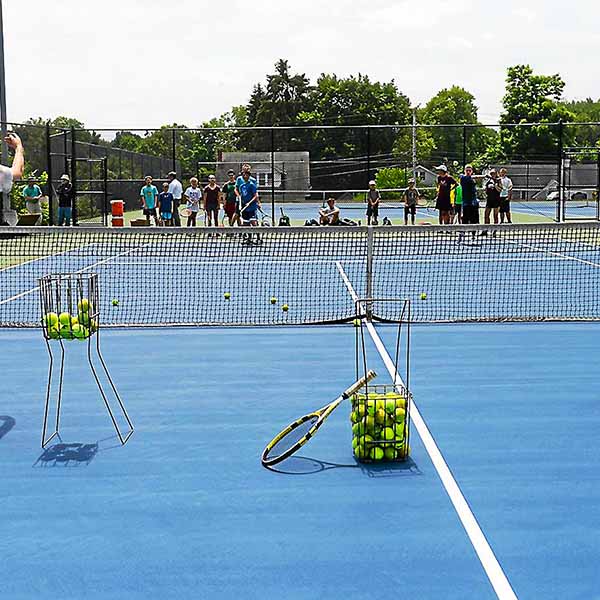 As a result, tennis play has shown significant growth over the last few months. Sports Marketing Surveys' monthly tracker sports participation study found that the U.S. participation rate for ages 6 and up had grown to 10.1 percent in the second quarter (April/May/June) this year, up from 6.7 percent for the same period in 2019. Said Storey, "It's a clear indication that grassroots tennis is experiencing significant growth."
"I'm optimistic for our sport as we come out of this pandemic," said Mike Dowse, who has been CEO and executive director of the USTA since October 2019, at the forum. "Early signs have shown that participation among entry-level tennis players is up nearly 50 percent in the last 90 days."
But much of the presentation from Dowse and his USTA team focused on its latest initiatives to support retention and attract new players. Those discovering, or rediscovering, tennis amid the pandemic are not promising to stick with the sport as the threat of contracting COVID-19 lessens and other activities become more accessible.
Dowse, who most recently was president of Wilson Sporting Goods Co and previously led tennis footwear for Nike, said much of the USTA's latest initiatives have been shifting toward a service organization. He said, "Much of our transition will be based on evolving our culture from one of primarily programs to one of service and programs."
The first priority for USTA is to "promote and grow all tennis, not just USTA tennis." Relatedly, a second priority is to "look at all entities in the tennis ecosystem as our partners, rather than our competitors."
USTA is putting extra attention on reducing fees, whenever possible, to lower the barrier to entry. Finally, the USTA will look to drive its progress based on enhanced metrics "to measure and reward our success based on the overall health of the entire industry."
Dowse then showed the USTA's humorous "Get Out And Play" campaign that describes the sport as one that "lets you keep your social distance without being socially distant."
"Tennis is truly one of the safest sports or activities people can participate in," said Dowse. "Combine this with the physical, mental and social benefits of tennis, we have an excellent opportunity to grow our sport."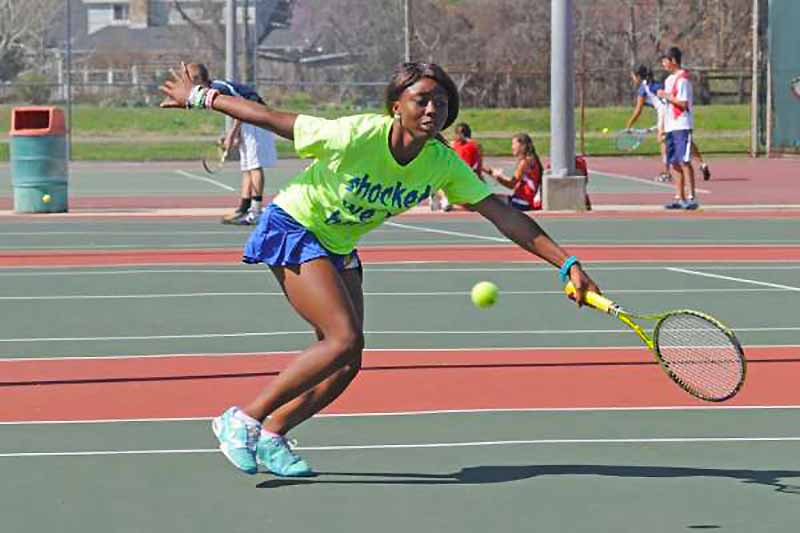 Golf Offers Lessons On Tennis Retention
The potential retention challenges were spelled out by David Lorentz. chief research officer at the NGF. He noted in a presentation that golf and tennis share "obvious parallels" with a similar customer base and similar "swells in demands" in recent months.
Like tennis, golf has faced challenges over the years as on-course golf participation has dropped from about 31 million participants in the U.S. in the early 2000s to 24 million in 2019. Participation had stabilized in recent years with a slight gain in 2019 amid encouraging signs such as online searches and golf ball sales growth. Golf also saw "tremendous growth" in participation away from the course at entertainment venues like Top Golf, indoor driving ranges and simulators, and other off-course product extensions.
U.S. golf rounds grew in the first two months of the year, but the shutdowns in March and April closed down golf courses and led to equipment sales to drop by 30 percent as summer arrived. With most courses reopening by mid-May and golf deemed a safer activity during the pandemic, golf rounds increased by 14 percent in June and 20 percent in July with overall rounds up for the year. July marked the single highest month for golf equipment sales in recorded history.
Lorentz said junior players and golfers ages 35-to-49 were engaged during the summer, and NGF estimates that the game of golf could see an increase of half a million more junior on-course players by the end of 2020, or a 20 percent increase.
However, Lorentz said the NGF views the surge in on-course play as largely attributable to "transient factors" that include golf benefiting from outdoor sports as socially safe and indoor golf options, such as Topgolf, having been closed, with many facilities now open but with restrictions.
Lorentz believes golf and tennis face a "stickiness" or retention problem rather than challenges attracting players to either sport. The decline in traditional golf participation, he believes, can be traced to before the Great Recession when "Facebook launched and social media insinuated itself into every area of life. This has had a profound effect on consumer and recreational choice."
As a result, without "any real structural changes" in golf to support a sustained increase, he suspects golf will return to the "same marginal retention rates" seen over the last two decades as other activities return.
Noting that both sports are "getting a lot of people's attention right now," he hopes that industry participants will work on issues such as inclusivity, service and overall customer experience to improve retention rates.
"We can certainly hope that the pandemic reorients consumers and makes them appreciate open space, fresh air and fewer crowds than they did before. But the growth potential of our sports, especially in their traditional forms, is going to have much more to do with our ability to improve the service part of what we offer," said Lorentz.
He said sports, activities and overall brands that are serving "more fundamental needs" are finding more success connecting long-term with consumers. Lorentz added, "It's not going to be about the product itself, more technology, faster rounds of golf, or free hot dogs at the turn. It will be about human touchpoints and our ability to serve consumers' more fundamental human needs like a sense of belonging and a sense of accomplishment."
Tennis Participation Sees Favorable Growth Trends
Storey's update on the tennis industry offered more positive than negative signs on recent trends in participation rates.
On the negative side, core tennis play (played more than 10 times a year) has declined 19.5 percent while non-core play (played less than 10 times a year) has risen 18.5 percent from 2009 until 2019. That's led to a drop in U.S. tennis played from 446.4 million in 2015 to 385.8 million in 2019.
Encouragingly, a slight gain in tennis play was seen in 2019. Also on the positive side, full-year unit sales increases were seen in balls and rackets in 2019 with both showing low-single-digit gains. Tennis rackets marked only the second year-on-year increase in the last 11 years. Pro/Specialty retail racquet unit sales increased in 2019 for the first time since 2012.
With forced closures due to the coronavirus, racquet sales at the pro/specialty channel dropped starting in May and April before recovering in June as pro shops reopened and participation spiked. July turned slightly positive, up 2 percent.
"I think it's important to manage expectations for this," said Storey. "We're not going to see a bunker year by any means, but going forward for the rest of the year, we could anticipate, probably overall, manufacturers might be about 20 percent down and retailers a little better than that. But, even now, it [sales] is much better than we might have expected in the middle of March and April."
Other bright spots to date have been the strength at retail for entrée racquets (under $50). Storey said the rise was helped by mass merchants being able to stay open as essential retailers, but its also a sign that many beginner players are coming to the sport amid COVID-19 restrictions. Transition balls, (Red Felt/Red Foam), also often used by beginners and safer for use indoors, have also seen strong growth.
Despite about 60 percent of tennis being played at public or school facilities at little to no cost to the player, tennis remains underrepresented by African Americans and Hispanics as compared to the overall U.S. population. However, non-white tennis participation increased overall in 2019 with Hispanic/Latino participation growing 25 percent over the last five years.
Income disparity, however, has not improved. Consumers in high income brackets are nearly four times more likely to play tennis than consumers from low-income households.
USTA's Five Drivers Of Tennis Participation
Dowse and the USTA team outlined progress on its five "strategic choices" to drive participation in tennis:
Attract, engage and retain a new generation of diverse tennis participants;
Lead industry-wide improvements to the tennis delivery system;
Build and optimize digital infrastructure and platforms;
Ensure continued financial growth and performance; and
Collaborate within the USTA and tennis ecosystem for the common good of tennis.
On improving engagement, the USTA earlier this year created Tennis Industry United, which gave grants to facilities and coaches at the local level to provide relief and support for their reopening efforts. The Serve Tennis online tool was also introduced focused on providing digital tools to help facilities, coaches, volunteers, and organizers support participation at the grassroots level.
"We must revitalize tennis in grassroots facilities specifically parks and recs, schools and after-school programs, CTAs (Community Tennis Associations), and our NJTL (National Junior Tennis and Learning) network," said Craig Morris, USTA's chief executive, community tennis. "We know the majority of people start their tennis journey in these settings. And we need to support and give very specific value and rewards for the people who drive growth in these environments. We have to be better."
USTA's goal is to add 5 million new players to the game by 2025, reaching 23 million, up from 17.7 million in 2019. A supporting goal is to increase core players to 11.5 million by 2025 from 9.15 milling in 2019.
Martin Blackman, USTA's general manager, player development, talked about the effort to "change the way that our current coaching population looks" to drive diversity efforts. The goal is to have over 30 percent of total certified coaches to be either female or diverse by 2025.
Paul Maya, USTA's chief technology officer, talked up the benefits of the new Serve Tennis online platform as an online tool to help clubs manage memberships, marketing and court bookings. Maya said, "Like other platforms such as Twitter, Facebook and Airbnb, the more consumers who join and engage inherently creates more value to everyone on the platform. In our case, as more providers engage with Serve Tennis, players will have access to more play opportunities. As more players join, providers will have a larger audience for their play opportunities."
Morris called out the focus on engaging and aligning key stakeholders against the key metrics to grow the game of tennis.
"Continuous and regular feedback in the form of a net promoter score will help us challenge ourselves and the industry to be better in real-time servicing local tennis providers," said Morris. "In partnership with Tennis Industry United, the energy will be directed towards moving the needle in regards to diversity, inclusion and advocacy. The key action items will be developed around making our sport more diverse and inclusive with a focus on our delivery system at grassroots facilities, as well as building ambassadors around the whole country who are advocates for our great sport."