By Eugene Buchanan
The glove and mitten category deserves a warm high five from retailers this year for innovation, as manufacturers fine-tune materials, designs and more to keep consumers comfortable. Gone are the bulbous, bulky hand layers of yesteryear, replaced by models offering more warmth and mobility.
Trends you will see this year include thinner fillings and linings, higher R-values and enhanced electric heating capabilities. "Consumers are gravitating toward low-bulk insulation that doesn't compromise dexterity and warmth," said Jenny Dashner, product manager for Outdoor Research. "They want fully featured gloves that don't compromise on warmth, waterproofness or dexterity. In gloves, dexterity is crucial, but it can't come at the expense of warmth."
Sustainability is also an important trend, affecting everything from manufacturing processes to materials. "It's one of the key themes we're focusing on," said Black Diamond mountain softgoods category director Paul Leonard, touting the company's partnership with GTT to use Empel DWR treatment in its new Ascent Series. "We're hyper-focused on finding best-in-class sustainable technology."
Battery-powered heat is also a cornerstone of many companies' offerings, with electric warmth improvements highlighting R&D efforts. "We're always looking into new technologies in materials and the next evolution of applications for powered heat," said Danica Carey, marketing director of glove-maker Seirus.
The following is SGB Media's roundup of gloves and mitts from a handful of active outdoor manufacturers you will find on retailers' shelves this season.
Black Diamond
Black Diamond's beefs up its glove quiver for 2021 with the new Recon in its Freeride Series. Billing it as the warmest glove in its line, it comes with 340 grams of Primaloft Gold insulation on the back and 170 grams on the palm to maintain loft and warmth through sleet or snow. Aiding versatility is a waterproof BD.dry insert for interior warmth, a goat leather palm for durability and grip and a Pertex Shield gauntlet cuff. "It's designed to keep wearers warm no matter the conditions," said Black Diamond's Leonard. Also, look for new versions of the company's signature Angel and Johnny Collinson Spark Mitts, shown above, for 2021/'22 and its Ascent line built around recycled polyester shell materials, with Primaloft Gold/Cross-Core insulation.
Outdoor Research
Without adding volume or weight, Outdoor Research's new Radiant X technology increases warmth but not insulation bulk or heft. The result is a higher performance in a more dexterous package. The new Radiant X Glove and Mitt also adds new XReflex tech, whose ultra-thin surface coatings reflect radiant body heat, improving thermal retention without reducing breathability. The design includes a stretch-woven waterproof outer shell, touchscreen compatibility, a two-strap cinch system for fit, and full wrap leather fingertips to minimize seams. "It's a thinner, lighter, warmer insulation for maximum warmth and dexterity," said OR's Dashner, adding it's great for skiing and ice climbing and other nimble tasks.
Also, look for OR's Gore-Tex Super Couloir Sensor Gloves, shown below, one of the warmest and most durable in its line. A stretch side panel facilitates dexterity, proprietary VerticalX insulation adds warmth and breathability and Pittards Oiltac goat leather palms provide grip and durability. Bonus: polyester fleece lining for the inside palm and touchscreen compatibility.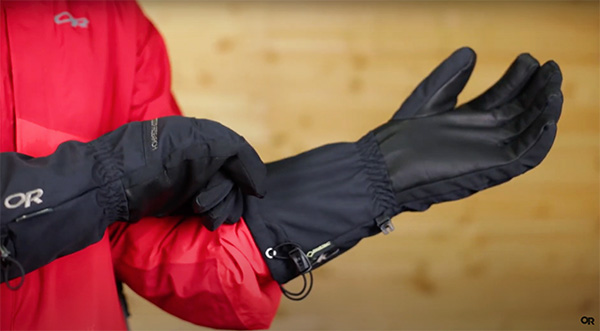 Seirus
Continuing its innovation in heated, rechargeable technology, for 2021/22 Seirus debuts its HeatTouch ST Atlas Glove and Mitt and a junior version of the glove at a lower price point than its other HeatTouch offerings. As with the Hellfire, they offer three heat settings and USB rechargeable batteries; a Flexible Fusion heat panel that delivers heat evenly, even wrapping around the fingertips and thumb, a poly stretch, softshell outer encasing 240 grams of insulation; a waterproof/breathable DryHand insert; and a Toughtek Palm with Soundtouch technology. "We're focusing on refining and perfecting existing items to incorporate features and tech that have become must-haves," said Seirus's Carey, highlighting loops offering universal compatibility to security leashes.
Reusch USA
With a big, pre-shaped curve, the new Cerro Torre from Reusch hangs its hat on minimal seams around the finger and thumb areas, increasing durability, as well as a short velcro closure cuff, goatskin palm and flexible softshell on the backhand. Its new Ndurance Pro R-Tex XT, shown below, offering is a frigid-thwarting freeride glove employing its patented Heat Capture System, consisting of a waterproof membrane and durable combo of goatskin and softshell. Also, look for the new Daron Rahlves Lobster signature model, a full-leather freeride glove with goatskin upper, waterproof membrane and Reusch's highest-performance insulation.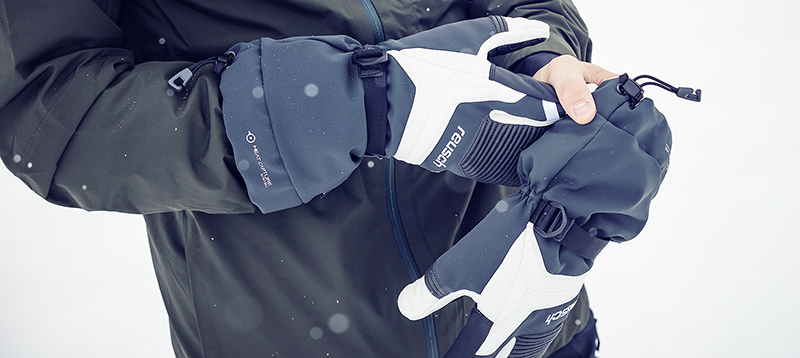 Burton
Burton Softgoods Sales Manager Hannah Mason credits COVID-19 for putting the brakes on new glove technology for winter 2022 but said Burton's Youth Glove line would be Bluesign-approved next season in its efforts to go green. "It's a huge step for us in continuing to work towards our sustainability goals," Mason said. "As far as what's driving our glove business, you can sum it up into two buckets: Gore-Tex, Gore-Tex — our styles featuring Gore-Tex are driving major growth for our insulated glove category and Youth." One popular Gore-tex Pro offering continues to be its Gore-Tex Pro Hover Mitten, with its three-layer fabric designed for durability, breathability and temperature regulation housing goose down insulation. A leather palm keeps the grip soft and supple for ripping skins and fastening bindings, while a removable screengrab suede mitten liner is handy for accessory use.
Auclair Sports
Built for the backcountry, Auclair's Alpha-Beta is a two-in-one glove made of leather and a laminated nylon outer shell, combined with a Thinsulate, insulated fleece inner. EVA padding on the back offers impact protection, while a goatskin palm is reinforced with a textured/double-stitched layer of leather for grip and durability. An elastic leash keeps it close, while a carabiner loop and utility biner allow easy pack clipping. It also comes with Nikwax waterproofing cream for added protection.
Lead photo courtesy Black Diamond/Johnny Collinson (wearing BD Spark Mittens)