By Eugene Buchanan
Twenty years after launching as The Travel Hammock, Skokie, IL's Grand Trunk has been purchased by Utah entrepreneurs Andy Stroman, founder of CampSaver.com, and brothers Bruce Majors and Dale Majors, founder of Bikewagon.com. Along with Grand Trunk co-founder Kevin Kaiser, the trio is moving the company to Salt Lake City and stringing up big plans for the future. SGB Executive caught up with Kaiser to find out what's swinging for their hammock and travel accessories operations. Turns out, they're far from lounging around.
"We're getting some of the last product shipped and are moving out of our warehouse in Chicago as we speak. We've been here for more than eight years, so there's a lot going on. The new headquarters should be great," explained Kaiser.
"I got to know Andy over the years from tradeshows. It's a great group of guys, and I'm super psyched. It's bittersweet, but I'm pumped for the new chapter, and change is good. This gives us the resources and skills to grow Grand Trunk into a true outdoor adventure travel company that sells more than just hammocks. And I'm excited to work with such a great team.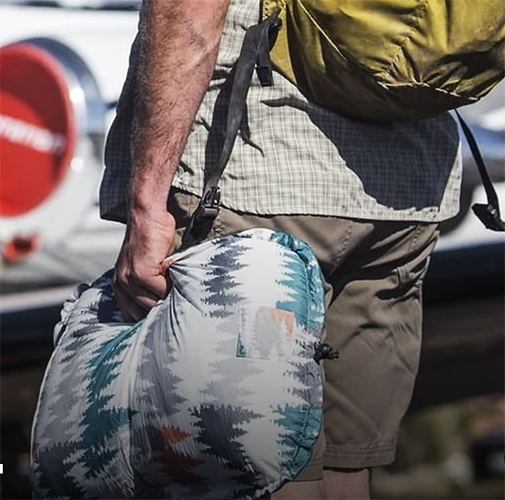 "We believe Grand Trunk has just begun to tap its potential in the outdoor and adventure travel market. Getting outdoors has never been more popular and we're excited to expand our product offering to match our brand mission of providing 'Goods For The Road.' I am also excited to be working with a great group of people who know the industry and can help Grand Trunk grow."
Kaiser said they are starting a new team in Salt Lake City. "I'll be working remotely from Chicago, which will be good because I can see my kids and family more. I'll probably head out there once a month or so," he said.
Despite the transition Kaiser said he's "100 percent excited" about the acquisition. "At the end of the day, we want to be an outdoor lifestyle brand, with the opportunity to branch off into bags, duffels, outdoor camp furniture, and other goods for people getting outdoors, even if it's at their local park. We might even branch into clothing and footwear," he offered.
Asked about the impact of the Coronavirus, Kaiser explained that COVID-19 derailed a lot of their plans this year. "There are a couple of products that didn't make it for 2020, like our Rover Hanging Chair and Moab All-in-One Shelter," he detailed. Kaiser did say they won't be changing any of their programs for 2021. He did tell SGB that COVID has also "actually been good" for the Grand Trunk niche. "A lot of people are getting outside, even if they're just taking staycations," he explained.
Kaiser outlined some of the changes coming to the Grand Truck brand and successes this year. "One thing we're doing product-wise is adding two-inch webbing straps and bringing the price down on our Double Deluxe hammock, made from old school parachute nylon to $49.95. It's a much better price point.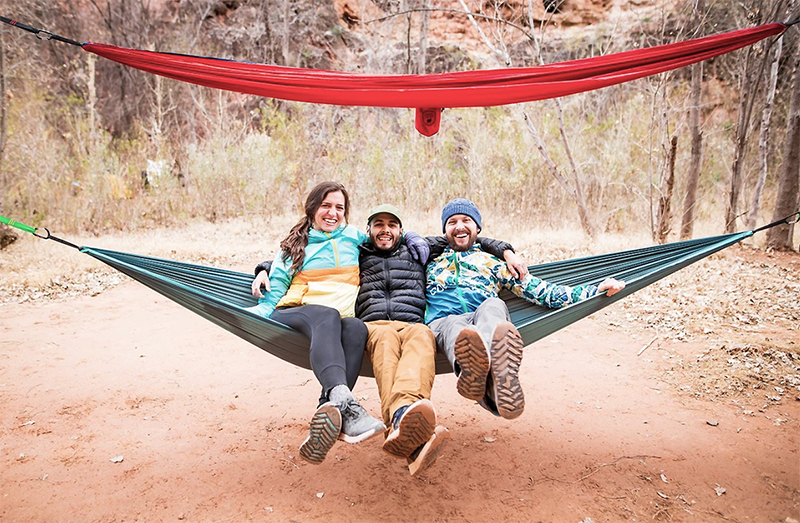 "Times are changing. Over the years we've seen the $70 parachute nylon hammock die at retail. This year we're debuting our Trunk Tech, a lighter, stronger and softer material, in a new premium hammock at $70, in solids and prints.
"Our prints are selling four-to-one over our solids. Every year we do a collection, made by artists, which all tell a story. Past themes include African, Thailand and Cabo. Everything takes the look and feel of that region.
"We can't keep hammocks in stock right now. If I had 50,000, I could sell them all. Everyone wants to go chill and hang out somewhere and just enjoy life.
"I'm not a skier, but I plan to be with Salt Lake's access to the mountains. It's beautiful, and I'm looking forward to going out there. It will be great to get my kids skiing.
Photo courtesy Grand Trunk