When Surf Expo staged its winter tradeshow January 6-8, 2021 at the Orange County Convention Center in Orlando, FL, it marked the first in-person outdoor tradeshow in nearly a year since the pandemic began, bringing exhibitors and retailers together facemask to facemask.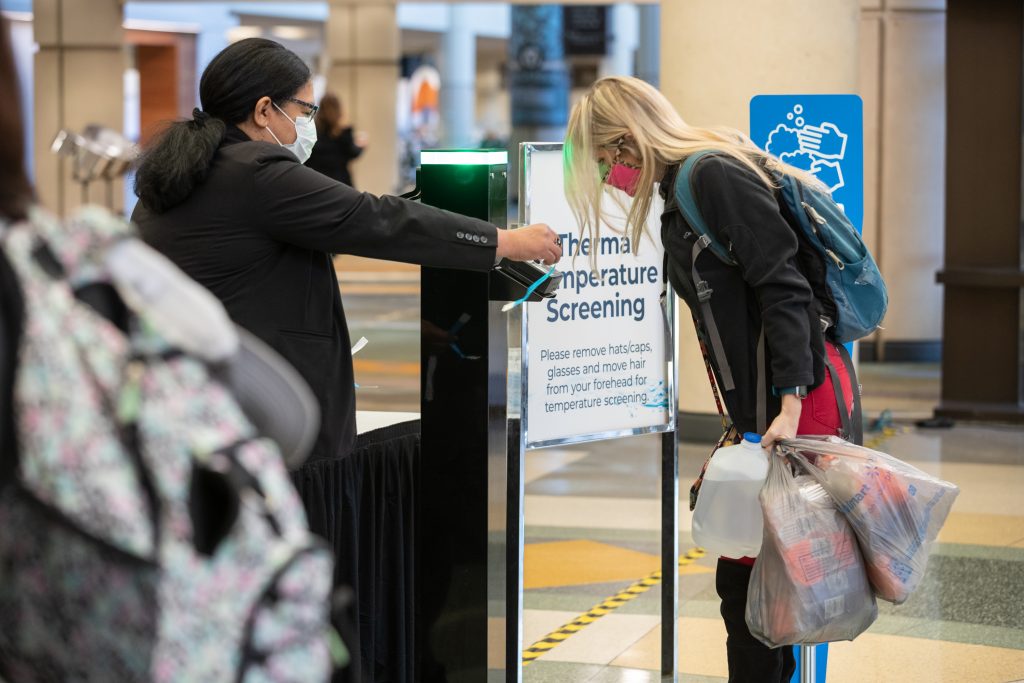 The key, said show owner Emerald Expositions, were the health and safety protocol lessons learned from hosting its IGES souvenir and specialty gift tradeshow in November, and such partners as Visit Orlando, general contractor Shepard and the Orange County Convention Center, one of the only convention centers nationwide hosting large-scale trade shows.
Safety measures included mandatory temperature screenings, face masks, a larger registration area footprint, safety concierges, wider aisles with directional signage, floor stickers, hand sanitizing stations, enhanced cleaning, online notifications, the creation of a safety video, and more.
While the show's size was less than half that of the 2020 Winter Surf Expo, a quick count showed 319 exhibiting attendees, with a buyer-to-exhibitor ratio increased by 23 percent, said organizers and the exhibitor net promoter scores increasing by 63 percent.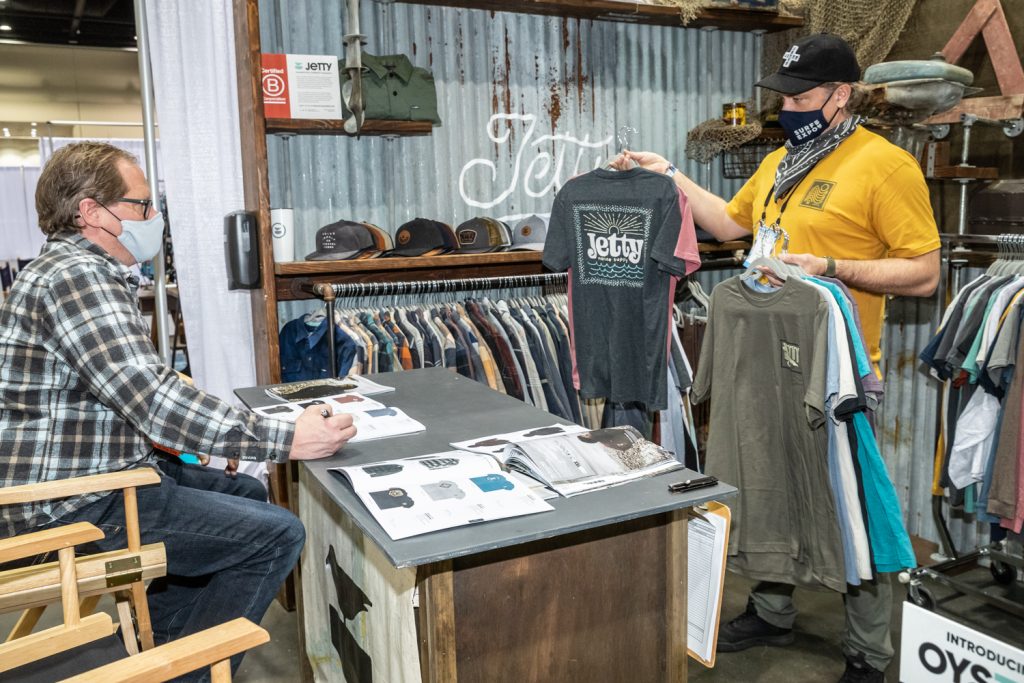 But the real proof is in the pudding. Did attendees, both vendors and retailers, feel it was a successful event worth attending? For that, SGB Executive canvassed the trenches for input from show attendees.
Mike Hammes of Buck Wear, an official licensee of Jeep, exhibited at the show under Jeep by Buck Wear. While he noted attendance was off from years past, the open-to-buys seemed strong. "The January 2020 Surf Expo was our best show in a long time," he said, "until January 2021. Both traffic and exhibitor attendance were way down, but those who did attend were ready to buy."
Other exhibitors agree with retailers' willingness to open their checkbooks. "Although traffic was down significantly, the people who showed up seemed like they were there to do business," said Austin Maxwell of exhibitor Kanga Coolers. "We'll go back to Orlando for this fall's Surf Expo."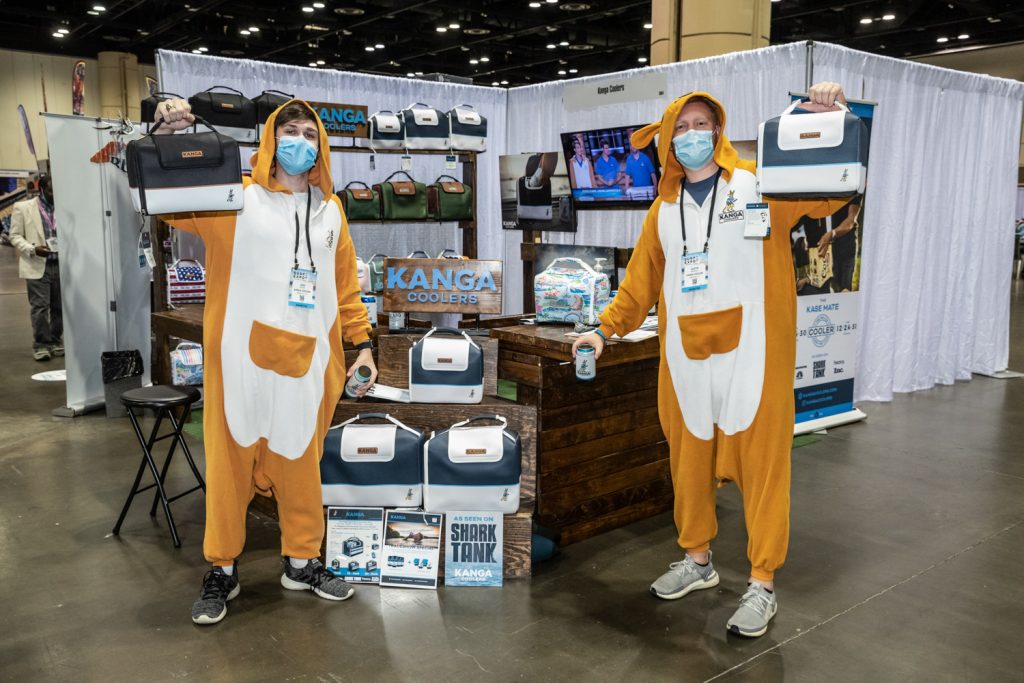 As for the enhanced COVID-19 protocols, Buck Wear's Hammes added that it was necessary, and it did not seem to affect the ability to conduct business. "It didn't feel over-the-top or below standards and, in general, people were pretty good about policing themselves," he said. "Meeting with customers was fine, and everyone seemed pretty self-aware of their social distancing. I felt safe the entire time, and I tested negative upon my return back to Maryland."
While that's perhaps the most important bottom line of attending, the show's backbone is business. And by all accounts, it seemed successful in that regard as well for attendees. "Surf Expo was a very good experience for our company," said Tracy Wilson, sales manager for exhibitor AHEAD. "We went in with lower-than-normal expectations as far as attendance and order writing, but by the end, we left with the opposite. They did a good job producing an environment where everyone felt safe. I hope other shows use it as an example."
Retailers also reported value in attending. "It was different but good. We attended to get down to business, place orders, meet as a collaborative and innovative industry, and get some work done together," said Ryan Hewson, owner of retailer Mocean in Cape Cod, MA. "We quite possibly left more orders at the show than in previous years. Traffic was down, yes. But brands and vendors should have been there in some way, even if abbreviated, to show, talk, discuss, plan, help accounts and the industry. I saw people working right up until the end and heard that people got tons done. I think more buyers would have come from key shops if they knew more of their key vendors were going to be there."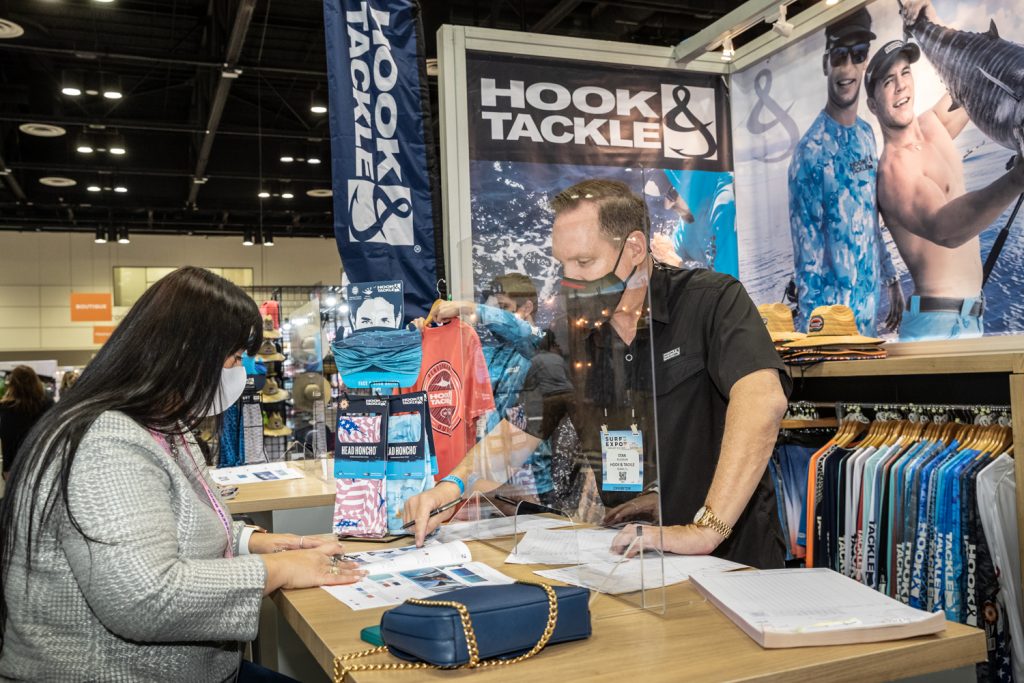 Hewson admitted that while the show's safety seemed well handled, it did have somewhat of a different feel this time around. "We did miss swapping stories with more of our friends, and things like Giant Ape's, waffles, loud music and happy hour," he said. "But we met with vendors, had our appointments and shared some good laughs. We even found new brands that made an effort to come."
He added that it was a welcome reprieve from the past year's retail scene for those who attended. "Retailers have been waiting on customers or begging for business since last spring," he said. "We welcomed people into our shops from every walk of life. We never heard that XYZ Surf Shop or Surf Camp was a super spreader event because they weren't. We had no problem walking into the industry "shop" known at Surf Expo and making sure that our businesses were poised to survive and thrive into 2021."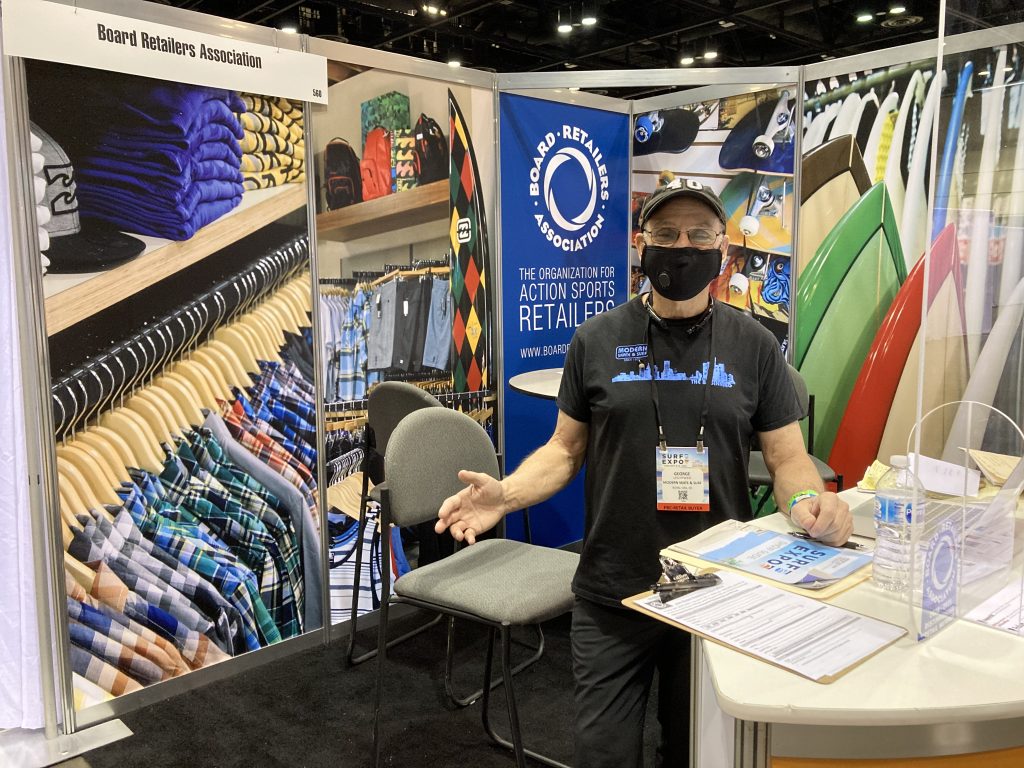 Other retailers were equally glad to don a face mask and attend. "I was able to negotiate and grow several new brands that were currently not in my business," said Jeremy Serwitz, owner of the powerboat retailer PULL Watersports. And in an era when it's hard to put on actual hands-on products, seeing new items first hand was reason alone to attend.
"Surf Expo is an essential part of our yearly buying process," said D. Nachnani, president of retailer Coastal Edge. "We are a 'touch it, feel it' retailer. Nothing replaces that or the face-to-face relationships with our suppliers."
Still, some exhibitors were not convinced of the value of attending. "Given the current state of COVID-19, we decided to put all international travel and in-person showings on hold until fall for the safety of our staff," said Kevin Cook of surf apparel maker Level6. "We also run into complicated quarantine requirements traveling from Canada." Like many manufacturers, their alternative this year has been to go virtual. "We've had tremendous success with our one-on-one virtual video presentations with dealers and using programs like Microsoft teams," he said. "Moving forward, we will probably still see virtual showings for our retailers that may not attend major shows."
The next Surf Expo will run from September 9-11, 2021, in Orland, FL.
Photo courtesy Surf Expo