Superfeet is on a roll. Best known for the company's insoles, the 100 percent employee-owned company has grown more than 40 percent in the last five years and added 30 new full-time positions, tripling the volume of the company's manufacturing facility at the company's headquarters in Ferndale, WA.
Over the last few years, the 41-year-old brand has branched out and developed a full line of comfort-focused footwear built from the insole out. This year, the big news is that Superfeet will soon assume the manufacturing of the company's own 3D printed insoles and release the ME3D Recover and the custom recovery slide, both of which will be produced in a brand new, state-of-the-art footwear manufacturing facility next door to the company's headquarters.
The new opportunities have led to a new mission statement, expanding from "providing orthotics of exceptional value" to one that opens the doors for Superfeet to reimagine the way the company shapes strong foundations for healthy movement.
"To us, staying ahead of consumer expectations by constantly evaluating and redefining how we deliver Superfeet shape is business as usual," explains John Rauvola, who joined Superfeet as president in 2013 and added the CEO title in 2017. "We believe it is how we do business, not just what we make, that sets us apart."
Here, Rauvola discusses the new mission statement, Superfeet's move into footwear and 3D-manufacturing, the evolving insole opportunity and the company's commitment to employee ownership and culture.
Why did you refine your mission, and what is the new mission? At Superfeet we are hyper-focused on ways we can make a positive impact in people's lives by shaping a strong foundation. For more than 40 years we did that by providing reliable pain relief and comfort through our insoles. But as we looked towards the future, we realized we were limited in the number of people we could serve if we only focused on insoles. After all, 90 percent of people who experience foot discomfort don't use any sort of device to help alleviate the pain.
Our original mission was to "provide orthotics of exceptional value," but as we expanded the way we served people by launching into footwear and technology, it made sense to update our mission. Our new mission is "to create and deliver extraordinary comfort and support solutions through shape." This new mission keeps us focused on the shape that makes us unique while also allowing us to be more creative in how we deliver it, all with the goal of helping more people experience overall comfort and pain free feet.
What do you see as some of your major achievements since joining Superfeet in 2013? Superfeet has an amazing culture where we put people first. Some of my proudest achievements revolve around that. In the past five years Superfeet became 100 percent employee-owned, and we've developed an amazing leadership team.
Those accomplishments enable us to create industry-changing partnerships with brands like HP and the FitStation platform, and they made it possible to establish Flowbuilt–our U.S.-based footwear manufacturing facility. Amid all this innovation and change our team remains highly motivated. As owners we remain dedicated to our long-standing relationships and providing best-in-class service for our retailers. This year we won Fleet Feet Vendor of the year, which we are very proud of.
Why the launch into footwear, and what's next for the category? Superfeet fans have asked us for footwear for years. When we seriously considered the request, we saw the opportunity to create footwear from the insole out, providing the best in support and fit. We didn't want to just make shoes; we wanted to push the limits of what people expect from their footwear. Our goal was to deliver a fresh way to experience Superfeet shape for current users, and to reach new people who could benefit from Superfeet shape and would be likely to purchase a good-looking shoe.
We started with the Outside sandal which continues to gain traction and complemented that with a variety of open and closed toed styles. The footwear you find in market today is just the beginning. In 2019 we are using FitStation and Flowbuilt to take our footwear to the next level with personalized footwear. Starting with the ME3D Recover, people will be able to get footwear shaped specifically for them based on their foot and gait. Through our new personalization technology, people will get the support Superfeet is known for tuned to the way they move.
What's behind the push into customization and 3D? At Superfeet we have a phrase we use quite often: "Futureproofing Superfeet." Part of Futureproofing Superfeet revolves around anticipating the needs of consumers and discovering ways we can exceed their expectations. If you look at shoe fitting for the past 100 years, it has involved an archaic and cumbersome process using a metal Brannock device. We felt there was a way technology that could improve the process. We made a strategic decision to invest in technology that would enable us to expand our shape experience. The investment was also defensive, because Over-the-counter insoles might be replaced by custom products eventually. We know if we don't lead the path to personalization, we could find ourselves in a dramatically different place than the leadership position we hold today.
We needed to find a strong partner in technology to complement our position in biomechanics and shape, to successfully deliver on our fit and personalization vision. We spent a lot of time searching for the right partners, which lead us to HP, who invested a significant amount into 3D printing and put a stake in the ground wanting to own scanning and customization. Last year HP introduced Multi-Jet Fusion 3D printing which is the fastest, most cost-effective 3D printer with the most material flexibility of any 3D printer on the market. We use that technology for our ME3D insoles. The response has been tremendous. Through FitStation, which has been placed in all NFL locker rooms, NFL players now have access to ME3D insoles and the dynamic support they provide.
Next up is ME3D Recover, a personalized recovery slide. This slide uses foot and gait information gathered by FitStation to create a personalized recovery experience for its wearer. ME3D Recover features a 3D printed Energizing Stabilizer System along with custom blended Syncro Foam to leverage the best of 3D printing and custom manufacturing. ME3D Recover will be produced in Ferndale, WA, at Flowbuilt Manufacturing, which we built to be the offramp for custom product coming out of FitStation.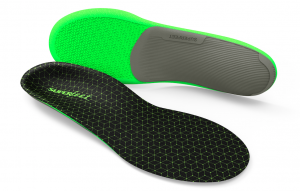 Where do you see the potential for 3D insoles? Will they one day replacing the OTC insole? 3D insoles are here now; we see them as the beginning of a retail revolution. This shift in how we create and deliver product will have wide-reaching impact for retailers and manufacturers and will result in a better product experience for the public.
In its current state, individualized insoles and footwear give consumers access to cutting-edge comfort and pain relief designed specifically for them through a highly personalized FitStation shopping experience. FitStation is a draw for shoppers, keeping retailers relevant as a destination for scanning, service and 3D printed product. Individualized products are a double win for retailers.  They draw shoppers in and represent an inventory-less sale. With ME3D insoles, the retailer orders a product for the shopper but doesn't pay Superfeet until the insole is delivered.  As personalized offerings grow, imagine the impact this business model will have on space requirements, back room inventory and cash flow.
3D printed insoles and personalized product will also be a win for manufacturers. By producing product for people on demand we reduce the need to move container loads of finished goods around the world and eliminate warehouses full product.
As strong as benefits of personalized products are for consumers, retailers and manufacturers, 3D printed insoles fully replacing OTC insoles is a long way off. Price points and access will remain a barrier for the near future. But as technology evolves, product price points and the cost of hardware required to offer 3D printed and personalized products will become more affordable. Through our partnership with HP, we feel poised to stay on the cutting edge of personalization and hope to get to a point where everyone has the choice to purchase OTC insoles or custom product depending on what is right for them at the time.
I've heard that 80 percent of adults have some form of foot pain, but less than 10 percent of the U.S. public use insoles that may help. Why has the public had such a slow learning curve around the benefit of insoles? Typically, people who have foot pain feel it's something they have to live with. Market research shows people think foot pain is the price of fashion, or that all feet hurt after a long day of standing or high impact activities. If people don't perceive there is a problem, they won't look for a solution.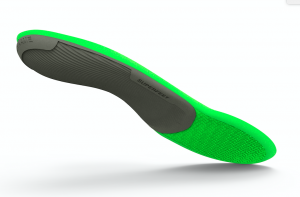 What's been the main challenge to raising awareness? Traditionally insole companies servicing specialty retailers have limited marketing budgets, which makes informing people about insoles as a solution is difficult. Adding to that, most insoles are purchased in the FDM channel. The products available in FDM aren't very good at alleviating foot pain. As a result, people's experience with insoles is less than positive, which means word of mouth about insoles effectiveness does not occur, resulting in limited adoption.
Superfeet is doing our best to increase awareness. Since becoming 100 percent employee-owned, we've tripled our marketing investment and increased our outreach efforts.  We are using tools like social media, PR, online assets for retailers and original content to be easily discovered by people in need. We also put a lot of time into education at the retail and consumer level to help break down the barrier of trying an insole for the first time. Additionally, we are making insoles easier to understand and more accessible through user specific offerings and investments in technology like the FitStation platform.
Superfeet recently rolled out the Go Comfort brand at CVS. Why the move into that channel? We know a lot of people have foot pain. The products most available to them in the drugstore and mass retail channels do not affectively address those pains. Our purpose is to help the most people we can, so we felt a responsibility to introduce biomechanically correct insoles with our signature shape to a shopping environment where people who don't typically shop in specialty outdoor, run or high service footwear retail could access them.
GO Comfort delivers the benefits of Superfeet shape in a simplified form for everyday use. Our core Superfeet offering remains premium and purpose built for specific activities and harder-to-fit performance footwear.
What have been the obvious and less obvious benefits of becoming a 100 percent employee-owned company? The most obvious benefit to employee ownership is what it does for the culture. People who were once employees, now act as owners of the company. Owners are deeply invested in the success of their company; they make thoughtful decisions on initiatives, how they spend and how they work together.
Less obvious, being 100 percent employee-owned enables us to stay more relevant. As a 100 percent S-corp we don't have to pay federal income tax. We've been able to invest those savings into growth initiatives–research, development and marketing. This investment allows for innovation in how we deliver our shape. It also allows us to build stronger connections with the people who can benefit from what we provide.
Superfeet is known for the company culture, although the company includes many areas. How do you sum up to new employees what's unique about Superfeet's company culture? Simply put, at Superfeet we care. It is our purpose as an organization to make a positive difference in all the lives we touch by shaping a strong foundation. From the day someone joins the organization, they know they can make a difference. That sense of meaning shows up in everything we do.
Photos courtesy Superfeet