We negotiated mud, rocks and fear with the U.K. running brand's Founder Wayne Edy and Product and Marketing Director Michael Price. 
Writer: Carly Terwilliger
Grippy, functional, protective – and absolutely covered in mud. That's how Inov-8 Founder Wayne Edy wants you to think about the British running brand's shoes.
With Inov-8's most recent collection of trail-negotiating foot armor, Edy wants to communicate, especially to neophytes, for whom the activity seems daunting, that the first step is to leave fear behind. Part of a larger "Get a Grip" campaign, this exhortation to transcend fear is built into the brand's credo.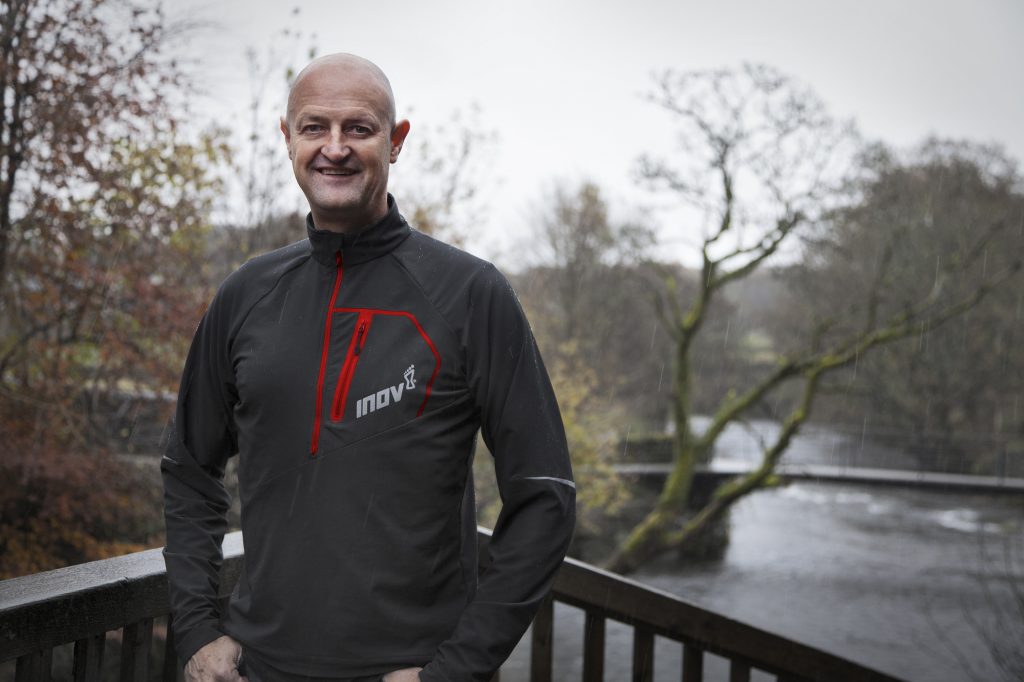 "In life, and in sport, there are many times when people may not want to push themselves outside their comfort zone. Our experience is that when they do, they achieve more and enjoy themselves." – Wayne Edy, Founder, Inov-8
Trail running shares with skiing, snowboarding and mountain biking the caveat that it's best enjoyed when the risk of a gnarly face-plant is as small as possible. "One of the things we hear back from runners all the time is how the grip of our footwear allows them to run faster and with more confidence," said Edy. In addition to those two core principals, it's important to keep in mind that not all trail running conditions are created equal. The shoes that work great for a wet slog through mud may not have the same effect on a trail whose obstacles include sharp rocks or loose gravel.
Edy and Product and Marketing Director Michael Price set themselves a tricky task for the Fall 2017 collection. As a brand that was born out of the experience of running on muddy British fells, it's conscious of retaining its location-specific identity. At the same time, there's that allure of an ever-increasing population of U.S. runners discovering the joys of off-road routes that are steep, rocky and sloppy.
"We recently hosted a number of runners from the U.S.," said Edy. "They experienced British fell running firsthand and better understood the unrivalled off-road running history that exists in our Lake District homeland, which is now a World Heritage site." To cater to U.S. runners that can't make the trip to scamper about the Lake District – admittedly a tempting prospect – Inov-8 deploys its Boston-based specialist team, which harnesses insights from internal staff, ambassadors and athletes.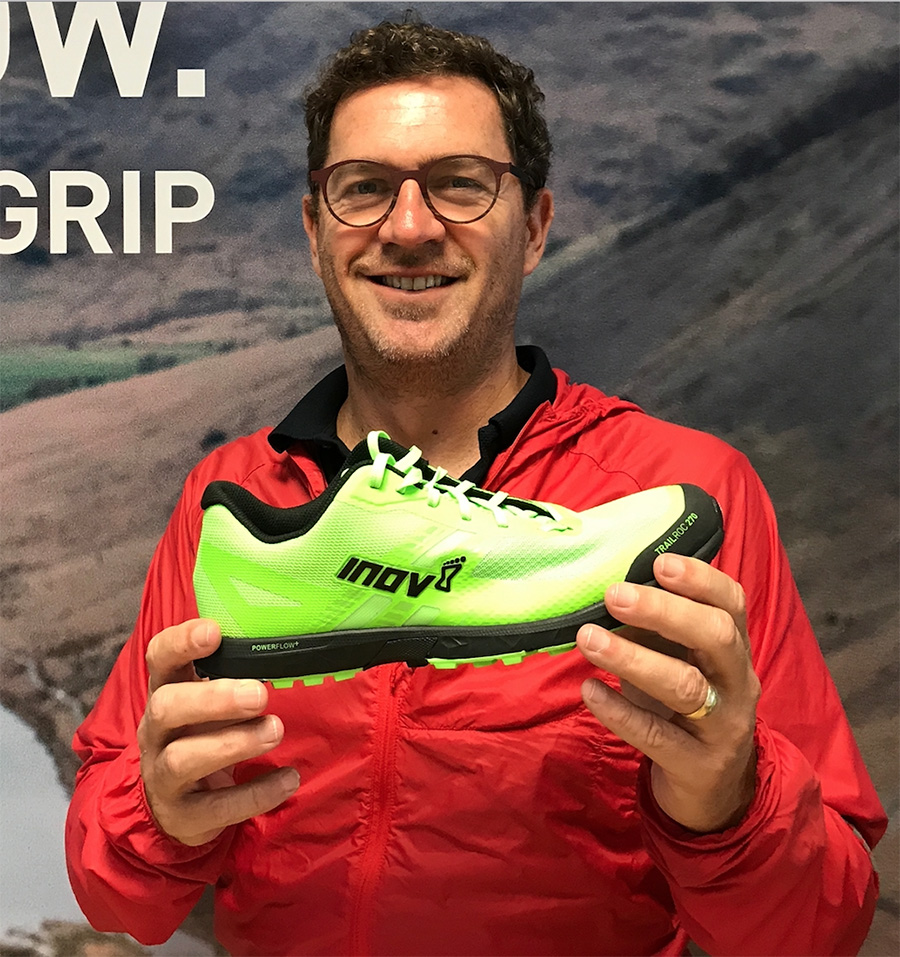 "The U.S. is the most important market in the world and already makes up 30 percent of our business. "We have a very clear point of view about our product and our brand, and that seems to resonate well with trail runners in the U.S." – Michael Price, Product & Marketing Director, Inov-8
Inov-8 will continue to grow at U.S. retail "from grassroots up." Its strategy also involves a close relationship with the specialty run and outdoor channels, which are "critical to our business and our end users", said Price (pictured left). "In other sectors, whether it be food or craft beers, the specialist is growing," he said. 
All this is bolstered by partnerships with trail runners like U.S. international trail runner Peter Maksimow, who worked closely with the Inov-8 team on the recently launched Trailroc shoe. "His knowledge of trail running in the U.S. and meticulously detailed feedback on what runners want from a shoe for hard and rocky trails was invaluable," said Price.
The new collection works like the contents of a toolbox – sure, you can use a screwdriver to drive in a nail, but wouldn't it be better to just use a hammer? After all, that's what it's made for.
"We cater for all types of running," said Price, which is "why we have a Trailroc 270 and a 285, (pictured above). The 270 is the lighter version for faster racing on hard and rocky trails, while the 285 offers more protection and comfort for longer runs and races." Then there is the evocatively named Mudclaw 300, which features the brand's most aggressive outsole and 8mm deep studs, "or fangs, as some people call them," said Price.
On the technology side, January 2018 will see the launch of StickyGrip, which will launch on the outsole of the X-Talon running shoe (shown below left). The grip formula was "tested, tested and tested again with help from athletes and ambassadors in the U.K., U.S., Alps and Scandinavia as well as, of course, our internal staff, many of whom have been running in our shoes since Inov-8 was born in 2003."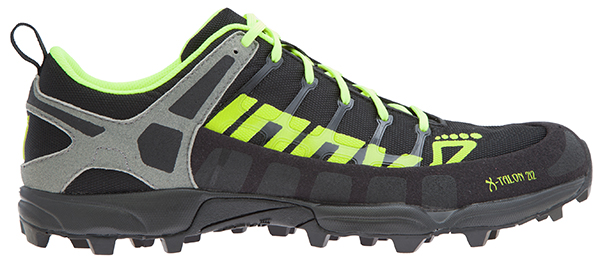 Being embedded with the trail running community, sharing their struggles as well as their triumphs, was what led the company to expand four years ago to the clothing and equipment categories. "Already our clothing and equipment is over 15 percent of the business," Edy commented. "As a team, we spend so much time with runners and at events that we understand their need for lightweight clothing and equipment that performs in all environments."
Whether at its U.K. home or the U.S. hub in Boston, "the reception areas are piled high with everyone's muddy running shoes," Edy observed. "Everybody runs, whether they are a mountain runner, a fell runner, a trail runner, a park runner or an obstacle course race participant … It all adds up to create the type of spirit that other brands crave."
Photos courtesy Inov-8