"We couldn't be more proud of these uniforms. The forthcoming Olympics will mark our eighth consecutive delivery of Olympic uniforms for the U.S. Ski Team. This achievement is amplified with the design inspiration coming from the Moe collection. Merging classic styling with new technology gave this collection the look we are known for and shows our roots in the Olympic heritage" — Nick Adcock, CEO, Spyder

Spyder has been the exclusive apparel partner of the U.S. Ski Team since 1989 and will unveil the U.S. Ski Team Olympic Uniforms at a pop-up shop – open to both the press and public – this Friday in Boulder, CO.
With only 89 days to go until the Winter Olympics kick-off in PyeongChang, South Korea, the 2018 Winter Olympic uniforms are reflective of Spyder's 40-year history in ski as well as a nod to the brand's longest-standing ambassador, Tommy Moe.
Spyder launched the "Moe" apparel collection following his Gold Medal winning run in the 1994 Lillehammer, Norway Winter Olympics. The 2018 U.S. Ski Team Olympic uniforms are modeled after this collection.
"Growing up ski racing, Tommy Moe was one of my heroes," said Steven Nyman, U.S. Ski Team member and Spyder ambassador. "Tommy's win in Lillehammer inspired me to train to the best of my ability every day. When the collection was released after his win. I wanted a kit so badly. I'm beyond thrilled to finally get one."
Spyder Ambassadors Tommy Moe and Steven Nyman will attend the event with several more Olympic athletes and hopefuls. "We look forward to raising a glass to our rich history in ski, our ambassador family and these iconic Olympic uniforms," said Brady Collings, VP of marketing, Spyder.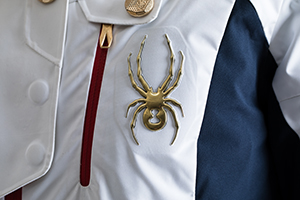 Event Details:  Spyder Ski Club, 29th Street Mall, Boulder, CO, Friday, November 17 @ 7 p.m.