Sportsman's Warehouse on filed for Chapter 11 bankruptcy protection on Saturday, citing a liquidity crisis triggered by declining sales and the global economic slowdown. The company plans to sell the business or reorganize as "a smaller, viable chain of Sportsman's Warehouse stores." According to the filing in U.S. Bankruptcy Court in Wilmington, Delaware, the Utah-based hunt and fish retailer listed assets of $436.4 million and liabilities of $452.1 million.


On March 10, Sportsman's Warehouse announced plans to close 23 of its doors in a bid to reduce its debt levels. At the same time, it reached an agreement to sell 15 of its locations to UFA Co-operative Limited, of Alberta, B.C. In court papers obtained by Sports Executive Weekly, the retailer said it continues to operate 29 stores "as a going concern." In the year ended December 31, it generated an operating loss of $24.8 million on revenues of $741.5 million.

In an affidavit, company CFO Rourk Kemp said, "Sportsman's Warehouse is another retailer victim of the worldwide global recession. Prior to its current financial condition, Sportsman's Warehouse experienced significant growth over the past decade. The largest growth came during fiscal years 2006 and 2007 with the opening of twenty-one stores during this two-year period. By the end of 2007, however, Sportsman's Warehouse suffered is first decline in same-store sales from a combination of inventory replenishment problems and the commencement of the national economic slowdown."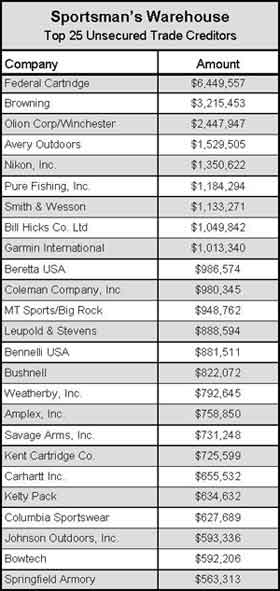 Kemp noted the company was able to gain a capital infusion in early 2008, but again suffered inventory replenishment issues in Fall 2008 due to limited liquidity, and underwent a "liquidity crisis" as lenders demanded payments. The last-minute sale of 15 stores and store closings wasn't able to avert the bankruptcy filing.

Senior management appears to be placing the blame for the filing squarely on the shoulders of UFA. Stuart Utgaard, chairman and CEO of Sportsman's Warehouse, over the weekend told a local paper that the deal with UFA "soured as the U.S. economy continued to decline, and UFA scaled back its plans, choosing to purchase 15 stores in Western states and taking a pass on assuming a majority position in the privately held company."
Utgaard told the Deseret News that the decision by UFA put the retailer "in a precarious financial situation."

UFA apparently had a deal late last year that would have seen the co-op invest $90 million for 80% stake in SW Holdings, which is the umbrella entity over the 11 companies involved in the bankruptcy. UFA provided a bridge loan, secured by the furniture, fixtures and other non-inventory items in 15 stores. The deal to purchase the stores was apparently part of the asset purchase agreement with UFA if the full investment was not closed by January 10, 2009. The purchase of the 15 stores, valued at $35 million, helped Sportsman's Warehouse pay down its GECC revolver and offset the bridge loan. UFA contends that $6.5 million is still owed under the arrangement, but Sportman's asserts in the filing the deal was offset and is now unsecured.

"UFA was supposed to make equity contributions … that we were counting on," Utgaard said in an interview with the paper. "Instead, our inventory has dropped significantly … about $110 million."

As for secured debt, the filing listed a GECC revolving credit line dated 10/31/2007 with $33.6 million outstanding on the petition date. GECC holds the first priority lien. There is also a term loan with GB Merchant Partners dated January 11, 2008 holding a second priority lien worth about $20 million on the petition date.

Sportman's Warehouse listed subordinated debt in the amount of $25 million owed to Seidler Equity Partners dated February 1, 2008 and other subordinated debt equaling $7.7 million raised through private placement.

SW Holdings is majority owned by the Utgaard family. In November 2007, the company sold a 25% stake, or 2.173 million shares, to Seidler Equity Partners.

SW also made a motion to pay up to $5 million to critical vendors that will maintain will either refuse to ship goods or suffer significant hardship if forced to do so. Those 20 to 30 vendors designated as "critical" are collectively owed $15 million.