By Thomas J. Ryan
Carried by thriving outerwear and-accessories revenues, SportChek's comps were up 3.2 percent in the first quarter through March 11, the date the global pandemic was declared. Store traffic and sales then declined the week after and began dropping at a double-digit rate after stores were temporarily closed on March 18 and consumer demand for apparel and footwear eroded significantly.
Figures are in Canadian dollars.
Overall, SportChek's comps were down 1.8 percent in the quarter, according to the quarter results of its parent, Canadian Tire Corp. E-commerce sales continued to contribute positively to retail sales with an increase in penetration rates. Among categories, positive comps came from Winter Outerwear, Clothing Accessories and Wellness.
SportChek's net retail sales decreased 13.1 percent in the quarter and net sales, including franchised operations, were down 12.1 percent to $370.1 million from $421.1 million a year ago.
The SportChek segment had 400 locations at the quarter's end, down from 404 a year ago. The SportChek segment includes Pro Hockey Life, SportChek, Hockey Experts, Sports Experts, National Sports, Intersport, and Atmosphere.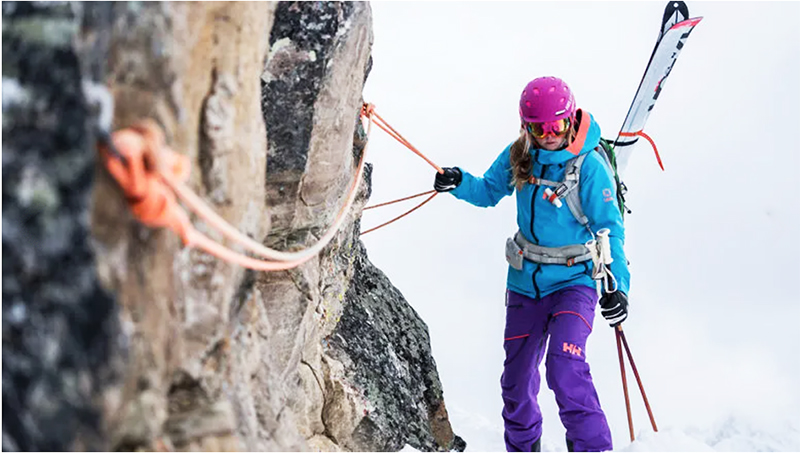 Helly Hansen, the Oslo, Norway-based maker of sportswear and outerwear acquired by Canadian Tire in July 2018, registered sales of $121.5 million in the quarter, a decrease of 7.3 percent. On a constant-currency basis, Helly Hansen's revenue grew 0.6 percent.
Said Greg Hicks, Canadian Tire's CEO, "Helly Hansen also lost momentum in the latter weeks of the quarter as its major European and North American markets became paralyzed by increasingly stricter physical distancing measures." As with other banners, e-commerce growth accelerated with Helly Hansen's online sales expanding 36 percent for the quarter, ahead of expectations.
…
Companywide, consolidated retail sales decreased 2.7 percent to $2.76 billion. Excluding petroleum, consolidated retail sales were down 2.3 percent over the same period last year. Consolidated revenue slipped 1.6 percent.
Among its other banners, Canadian Tire retail sales increased 2.2 percent and comparable sales were up 0.7 percent. Work-wear chain Mark's retail sales were down 15.3 percent and comparable sales decreased 4.5 percent. Companywide, e-commerce sales grew 44 percent in the quarter, led by close to 80 percent growth at the flagship Canadian Tire chain.
The net loss in the period was $13.3 million, or 22 cents a share, against earnings of $69.7 million, or $1.12 a year ago. On a normalized basis, the loss in the latest period was 13 cents.
EPS performance in the quarter was impacted by the following factors:
Decrease in revenue at SportChek, Mark's and Helly Hansen banners due to store closures;
A $44.9 million or 43 cents EPS incremental increase in the allowance for loans receivable; comprised of $30 million to reflect the shift in the macroeconomic environment and $14.9 million resulting from the increased probability of cardholder default;
A $41.8 million or 44 cents EPS net expense due to the significant decline in Canadian Tire's share price over the course of the first quarter resulting in a market-to-market adjustment on the company's equity hedges related to share-based compensation awards; and
A $7.1 million or 9 cents EPS non-operational foreign exchange loss at Helly Hansen due to the significant drop in the Norwegian Krone.
Canadian Tire said it has taken the following actions to ensure a strong cash position and financial flexibility, including:
Securing an additional $650 million credit facility from four Canadian Financial Institutions, in addition to the existing funding channels available to CTC and its related entities;
Pausing the repurchase of shares;
Implementing a plan to manage working capital and operating costs across the enterprise;
Deferring certain 2020 planned capital expenditures in all categories of projects while maintaining its investment in key strategic initiatives such as e-commerce;
Dramatically accelerating its digital and e-commerce efforts across all banners; and
Implemented Curbside Pick Up nationally in all Canadian Tire stores.
Canadian Tire also shared that TJ Flood, who was appointed president of SportChek in February 2018 after a 12-year stint at the Canadian Tire banner, was appointed president of Canadian Tire Retail, effective immediately. Hicks held that role until he was promoted to CEO in March.
Hicks said, "As you know, TJ has been the president of SportChek for the past two years and has done an exceptional job. He has had a very successful career at Canadian Tire spending time as a merchant and leading our award-winning marketing team. He was named Marketer of the Year in 2014. TJ has a terrific understanding of, and respect for, our dealer model, and we're thrilled to have him lead CTR. Congratulations TJ. I also give a tremendous thanks to our remarkable associate dealers and our brave frontline workers in our stores, call centers and distribution centers, all of whom are working under extraordinary circumstances to serve our customers."
Photos courtesy Canadian Tire/Helly Hansen (Kaylin Richardson, Helly Hansen Ambassador Athlete, Park City, UT)