By Thomas J. Ryan
Two former Spenco Medical Corp. executives, Jeff Antonioli and Brad Granger, have purchased the footwear assets of Spenco Footwear and rebranded the company to Waco Shoe Company.
In 2016, Antonioli, former VP of sales and marketing at Spenco Medical, and Granger, former VP of global manufacturing and business development, were part of a group of four former Spenco Medical employees that acquired the footwear and Silicore assets after Spenco's insoles and 2nd Skin first aid businesses were sold to Implus Corp.
In the latest move, Antonioli and Granger have essentially bought out the two other partners.
Waco Shoe Company will still license the Spenco name from Implus and the change from Spenco Footwear largely reflects conflicts in the marketplace as Implus continues to sell Spenco orthotic insoles.
But the name change also reflects the broader line-up of brands the Waco Shoe Company is now offering including Spenco footwear as well as the company-owned Revitalign line and the licensed Ironsport and Ironman footwear ranges. Plans are also in the works to launch a Waco Shoe Company collection.
Waco Shoe Company comes from the headquarters and hometown of Spenco Medical Corporation in Texas. The company continues to operate from the city.
Spenco first entered the footwear market in 2010 with its Yumi sandal, designed for customers who traditionally could not wear flip-flops because of poor arch support. Since then, the company has introduced additional styles for men and women in shoes, sandals and slippers.
All footwear features the Total Support footbed design of Spenco insoles and incorporates a cushioned heel, deep heel cup, orthotic arch support, metatarsal dome, and a cushioned forefoot.
…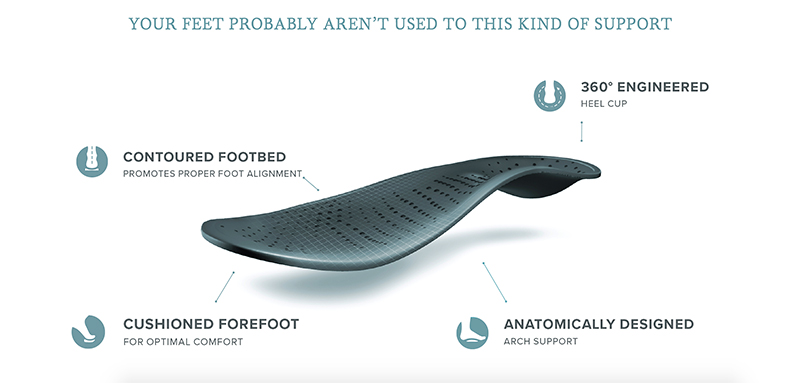 …
Sales have been strong and have doubled over the last three years.
"The market has readily embraced the Total Support footbed as an orthotic shape," said Antonioli in an interview with SGB Executive. "The medical community has fully endorsed it. Usually, podiatrists say, "Don't wear sandals." That no longer exists with Spenco footwear."
"In orthotic footwear, Spenco is truly unrivaled," said podiatrist Nicholas Pagano of Barking Dogs Foot and Ankle Care in Plymouth Meeting, PA, in a statement. "It's the only product suitable for all foot types providing the unique combination of total contact support and cushioning. This level of support and the health benefits that Spenco Footwear provides is similar to a custom-grade medical orthotic."
Spenco sandals also stand out from competitors that promise arch support by having no break-in period. Said Antonioli, "It's good for all foot types."
The brand has gained a foothold in the run and outdoor specialty as well as the family shoe channel. QVC has also been a success. Playing up its orthotic messaging, the brand is able to sell 60,000 to 70,000 pairs per showing on the network.
Waco Shoe Company's other brands will likewise be rooted in orthotic technology.
Footwear and insoles are being offered through Iron Man and Iron Sport, the aspirational brand of Iron Man, and the range is also seeing growth.
Revitalign, initially developed by New Balance's sandal licensee, Klonelab, is a health-and-wellness brand that's a "little dressier" than the sporty Spenco line. It's currently women's-only but will eventually be extended to men's.
The Waco Shoe Company footwear line will have a western-wear positioning, including a "little horseshoe," to play up the city's Texas roots but likewise focus on orthotics. The range will include leather boots and casual shoes for both genders.
Granger said the company plans to develop "200 or so" additional designs every year to keep the range fresh. Said Granger, "We stay close to the market."
A lesser-known business that Waco Shoe Company operates is a sizeable third-party logistics operation through its ownership of Spenco Medical's 250,000-square-foot warehouse. The site in Waco will send out over a million orders this year as it handles the warehousing needs of third-party brands as well as its own. The facility has the capacity to drop-ship as many as 10,000 orders a day.
The company also has a warehouse in China and conducts business in over 35 countries. Said Antonioli, "Our reach is pretty big for what a lot of people would think as a small company."
Antoniloi and Granger both said efficiently and safely operating the warehouse has been one of the major challenges Waco Shoe Company has faced from COVID-19. One major benefit came from staggered shifts that have helped social distancing. An average of 10-to-15 employees now works the warehouse at one time with additional operational shifts versus having 40 employees in the past on a regular shift. Mandatory masks, temperature checks and single entry and exits have also been part of enhanced safety procedures.
Granger said, "Productivity and practicing social distancing have been challenging, but we've been able to do it, and we have remained COVID free here."
On the retail side, Antonioli said it's been "really tough" in the marketplace but he's encouraged to hear from "just about everybody" that comps have been running positive in May and June. The company itself had planned a 22 percent increase for the year before scaling it back due to COVID-19; however, it now expects to be up at least 25 percent this year as momentum has picked up, particularly online, and "at least" similar growth in 2021.
Photos courtesy Waco Shoe Company