"WTRX" (Water Xtreme) classes being launched this year at Life Time Fitness seek to draw the "high-intensity go-getter" to the pool, according to Kathleen Davis, director of merchandising, Speedo Fitness.
Writer: Thomas J. Ryan
Speedo USA is partnering with the Life Time Fitness to bring the intensity and camaraderie of a boot camp workout to the water.
"WTRX" (Water Xtreme) classes launched this year at about 40 select Life Time destinations and will reach about 85 by year end as part of the exclusive partnership. Each class will be taught by certified instructors, outfitted in Speedo apparel and footwear, and feature newly developed Speedo aquatic training aids, including the "Push Plate" and "Wake" water shoe.
In an interview at Speedo's showroom in New York City, Kathleen Davis, director of merchandising, Speedo Fitness at PVH Corp., the parent of Speedo USA, said the overall program seeks to bring the "high-intensity go-getter" heading to bootcamp, spin, pilates and other fitness classes to the pool. Aqua cycling itself has emerged as a huge trend recently. But Davis said swimming laps is seen by many as "not super fun" and typical swim aerobics classes lack the intensity of the trendy group fitness classes.
The move is also part of a broader effort to bring the "gym to the pool." Speedo has found that a primary barrier for gym members to work out in the pool is that they have to wear swimsuits. The brand has come out with an extensive collection of tops, shorts, bras that can be worn in the water but are also appropriate for the gym both in function and appearance. In bottoms, for example, the compression jammer is hidden under the standard gym short.
The WTRX in-pool high-intensity workouts will be supported by Speedo's introduction of two pieces of equipment. The Push Plate utilizes surface area resistance in the water to isolate muscles and core body strength that builds power without the risk of injury. Utilizing the bio mimicry tech of Speedo's award-winning Nemesis Fins, the Clutch Paddle can be used as a swim aid to refine technique and improve your strokes, but it also provides resistance for in water vertical fitness exercises.
The Wake shoe, with full drainage capabilities and slip-resistant traction, can currently be purchased on SpeedoUSA.com.
Ultimately, the WTRX program and Speedo's overall "gym to the pool" initiatives are designed to introduce more fitness enthusiasts to the "Power of Water." As seen in this video produced by Speedo, swimming's benefits include lower impact to reduce strain on joints and muscles; a full-body workout, significant muscle-toning capabilities, and high blood circulation for faster recovery. Working out in water is also said to have a calming effect similar to yoga.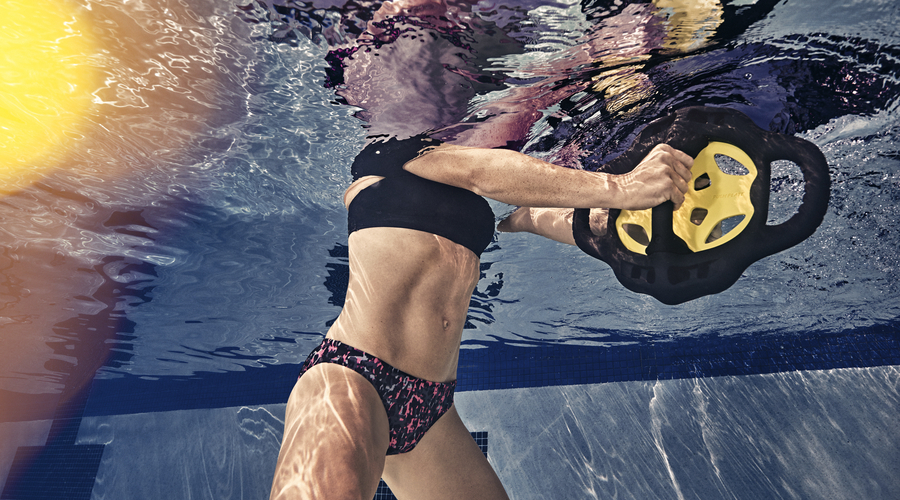 The WTRX class complements land-based routines and allows for customization based on fitness goals, including power, endurance and recovery, and serves as an extension of Speedo Fit, Speedo USA's total body aquatic training program created in partnership with EXOS.
"Traditional lap swimming continues to be a great full-body workout but we know the power of aquatic training goes beyond horizontal swimming and look forward to introducing Life Time's members to this full-body training experience," said John Graham, president of Speedo USA, in a statement.
Said John Reilly, president, fitness and nutrition division, Life Time Fitness. "We believe 'WTRX,' which we've created with Speedo USA, will quickly become a favorite and change the way our members view and think about aqua training as part of their healthy way of life."
Speedo will also become the Official Aqua Training Partner, and the exclusive Aquatic Outfitter and Aquatic Fitness Equipment Provider, for Life Time's more than 120 destinations across the United States and Canada. As the official apparel outfitter, Speedo products will be sold at Life Time's Pro Shops and online retail store, shop.lifetimefitness.com. Speedo will also be the Title Sponsor of the Life Time Tri Series, the nation's premier triathlon series, with iconic events such as the New York City Triathlon, Chicago Triathlon and South Beach Triathlon.