By Eric Smith
From an early age and well into her adult life, Cindy Feinauer has built an impressive resume in the outdoor industry.
The Michigan native "loved the outdoors as a kid" and played sports in both high school and college. After graduation, Feinauer moved out west to pursue her passion for adventure as a backcountry guide, instructor of guides and outdoor program director.
She then went on to coach collegiate and professional soccer—another one of her passions—before realizing that a career in business would help her more quickly pay off student loans. So she joined Wolverine World Wide Inc., first with Merrell as both a tech rep and sales rep before moving over to fellow Wolverine footwear brand Chaco as a regional sales manager.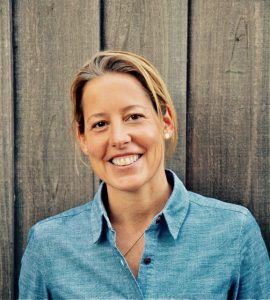 Along the way, Feinauer, pictured left, earned an MBA to sharpen her business skills, which helped her land the director of sales gig at Smartwool before moving on to North America sales director at Timbuk2. That led to her current role at Specialized Bicycle Components' custom division, where she has worked for the past five years, most recently as general manager or Specialized's newest venture, the stainless steel bottle brand Purist.
Although Feinauer has held a variety of roles at different companies, one important thread—beyond the fact that most are outdoors-related—connects each career stop.
"How I got to where I am today is my love for teams—building teams and creating strategy," she told SGB in a recent interview. "That's what I took from guiding and coaching and brought into the business world. I like building a team and asking such questions as, 'Strategically, how do we win in the market? What are the key insights? How do we set ourselves apart?' Then the question is, 'How do we build a team of talented folks who can create a vision and execute that strategy?' That's what I love to do."
A passion for team-building is still guiding Feinauer, and it drove her to spend the last couple of years developing the Purist brand. She and her team brought the brand to market in 2018 and have worked tirelessly ever since to help it flourish.
Everything is on track for Purist, which is a standalone brand within Morgan Hill, CA-based Specialized Bicycle Components. The 45-year-old privately held company (Taiwan-based Merida Bikes owns 49 percent) doesn't disclose revenue, but Feinauer told SGB that Purist is seeing triple-digit growth over 2018.
The Purist product line is a collection of stainless steel bottles that use Specialized's patented Purist technology—an ultra-thin glass finish on the inside of the bottle that doesn't retain the taste of whatever liquid it holds. Specialized introduced the technology in its ubiquitous squeezable bike bottles, but the company a few years ago decided to enter the competitive, and somewhat crowded, category of stainless with Feinauer leading the way.
"Looking at the market, we knew that the hydration market was going to continue to grow and that stainless, in particular, was going to continue to grow," Feinauer said. "We knew there was an opportunity in the market if we could figure out how to put our technology there. One of the things I love about Specialized is that the company doesn't want to put a product in the market unless they know it is truly, uniquely beneficial to the consumer."
Of course, the question of entering a crowded category is one that Feinauer has grown accustomed to answering. Plenty of existing stainless steel bottle makers are in the market, with several startups also planting their flag as an alternative to plastic. How would Purist differentiate?
"It is an incredibly saturated market right now," she said. "A lot of the retail partners that we've talked to said there are currently too many brands and that they're looking to simplify. That was key for us in doing our research and talking to our partners about how we do this right. Everyone we talked to said we have to be differentiated to catch an eye right now because everyone is looking to slim down the number of brands they're carrying in hydration."
Part of differentiating centered on product. Purist decided to curate a limited number of models and colors it would offer to not only keep a retailer's inventory from being clogged but also to better target the right customer, whether that was in lifestyle or outdoors or both.
"I do think we set ourselves up well, not only from a technology standpoint, which is probably the No. 1 differentiator, but when we looked at the market, we saw that there was room for more premium, elevated design and that consumers were willing to pay higher price for it," she said. "In particular, the everyday lifestyle category was being driven by working professionals. And then you can also see that a lot of your organizations now are moving to not using plastic in their facilities."
Purist also targeted the white space in gender-neutral design, which helps the brand appeal to consumers who want one bottle for all their needs—coffee in the morning, a smoothie after a workout and an adult beverage in the evening. Also, something that would look good at home, at the office or on the commute.
Another key component of Purist's differentiation was on the business side. Specialized was careful to ensure Purist, aside from the technology it uses, remained completely separate from the parent. Purist is its own P&L and has its own production facilities within the Specialized supply chain, although there are, of course, some synergies, Feinauer said.
"We have the same DNA of premium innovative products in design," she said. "But the end consumer for Purist is a very different consumer than the Specialized consumer, per se. It's important that our brand—what we stand for, our brand language and all that—is separate from Specialized."
The brand certainly stands out through its channel strategy. Feinauer said that while the brand is in outdoor specialty doors, that isn't the only one Purist is targeting. Besides, that channel is evolving and lines are blurring, which should bode well for more of its products to find their way onto shelves.
"I think the outdoor industry itself is leaning more into everyday lifestyle, and there's a lot of crossover," she said. "Our focus and distribution channel is in premium outdoor and premium lifestyle. That's where our focus is and those are the kind of partnerships that we're looking for. That's where we believe our target consumer shops."
Purist's distribution focus right now is direct-to-consumer, but the brand is growing its wholesale partnerships and Feinauer said the goal is to achieve a more even mix of DTC and wholesale. One advantage in that endeavor is having a parent company like Specialized nurturing the brand and letting Purist find its footing naturally rather than inundating existing channels with excessive inventory.
"One of the things that I love about Specialized and the executive team here is they're allowing us a runway to do this in the right way," Feinauer said. "We're trying to grow with the right partners and being particular with the partnerships that we align with. One of the things that's big for this brand is making sure this brand stays premium and isn't discounted. We do that by telling the right story to our target consumer through those partnerships. We're looking for the right type of slow growth for this brand."
The brand is also developing a giveback strategy that's focused on amplifying the message of the nonprofit organizations it works with. The brand's charitable outlet, Purist Collective, is an initiative to channel financial and promotional support to nonprofit organizations and then gather those leaders together to share ideas, concerns and strategies for how to best further social causes.
The Purist Collective's first partner is Portland, OR-based nonprofit p:ear (Project: Education Arts Recreation). Purist invited the organization to join them at Outdoor Retailer Summer Market to share its mission with the outdoor community. That's something Purist will continue to do, because fostering the brand ethos is just as important as top-line growth, Feinauer said.
"I think that's probably one of the most exciting parts of the brand, to be honest," she said. "Those are the types of relationships and partnerships that we are thankful for and committed to. Hopefully, it will help us become better."
As Feinauer shepherds the Purist brand into the next phase of growth—finding new channel partners, expanding distribution and growing revenue at the right pace—she is excited for what comes next. For the brand, for herself and, perhaps most importantly, for the team she built and continues to lead.
"I think we still have a lot to learn," Feinauer said. "But if we can continue to look at the market, find those key insights and white space and continually have those challenging collaborative conversations with our partners and making sure that we're reacting, shifting and adapting, I think we can set ourselves up for success."
Photos courtesy Purist