Drawing from tire tread, Michelin and

Northwave

leak their new hybrid MTB footwear to

SGB

. 
By Jahla Seppanen
Over the last two-and-a-half years, one of the three leading tire manufacturers in the world has stamped its name on the sole of outdoor footwear.
Michelin, the 127-year old French-born company that took to making bicycle tires in the late 1800s, then largely car tires, is paving its way through the outdoor market with custom co-branded soles that reference its many tire treads. Now on the heels of everyone from Salwea, Hi-Tec and Under Armour, Michelin Technical Soles got its true start from a collaboration with Italian cycling king Northwave.
At the tail of 2013, Michelin Technical Soles — managed by global strategic partner JV International — came to Northwave through a mutual interest: the Montebelluna shoe district of Italy. JV International's Partnership Development Manager, Filippo Sartor, is native to the area and knew Northwave was looking at potential sole partners. Sartor and his Michelin crew approached the brand, and by 2014 they had their first co-created cycling shoe.
SGB met with Sartor and JV's Marketing & Communication Manager, Chiara Carozzi, in Boulder, CO to preview the next evolution of their partnership.
After noticing a shift in consumer sentiments that favored Northwave's mid-cut, enduro-racing shoe for its comfort while walking out of the pedals (no clip-clapping around), Michelin and Northwave are collaborating to bring a more flexible forefoot to the 2017 MTB shoe assortment that draws from well-known MTB tire treads. This means a true mountain biker can immediately recognize the sole pattern matching the tread to MTB tires, much like a computer programmer reading code. In this case, the sole is a hybrid of the Country Dry 2 and Country Rock Michelin MTB tires.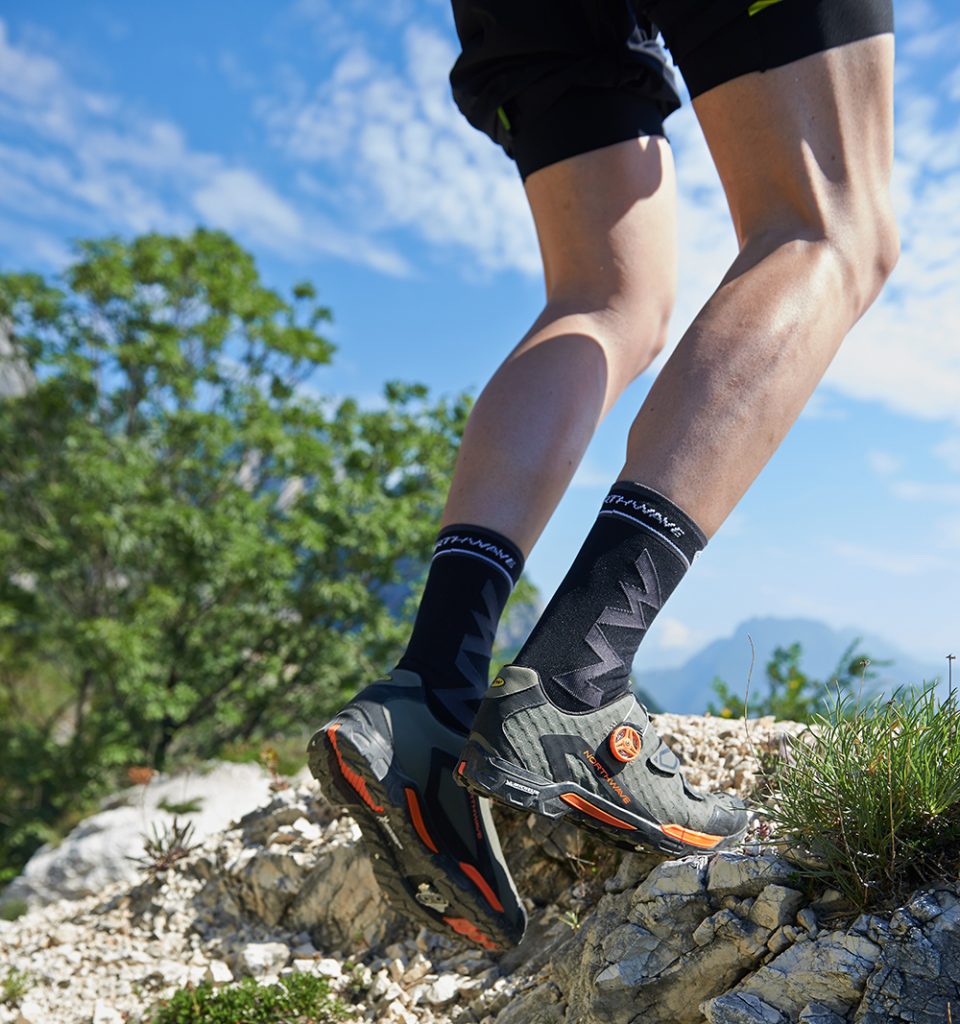 They're calling the amalgam "Explorer Outsole," and using different sculptures to define the three designs making up the Outcross range (Outcross Plus, Outcross and Outcross Knit). The aesthetic of each shoe reads more like a traditional hiking or trail running product, while the grip is highly rugged and strategically cut.
The new shoes still aren't something consumers will necessarily hike in, but they're a big departure from the standard. "It's a completely new range designed for a new generation of MTB riders," said Gianni Piva, founder and owner of Northwave.
Stylistically, it's a move that follows the much larger trend of do-it-all users — as more consumers are hiking, biking, running and climbing all in the same adventure.
Michelin will keep the Explorer Outsole exclusive to Northwave, boasting that it creates unique treads for all of its brand partners, interactively and without prescription. This is why it takes between 10 and 24 months of R&D to develop a co-branded Michelin sole, and why brands are seriously taking notice.
Expect for Michelin to be a big part of the conversation at EuroBike and InterBike, and a focus at the Under Armour booth in Salt Lake City during Outdoor Retailer Summer Market. SGB also caught sight of the Michelin/AV group sporting co-branded Mizuno kicks — a new partnership presented in Europe just last week with plans for a U.S. breakout come 2017.
Photos courtesy Northwave