By Eric Smith
In October 2016, Joe Kalfa was playing tennis in his native Israel when he noticed someone claim a nearby court to use the club's ball machine.
As Kalfa and his friend continued their match, they would glance over between points only to see the person struggle with this cumbersome process.
First came lugging the ball machine from a distant equipment shed onto the court. Then the untangling of an extension cord and plugging it in to a faraway outlet. Then a trip back to the shed for a hopper of balls. Then the need to fine-tune the direction of the machine's shots. And then finally, after what seemed like a workout in itself, the chance to practice some groundstrokes.
By now, Kalfa's match was over. And as he contemplated the laboriousness of that all-too-familiar ritual at clubs around the world, the avid tennis player figured there had to be a better way to practice tennis using a ball machine.
In that moment, Slinger Bag was born.
First Serve
Kalfa's "a-ha" idea was a portable, lightweight, versatile and more accessible ball machine—not a machine, actually, a launcher—that any consumer could buy at their local pro shop and easily transfer between home and car and court.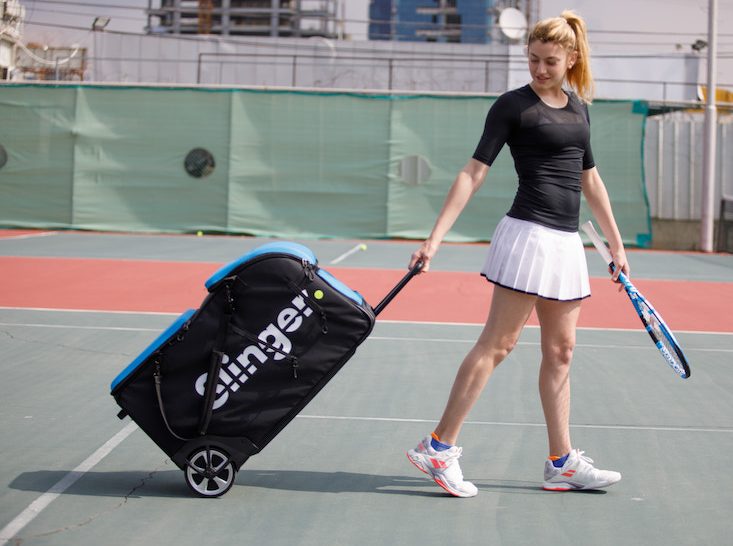 While Kalfa came up with the initial design for the Slinger Bag, he eventually enlisted the help of others to form a company of the same name. Joining Kalfa were his brother, Nick Kalfa (COO), Juda Honickman (CMO) and Arik Yuval (head of R&D). As they soon learned, the ball machine space was in need of disruption in the form of a consumer-friendly product.
"The traditional tennis ball machine market is geared toward clubs and geared toward schools," Honickman told SGB via phone from Israel. "Joe thought, 'Why can't a ball machine be something every tennis player could have?'"
Over the next year, the Slinger Bag team worked on the design of the product and in June 2017 unveiled a prototype of the launcher—one that was portable, cordless and could be turned on and off by remote control. In the following months, they tested it in the field, worked out the bugs and then launched a Kickstarter campaign in February 2018.
The product was an instant hit, reaching its goal of $25,000 in 45 minutes. The company sold $1 million worth of Slinger Bags over the next four months before transitioning from Kickstarter to the Indiegogo phase of the crowdfunding process.
"We really buckled down and said, 'You know, this is a much bigger product than we thought it was going to be. These things have really got to be durable and they've got to work well because there's going to be a lot of people using it all over the world,'" Honickman said. "We really doubled down on design and everything else that it took to put Slinger into production."
Big Hitter
As the company prepares for shipping product to Kickstarter backers by the beginning of summer and hopefully having it available for all consumers by mid-summer, Slinger Bag found another way to legitimize and validate its proof of concept—hire industry stalwart Mike Ballardie, former Prince CEO, to lead the company's business efforts.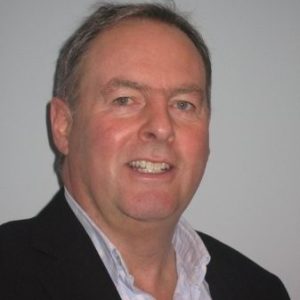 Ballardie hadn't heard of Slinger Bag until Nate Pund, a managing director with Houlihan Lokey, introduced him to Honickman after Pund had visited the company's booth at ISPO Munich in January.
Just a month later, Ballardie invested in the company and became CEO (click here for that article). He is now traveling the world over to introduce the company and its product to his extensive network of tennis executives and industry stakeholders.
Ballardie, pictured right, spoke to SGB Media earlier this week while he was driving through Florida, a journey that included a stop at the Miami Open tennis tournament to talk up Slinger Bag and hopefully land some investors.
As Ballardie recounted, his first impression of Slinger Bag was admiring the professionalism of the website (slingerbag.com), but then, as he explored the product's features and thought about the potential based on his own industry experience, he had the proverbial "wow" moment.
"I've been in the tennis industry for 30-something years as a player, coach and business leader, and I've been shown more ideas than I can remember," Ballardie said. "But this is one of those that struck me as something that could be a significant step forward for the industry. I spent 13 years at Prince, and before that, I spent 10 years at Wilson. Nobody in any of the tennis companies has really addressed the issue of how to make a tennis ball machine that actually is going to be interesting for the tennis player as opposed to just the tennis club or coach.
"My gut feeling was that this is going to be something quite significant."
Approach Shot
Ballardie, who is based in the UK, admired the founders' passion for tennis and immediately understood how their love of the game had inspired the product. Here was something a player of any skill could easily take to the court, quickly set up and thoroughly enjoy. The Slinger Bag even carries a player's racquets and tennis balls and can charge their phone.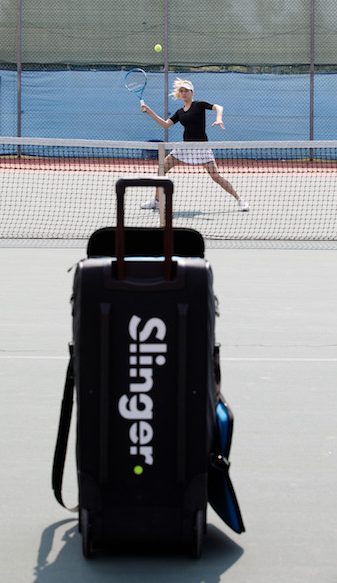 He also saw an opportunity to not only tap into the existing ball machine market—which currently is only about 13,000 units worldwide, according to industry research (Slinger Bag sold a quarter of this total in a four-month crowdfunding campaign)—but also create white space for the sport.
"Companies are selling very expensive machines for $3,000, $4,000, $5,000, so you would expect the unit numbers to be quite low," Ballardie said. "But what Slinger Bag's launcher is going to do is create a completely new market for tennis ball launchers. That's one of the reasons we're calling them launchers and not ball machines."
With competing products priced around the $1,500 mark, Slinger Bags will retail for around $500, or the cost of two racquets, Honickman said.
Now that the team is on board and production is underway, the next phase for Ballardie and Slinger Bag is centered on perfecting the business model, spreading the word and driving sales.
Ballardie has been doing market research with his tennis connections, and he is planning to showcase the product to high-profile tennis coaches like Nick Bollettieri, as well as tennis specialty dealers, distributors, members of the USPTA and PTA, current and former professional players—"a multitude of people in tennis that I have great respect for," he said.
"I want to get their input and see if there's a way we can bring them into the Slinger family to help us with the community of users that will ultimately build up over the next couple of years," Ballardie said.
The company is forming an LLC in the U.S., "Slinger Bag America LLC," while also establishing business platforms and forming logistics partnerships. It is looking to lease warehouse space in North Carolina (with Charleston, SC, as the port of entry for product arrival from Asia) and open a U.S. office in that region, as well. Slinger Bag, which is patenting its product and trademarking its name, is also working on its distribution plan. These are the areas where Ballardie's experience with Wilson and Prince comes into play.
"Mike brought a lot of tennis knowledge and experience of the marketplace for the company," Honickman said. "He's in the process of setting out a full global distribution network, which we intend to use."
And while the company is still devising its channel strategy, it is looking at the usual retail and wholesale partners, including specialty shops, e-tailers, and big-box sporting goods stores, in addition to direct-to-consumer.
One twist on the company's direct model, however, will be taking orders over the SlingerBag.com e-commerce platform but then having a local retailer handle fulfillment. "We'll be doing all the work on the front end, but we're also giving them business," Ballardie said. "Everyone around the world will be promoting SlingerBag.com as the e-commerce platform but the end delivery is going to come from our partners in retail."
Advantage Slinger Bag
As for the company's structure, Kalfa is the sole owner of Slinger Bag, while Nick Kalfa, Ballardie and Honickman also have an equity stake. Slinger Bag is in its first round of funding, and Honickman said the company expects to make some announcements regarding investors in the coming weeks.
Slinger Bag is looking to disrupt the tennis ball machine market, of course, but the founders' goals extend beyond selling product. As diehard tennis players, they are hoping to create a new spark for their sport.
That is much-needed, as tennis participation has flattened over recent years, according to the Sports & Fitness Industry Association's most recent Topline Report. The sport counted 17.8 million participants in the U.S. in 2018, just a 0.9 percent increase from 2017 and a 0.2 percent decline from 2016.
For Ballardie, whose decades of working in the tennis industry has given him plenty of insight into what counts as an ace and what falls flatter than an old tennis ball, Slinger Bag has the potential to be not only a financial success for the company but a boon for the industry as a whole.
"The launcher is going to be an ideal tool to plug up the leaky bucket syndrome that tennis faces," he said. "You always need someone to play against, and typically if you play against someone who is not as good as yourself, it doesn't seem to be very enjoyable and maybe you don't play again. With the ball launcher, you can do simple practices at a very slow speed, or you can run yourself ragged around the tennis court for a workout. I think it's absolutely going to help promote the sport.'"
Photos courtesy Slinger Bag