By Jahla Seppanen
Skirt Sports, the hear-her-roar brand created by collegiate athlete turned Ironman Champion Nicole DeBoom, has officially set up shop. Traditionally the women's activewear label sold its pieces through vendors, gym and the Skirt Sport website, but DeBoom sensed a shift in the retail winds and ventured to go brick-and-mortar (although the other sale avenues still co-exist).
The brand's Flagship store opened in Boulder, CO in June 2016, and the location couldn't be more intriguing— the opposite corner from The Boulder Running Company, just off 28th and Spear Streets in downtown Boulder. Boulderites can envision the spot, but for non-locals suffice it to say, Skirt Sport landed some prime real estate.
SGB went down basin to visit the new retail spot, which also houses the brand's design, development, marketing and sales operations from behind the sales floor, chat with DeBoom, and scope whether this women's brand is practicing the retail best practices asked of its consumers (i.e. welcoming layout, fun product assortment and inviting changing rooms).
Check, check and check.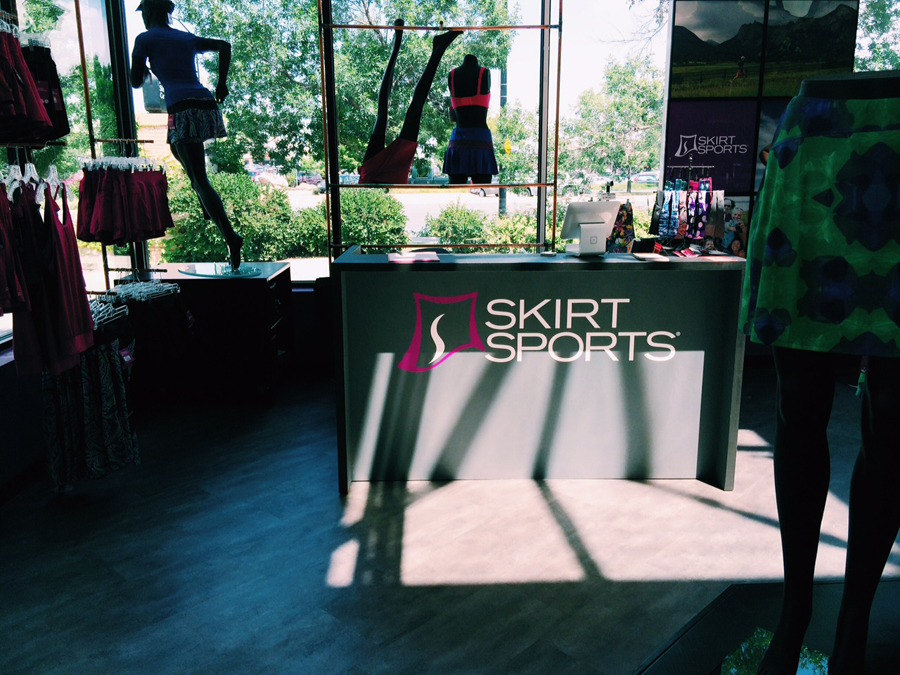 With a retail floor at approximately 1,000 square feet, the initial impression SGB got walking through the doors was one of a bright, inclusive brand that knows its target audience. Bold patterns (created in-house), racks of classic black leggings, Fit Deck playing cards, brilliant turquoise changing curtains, printed shirts with jocular running quips like, "I thought they said finish wine," and a welcoming but nonintrusive sales associate behind the front desk. (Fun fact: nearly all Skirt Sport Flagship employees are working moms or young athletes.)
"Its absolutely, critically important for women to feel they have a comfortable, secure place," said DeBoom. "Right off the bat, we have made sure the store is not overly cluttered; bright and fun; there's a wall that really represents who we are—which is real women, not models in unachievable yoga poses; and photos from customers tagged up all over the wall."
Other small but pivotal details that promote a positive retail experience for women include multiple changing areas with sewed magnets into curtain sides so they close all the way up to the door. "These are little things create comfort. We've always got music playing and free food or free drink (this time it was Skratch Labs) to give away. Women like treats and feeling they are getting an extra something special," DeBoom added.
In fact, the storefront didn't feel like a retail store, but more of a club house.
Littered throughout the shelves and racks were nods to the brand's history, including the first skirt DeBoom designed, before launching the Skirt Sports brand in 2004.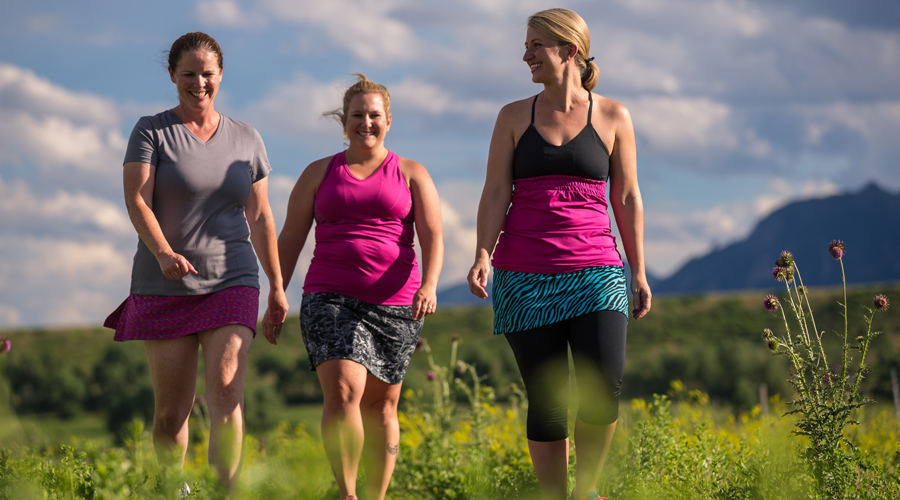 "I focused on one item never done before and got obsessed with the plight to create a skirt that would be like, and perform better than, shorts. And I won the race wearing the prototype – my only ironman win."
From thereon, DeBoom became an idol in the women's running and tri community. One look at her social media presence and it's clear she can't help but inspire females around her to dominate sports. DeBoom herself grew up playing every sport available, gravitating toward swimming, which she teaches as an instructor today.
"Connecting is huge," DeBoom told SGB, speaking about the retail location but hinting to something bigger for the brand as a whole.
DeBoom let SGB in on a secret collaboration in the works that will include the consumer in the design process of future apparel pieces. "We'll be including customers more closely with the product process from ideation all the way through creation. We will be getting ready to launch a collaborative process that nobody else is doing in the fitness apparel space," DeBoom added.
For Skirt Sports, that consumer is a woman, living an active lifestyle, between 30 to 50 years old. She's not right out of college, although some young women do enjoy the Skirt Sport aesthetic. DeBoom explained it has become more important than ever to include this consumer. "She's not getting a lot of love," DeBoom said. "New brands are looking to aim for a young consumer, but the woman we create for needs inspiration in other ways, maybe she's had kids and is looking at her body in a different way."
More news coming from the Flagship shop surrounds a revamped effort to create events for the 303/720 community. This is where gaining real estate close to one of Boulder's premiere running specialty stores was more than coincidence, but strategy. "The visibility here is fantastic," DeBoom said. "We're looking to fill the house at least one a month."
As for the challenge of adapting a brand to a retail shop, DeBoom is more than confident that for now, it's the right thing to do. DeBoom got into the category more than a decade ago and has been reacting to changes in the marketspace since then. For Skirt Sports, this has always meant doing more than making apparel. In 2007 it launched the Skirt Chaser Race Series of 30 races around the country. Seven years later in 2014, the event world changed with themed races growing more popular, gobbling up the Skirt Chasers events. The event was taken away with no hard feelings. "I said, 'let's change track,'" DeBoom told SGB.
And it hasn't broken the Skirt Sport stride. If anything, it allowed DeBoom to transition the brand from its Gunbarrel office/showroom into the sweet Boulder beacon its growing into today. DeBoom knows more than anyone how important it is in this industry to keep moving. And she's made a brand that makes us want to watch where it goes.
If you're in Boulder, CO, visit Skirt Sports at 2795 Pearl Street (Unit 102).
Lead photo, Creator and Founder, Skirt Sports, Nicole DeBoom.  Photos courtesy Skirt Sports & Jahla Seppanen