Skechers USA Inc. reported earnings dipped 7.6 percent in the first quarter. Sales grew 2.1 percent as a 9.3 percent jump in the company's international business offset a 6.3 percent decrease in its domestic business. Earnings and sales came in at the lower end of guidance but Q2 earnings are expected to improve.
First Quarter Highlights
Record sales of $1.28 billion, an increase of 2.1 percent, or 5.2 percent on a constant currency basis
International sales increased 9.3 percent, or 15.0 percent on a constant currency basis
Earnings from operations of $165.9 million, an increase of 11.5 percent
Operating margin increased to 13.0 percent
"The momentum we experienced in 2018 is continuing as we again achieved a new quarterly sales record in the first quarter of 2019," began Robert Greenberg, chief executive officer of Skechers. "Our focus has been on designing and delivering relevant product across all genders and categories and supporting it with targeted marketing for our diverse consumer base. In the first quarter, Skechers GOrun Razor 3 Hyper received the Editor's Choice award by Runner's World, we were on fashion week runways in Berlin and London, launched both a new men's campaign during the Super Bowl with football legend and broadcaster Tony Romo, and a fresh women's campaign with pop superstar Camila Cabello, who appeared in Skechers D'Lites in store windows, magazines, and on television and billboards around the world. We also sponsored the Skechers Performance Los Angeles Marathon and several Skechers elite golfers and runners recorded victories. We are continuing to capitalize on the chunky trend we developed with our heritage styles across both men and women—with new styles shipping around the world throughout 2019. We are already seeing a positive impact in sales with the launch of our television campaigns for Spring, and we believe our momentum will continue into the second quarter. Further, we're looking forward to meeting with our domestic and international accounts and partners over the next two months, presenting our new styles and marketing."
"Achieving a new quarterly sales record, especially given our record first quarter last year, which also had the benefit of Easter and positive currency, is a noteworthy accomplishment," stated David Weinberg, chief operating officer of Skechers. "Driving our first quarter 2019 growth was our international wholesale and global retail businesses. On a constant currency basis, our international sales growth was 15.0 percent and our total sales growth was 5.2 percent for the quarter. In the quarter, we also shipped a record number of pairs from our distribution centers in Japan and Europe, and we saw strong growth within our international distributors and joint ventures, including China. With a focus on building our global business, we converted our joint venture in India to a wholly owned subsidiary, and we finalized a joint venture agreement with our distribution partner in Mexico earlier this month. We expect these investments to be accretive in 2019, and for international, which now stands at 57.8 percent of our total business, to continue to drive growth."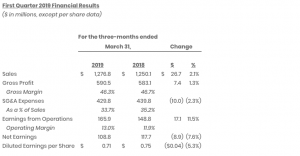 When it reported fourth quate earnings on February 7, Skechers had predicted sales in the first quarter in the range of $1.275 billion to $1.300 billion, and diluted earnings per share of 70 to 75 cents.
Sales in the first quarter grew 2.1 percent as a result of a 9.3 percent increase in the company's international business, partially offset by a 6.3 percent decrease in its domestic business. On a constant currency basis, the company's international business increased 15.0 percent. By segments, the company's international wholesale business increased 8.7 percent, its company-owned global retail business increased 6.7 percent, and the company's domestic wholesale business decreased 10.9 percent. Comparable same store sales in company-owned stores and e-commerce increased 0.7 percent, including 0.2 percent in the United States and 2.3 percent internationally—excluding 61 stores in India that recently transitioned from third-party to company-owned.
Gross margins were slightly lower as improved margins in its company-owned domestic retail business were offset by lower international margins from higher discounts and negative foreign exchange impacts.
SG&A expenses decreased 2.3 percent in the quarter. Selling expenses decreased by $14.2 million primarily due to lower domestic advertising levels. General and administrative expenses increased by $4.2 million but decreased as a percentage of sales. The increase reflects additional spending of $7.8 million to support operations in China and $8.0 million associated with operating 40 additional company-owned Skechers stores, including 12 that opened in the first quarter. These expenses were partially offset by the receipt of a performance-based government rebate in China of $15.8 million.
Earnings from operations increased to $165.9 million, or 11.5 percent.
Net earnings were $108.8 million and diluted earnings per share were $0.71. In the first quarter, the company's effective income tax rate was 19.5 percent, reflecting the negative impact of several discrete items, totaling $0.02 per diluted share. In the prior year, the company's effective income tax rate was 9.6 percent, reflecting the positive impact of a discrete item associated with the Tax Cuts and Jobs Act, totaling $0.07 per diluted share.
Balance Sheet
At quarter-end, cash, cash equivalents and investments were $879.8 million, a decrease of $186.1 million, or 17.5 percent, from December 31, 2018, and an increase of $161.2 million, or 22.4 percent, over March 31, 2018.
Total inventory was $740.9 million, a $122.4 million or 14.2 percent decrease over December 31, 2018, and a $59.5 million or 7.4 percent decrease over March 31, 2018, reflecting reductions in both domestic and international markets.
Working capital was $1.66 billion at March 31, 2019, a $57.1 million decrease over December 31, 2018, and a $20.9 million increase over March 31, 2018.
At the beginning of the fiscal year, the company adopted Accounting Standards Codification Topic 842, Leases (ASC 842), the new accounting standard impacting the treatment of operating leases. The effect of adopting ASC 842 was an increase to the company's assets and liabilities to reflect the right-of-use of leased properties as well as operating lease liabilities, respectively.
"Given the fairly challenging conditions of the quarter, we are quite pleased to have successfully executed against our strategy by continuing to grow sales and to profitably invest in our operations," said John Vandemore, chief financial officer of Skechers. "We believe the underlying momentum in our business is strong, as evidenced by our backlog and current booking trends, as well as continued growth in our direct-to-consumer channels. We continue to invest in our infrastructure and operational capabilities across the globe, including development of our new China distribution center, breaking ground on the expansion of our corporate offices, and development of direct-to-consumer offerings both in our company-owned e-commerce channels and in our retail stores."
Share Repurchase
During the three months ended March 31, 2019, the company repurchased approximately 458,000 shares of its Class A common stock at a cost of $15.0 million under its existing share repurchase program. At March 31, 2019, approximately $35.0 million remained available under the company's share repurchase program.
Outlook
For the second quarter of 2019, the company believes it will achieve sales in the range of $1.200 billion to $1.225 billion, and diluted earnings per share of $0.30 to $0.35. This guidance takes into account the impact of existing foreign exchange headwinds and the commencement of joint venture operations in Mexico. Based on current expectations, the company anticipates that its 2019 annual tax rate will be in the range of 17 percent to 20 percent.
In the 2018 second quarter, earnings were 29 cents a share on sales of $1.134 billion.
Image courtesy Skechers