By Thomas J. Ryan
Describing it as the "most unusual earnings call in our 21 years of being a public company," David Weinberg, COO at Skechers USA, stressed that the footwear giant has taken the necessary steps to weather the fallout from COVID-19 and believes the brand is well-positioned to benefit when stores re-open. The troubling question, he admitted, is when will stores re-open.
The company said it would no longer be providing any guidance given the ongoing business disruption and substantial uncertainty surrounding the impact of the COVID-19 pandemic.
In the Q&A session, Weinberg noted that while Skechers is taking aggressive steps to capitalize on its booming online business during the pandemic, it's hard to offset the loss of physical retail at its wholesale partners and its own stores. Estimating SG&A expenses for a year is particularly challenging given the costs involved in operating stores that are now closed and vast uncertainty about re-openings that may prop sales.
Said Weinberg, "Until we know on a worldwide basis when we are coming back to business, when people will be back in the offices when furloughs will end, it's very difficult to give you a ballpark number on what G&A is going to be."
John Vandemore, CFO, added, "Quite frankly, we don't have a plan, we have multiple plans right now and all of them are in a bit of suspension until we know those retail environments begin to reopen."
The expected "different pacings" of openings further makes it challenging to estimate what the company's spending rate may be going forward.
"We're looking at everything on the spend side," said Vandemore. "We're going to prioritize only that which is central and critical at this point in time. We want to continue to take advantage of what we're doing online. But after that, it's going to be contingent upon what both the governments and the environment allow us to open."
…
Encouragingly, the sales trajectory in China and several other markets in Asia, with stores now open, is positive. Nearly all of its stores in China are open and are on a steady rising growth trajectory. Some stores in China may be comping positive but in the aggregate, China's stores are now operating in the range of 70 percent to 75 percent versus year-ago levels.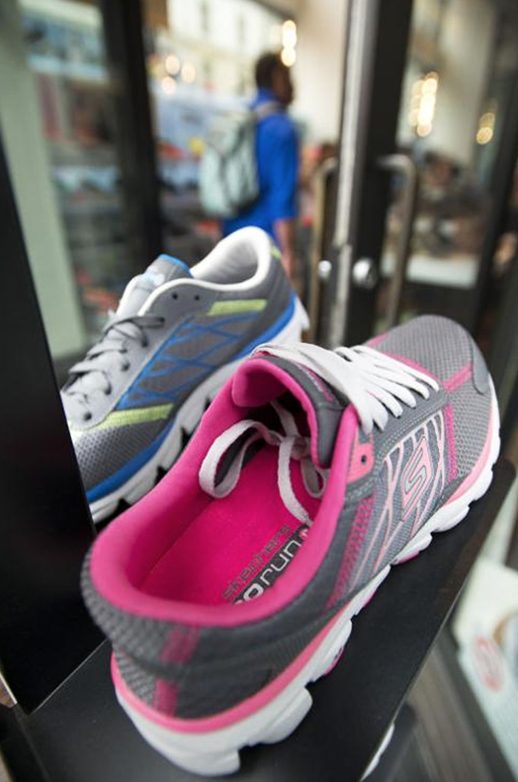 Skechers' online business in China grew low double-digits in January and has returned to mid-single-digit growth in April. Weinberg added, "Last week we opened our first new store since the pandemic occurred, a 9,000-square-foot outlet store in the northeast of China, and it performed extremely well."
Several international markets are also now starting to open, including Germany, Austria, Scandinavia, and the Netherlands.
In another positive development, Skechers' e-commerce sales have exploded amid the pandemic. Online sales expanded over 70 percent in the first quarter and are catapulting 250 percent month-to-date. In several key international markets, April online sales are already above their entire first-quarter online sales.
Sales are also strong on third-party sites with Skechers ranking among the top three, if not at the top, of footwear brands now being purchased online at its wholesale partners.
Weinberg also pointed to signs of strong momentum for Skechers prior to the disruption caused by COVID-19. Fourth-quarter growth had exceeded 23 percent with consumer demand "at an all-time high." First-quarter growth of 9 percent in domestic wholesale revenues and 9.4 percent in its international subsidiary wholesale — led by Germany, Central Eastern Europe and Japan — were seen as signs of continued momentum.
Another sign of the brand's momentum was that worldwide comparable same-store sales in company-owned direct-to-consumer (DTC) business increased 9.8 percent for the first two months of the quarter before the pandemic spread across the globe in March. The momentum provides Skechers' officials confidence that consumers will seek out brands such as Skechers as regions recover.
"We believe these key indicators confirm that the global acceptance of our brand was extremely strong as consumers continue to demand comfort, style, innovation, and quality at a reasonable price, five key attributes offered throughout the Skechers product line," said Weinberg. "We are learning that during the crisis consumers still want comfort, quality and value in a brand they trust."
…
Beyond brand and product, Weinberg pointed to the company's diversity of product and distribution channels, solid relationships with factories and wholesale partners, and "exceptionally strong balance sheet and ample liquidity" as factors that should prove beneficial during the pandemic.
Indeed, Skechers' officials listed many steps the company has already taken to navigate during the crisis:
Last month, Skechers drew $490 million from its senior unsecured credit facility, which leaves over $1.3 billion in immediately available liquidity. Another $250 million of additional liquidity is available through an accordion feature of that facility;
All non-essential discretionary spending has been reduced, including curtailing business travel, reducing non-digital marketing spend and reassessing store rollout plans;
Staffing has been reduced, including furloughing select employees as well as freezing headcount and compensation levels; and
Capital expenditures have been focused only on "business-critical and highly strategic projects." Some projects have been delayed or placed on hold.
Said Vandemore, "We believe that we have adapted quickly to the current market dynamics and are well-positioned to manage through these challenging times."
…
In the first quarter, sales decreased 2.7 percent as a result of a 6.8 percent decrease in its international business which was partially offset by a 2.9 percent increase in the company's domestic business. On a constant-currency basis, total sales decreased 1.2 percent.
Domestic wholesale business increased 9.0 percent, company-owned DTC decreased 4.2 percent and international wholesale decreased 8.4 percent.
International wholesale was adversely impacted by results in China, which was down 47 percent in the quarter and impacted by a significant return reserve to keep franchisee inventory levels clean. Comparable same-store sales in company-owned DTC decreased 8.1 percent, including a decrease of 4.7 percent in the U.S. and 16.6 percent internationally, reflecting the closure of the majority of its company-owned stores since mid-March.
Gross margins decreased 220 basis points to 44.1 percent as a result of lower international gross margins. There was also a negative impact on gross profit in the quarter related to the acquisition of the company's interest in its Mexico joint venture in 2019. A one-time, purchase price adjustment of approximately $8.0 million was recorded in the quarter.
SG&A expenses increased 18.2 percent to $78.3 million, or 18.2 percent in the quarter. G&A expenses increased by 20.7 percent caused largely from a net increase of 54 new company-owned Skechers stores. Other factors include costs tied to the inclusion of Mexico operations, the absence of a rebate program in China and higher compensation and outside services costs.
Adjusted to exclude costs related to its joint venture in Mexico, net earnings were down 44.9 percent to $59.9 million, or 39 cents per share, from $108.8 million, or 71 cents, a year ago.
 Inventory at the quarter's end was up 33 percent reflecting ceased shipments to wholesale customers and the closure of its own stores. Said Vandemore, "We believe the actions we have taken and will be taking, to adjust future factory orders, will allow us to manage these balances with an eye toward emerging from the current climate with clean inventory levels."
Photos courtesy Skechers