At Jefferies 2021 Virtual Consumer Conference, Cliff Sifford, vice chairman and CEO at Shoe Carnival, said the off-pricer's strong recent performance is partly because it did not cancel orders in the early stages of the pandemic and was rewarded with orders as inventory became scarce. However, he said the retailer had built those vendor partnerships over time.
Sifford said he has been with Shoe Carnival for 24 years and was initially hired to run the company's merchant team.
"One of the things I found when I joined the company is that we had not done a good job of building relationships with our vendor community, and I felt it was vital that we have strong vendor relationships," said Sifford.
"Keys to those partnerships is not canceling orders 'on a whim' and working closely with vendors to explain the chain's promotional plans. We are there to support them, and they're there to support us," he continued.
As the pandemic arrived, Shoe Carnival reached out to key vendors to discuss the chain's COVID-19 roadmap and assured them that they would continue paying invoices during that time. The CEO said, "They were very appreciative of that. And once we reopened, we had terrific relationships."
He credited his merchant team for their "tremendous job," restocking on-demand categories such as athletic and comfort amid supply chain challenges; however, he said the good vendor support certainly helped.
"Today, when you walk in our stores, you're going to see a great selection of athletic; a great selection of Crocs, which happens to be one of the big brands today; a great selection of sandals, etc.," said Sifford. "If you walk into some of our competitors, you're going to see empty shelves, and that is what sets us apart."

Record 2021 Results Expected
Shoe Carnival announced plans for a two-for-one stock split prior to the session and issued annual guidance that calls for record sales and earnings for 2021. Net sales are projected to be over $1.15 billion, ahead of the previous full fiscal year record by over $100 million. EPS is expected to arrive in excess of $6.00 on a pre-split basis, more than double the company's previous fiscal year record of $2.92.
Wall Street's consensus guidance had called for earnings of $5.68 for 2021 on sales on average of $1.14 billion.
Asked to elaborate on the guidance announcement, Sifford said the bullish guidance reflected the continuation of strong sales in its second-quarter following a robust first quarter. Comparable store sales in the first quarter jumped 125.8 percent against the year-ago period that was impacted by store closures when the pandemic arrived.
According to Sifford, sales benefited from the arrival of stimulus checks with strength across sandals, athletic and kids. In the future, the guidance reflects an expected boost from the Child Tax Credit to fall results and increasing confidence that a more normalized back-to-school season will arrive this year.
"All our markets are going back-to-school," said Sifford. "During our last conference call, we said one of the reasons why we couldn't give guidance is because we did not have all our back-to-school dates. All our schools are going back then. They will have in-class learning then. That will be a very good thing for our month of August."
Among other topics, Sifford called out the benefit of the chain's strong loyalty program and CRM (customer relationship management) efforts. When stores were closed from March until June, e-commerce customer acquisition increased 80 percent year-over-year. Sifford said those new customers are about 500 basis points more loyal than those acquired during the same period in 2019.
He said Shoe Carnival is benefiting by increasingly targeting customers with e-mails based on their past purchases for greater personalization.
"The great part about CRM is there's something new almost every day," said Sifford." This is a growth driver long term. As we get smarter and we get to nail down exactly who you are, how you'd like to buy and the brands that you like, we'll hone our communication to you based strictly on your likes and your desires."
On product trends, he said dressier footwear styles started seeing some recovery in May as many parents started holding impromptu proms for their kids after school cancellations. He said, "We saw an incredible uptick in our dress product, our dress sandal product and our evening product. And that started the momentum in dress shoes which continues today."
He suspects homecoming celebrations will also boost the dress category in September.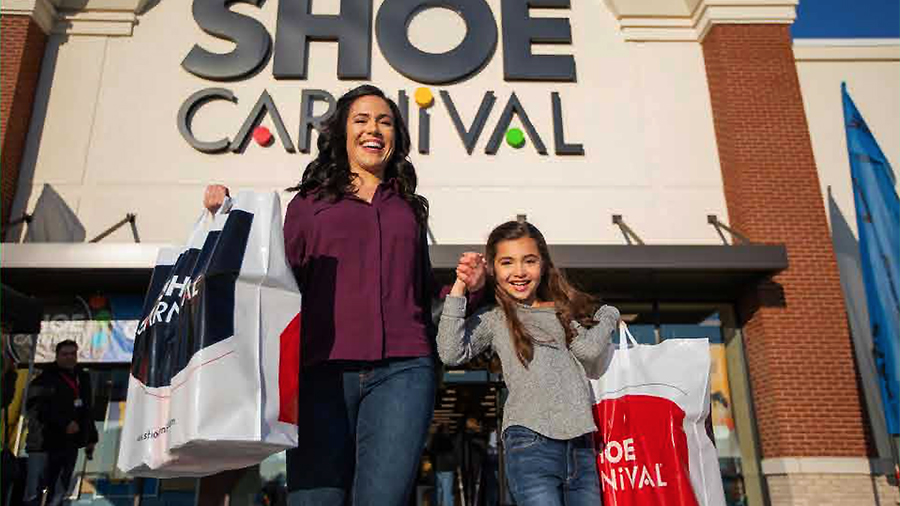 Reduced BOGO Sales Expected To Boost Margins
Regarding promotions, Sifford said Shoe Carnival has completed more than a year without running BOGO promotions. The shift toward more "focused promotions" is expected to support significantly better margins versus historical trends in the future.
"Our commitment is always to have a broad assortment with deep size runs, which our customers have counted on, and I think led us through the pandemic and out of the pandemic," said Sifford. "They love the one-stop shopping experience, and we have wide aisles, and we have a good selection of the brands they trust. So our thought is that from a promotional standpoint, we don't have to go back to that BOGO mentality. We can be more focused on certain categories or certain brands."
Finding real estate for expansion is "a little tough right now," as developers halted development when the pandemic arrived. Shoe Carnival doesn't expect to see net growth in the number of its stores until 2023. Sifford said the chain remains under-penetrated in several states, including Texas, Michigan and Pennsylvania. He said, "We would love to backfill those markets before we start heading West or heading Northeast."
Asked about supply chain challenges, Sifford said Shoe Carnival had expected the flow of goods to "get closer to normal" by the end of the third quarter but now believes it may not stabilize until the end of the year.
"I think we're faring better than most as we've stayed focused on the vendors that the customers are focused on, and we're focused on a very tight selection of vendors," said Sifford. "We also place our orders and our backups early."
He also expects the chain to continue to benefit from favorable treatment from vendors.
"The entire supply chain is difficult from getting the product at the factory to their ports, from their ports to our ports and from our ports to our back door. But we have a very strong supply chain team that's worked on this every day, and the fact, again, that we didn't cancel orders during the pandemic allowed us to move up as an important retailer with our vendor community."
Photos courtesy Shoe Carnival