By Eric Smith
Hibbett Sporting Goods unveiled a new mobile app, something many retailers have done or are planning to do, but the Birmingham, AL-based company wasn't content to launch an app only to "check a box" as part of some halfhearted digital to-do list.
Hibbett wanted the app to be an integral part of a larger digital strategy, one that would help the company compete in a world where consumers can order anything they want—from a pair of socks to the most expensive pair of Air Jordans–at any time, from anywhere, all on their smartphones.
The company partnered with Prolific Interactive on the new app, which debuted in the Birmingham market a few months ago and is available to download now for Apple and Android users. Watch the video here.
—•—
Hibbett has spent more than a year strategizing, developing and testing the app, and company executives believe this can be a game changer for a retailer whose customers, like everyone else's, want instant access to new products, store raffles and a seamless shopping and ordering process.
Jeff Rosenthal, Hibbett's president and CEO, and Bill Quinn, Hibbett's vice president of digital commerce, spoke with SGB in advance of the mobile app announcement to detail some of the app's features, how it fits into Hibbett's overall digital strategy and how it aims to meet consumers' ever-evolving shopping and buying demands.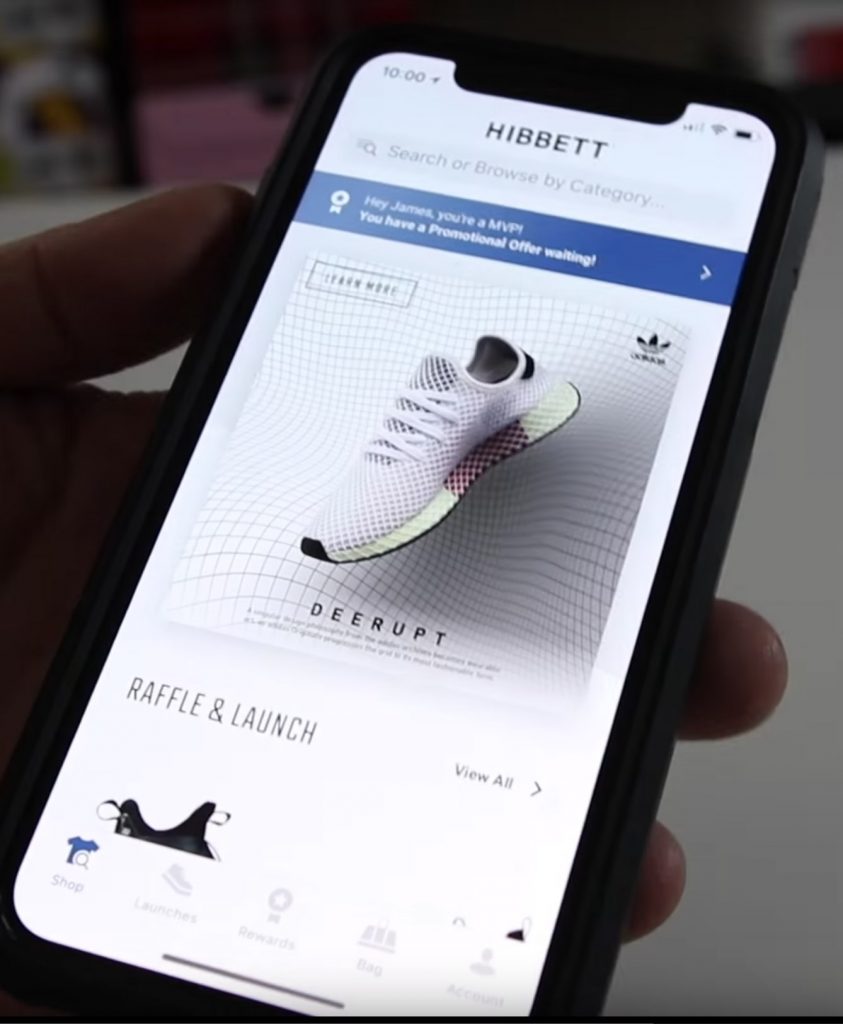 Why does Hibbett need a mobile app and why now?
JR: As we launched digital in the last year, we looked at mobile apps, the ability to buy online and pick up in store, all those technologies. Customers are moving faster than ever and that's just one way of making it easier for the customers to be able to shop more conveniently, faster, more informatively. You have to stay on top of the customers' needs and be as fast as the customers are today.
BQ: It made a ton of sense, since our customers are so mobile, to continue to improve that experience and add to that experience with apps. A lot of our competitors have really good apps, so we felt the need to make an investment based on competition. With omnichannel, this is another way to build a bridge between digital and the stores. Mobile does that, but apps are really good at doing that.
How does the app fit into Hibbett's larger digital strategy? Is a mobile app now considered table stakes?
JR: As we've done research with our customers and asked them about the way they shop and how they shop, they shop 24/7. And they want to shop not just online but they also want to shop in stores. I think it's critical to offer all those types of business in today's environment. People want to engage with you all the time, and it's important that all the different ways to shop are tied together. I think for most retailers today, it is table stakes.
BQ: Our stores are our strategic advantage. Being in small markets, it makes us really, really convenient, and a lot of omnichannel is about convenience. So to continue to add more omnichannel features is only going to make our value proposition stronger with customers, and add to the convenience that Hibbett represents to them. Table stakes is interesting because it implies that you're either in it or you're not. With omnichannel, there are various degrees; there are various levels of execution of "buy online and pick up in the store," and you can measure execution by how well the user experience is built out and also how well the stores are executing that program. For Hibbett, we don't have much of a choice because we're so late in our digital investments. We had to go down the path of "make it as good as possible" because our customers are already shopping and using digital. If we want them to switch over to Hibbett, we had to produce something really, really good. The app supports our digital strategy, but the app isn't a strategy in and of itself.
Did you feel like you were losing customers to e-tailers like Amazon, and does the app help level the playing field?
JR: I don't know if you ever level the playing field with Amazon, but a lot of the products that we do carry are limited or scarce model, so it does give us some advantages on being able to sell highly sought-after product much faster and easier for our customers. It's not that you're ever going to "out-Amazon Amazon," but for our industry, we do believe that we can be leaders and our customers expect that from us.
BQ: Amazon actually has a lower penetration among our customers than it does nationally. It's just kind of the nature of a smaller market, so we do have that benefit. But I think the bigger threat was customers migrating to digital and Hibbett not having a digital presence. With the website, that was one way to plug that hole, but another way is through the app. A specific example might be someone who really wants to buy sneakers on the app store, and as they're looking for a sneaker app, we weren't showing up. Now, certainly, we will be. We want to make sure that we're available wherever our customers are, and an app is definitely another way that we can capture that revenue that's going from stores to digital.
How long has the app been in development and how much have you invested?
BQ: It was a sizeable investment, but I can't talk about specifics. We did want to make sure that we did it right. As far as the time we spent working on it, really from the beginning until now is about 14 months of effort. It breaks down into several phases. You had your initial scoping and research and strategy. Once you're done with that, you do the development and then afterwards you do testing. Oftentimes companies spend a lot of time and effort on development but not much effort upfront or not much effort once they're done testing it. With our timeline can we spend a lot of time thinking about what we needed to do in the app and how to make it great. That was several months of research.
What kind of customer UX research did you guys conduct before moving forward with this?
BQ: We surveyed our customers, understanding how they use apps, whose apps they're using, what their expectations would be for Hibbett. We also spent time with sneakerheads; we had over 50 interviews with sneakerheads in our markets as well as in markets that we're not even in. So we visited sneakerheads in New York City just to try to understand what drives them, where their pain points are with buying shoes and sneaker launches. We spent a lot of time with our customers, with prospective customers, really trying to understand what we were solving for. And then all of that research went into design and then development and then ultimately testing. Before we started building the actual app, we built prototypes and put them in the hands of sneakerheads and allowed them to play with those prototypes and give us feedback on the designs. That was enormously beneficial. We've taken the time on this to do it right.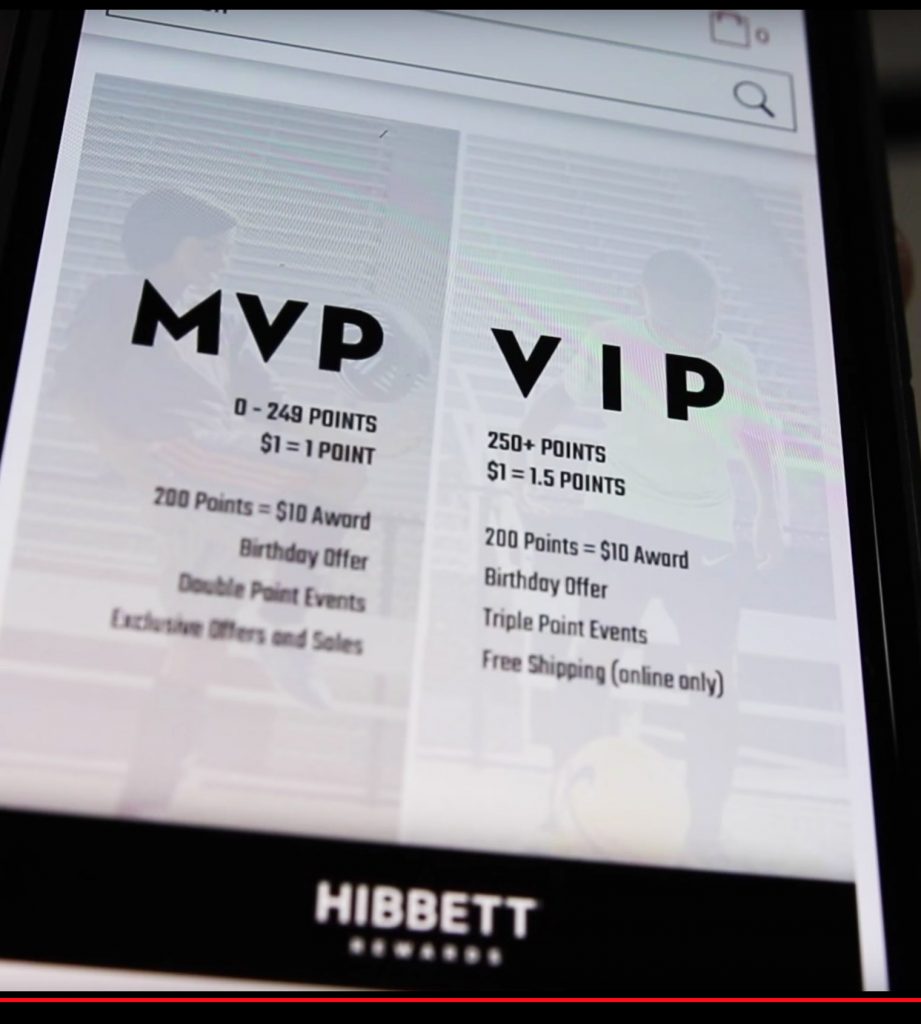 What are your adoption expectations for the app and what is the ROI you hope to see?
BQ: We hope to drive store traffic as well as make sales through the app, and we're going to be measuring both. The raffle is the way that we can measure store traffic, so when customers sign up for the raffle we can see how many actually go in and buy their sneakers in the stores. We're hoping to see some good traction on that piece. E-commerce is pretty straight forward: we look at the standard traffic conversion, average order value metrics like you would on any sort of digital site. Those are the things that we're looking really looking to drive with the app. As far as return on investment, we're hoping for this app to be about 10 percent of our overall digital business. We'll see how far we can get with it, but I'd say that's our minimum goal at this point, maybe more, but that would provide a very healthy return on investment.
Anything else that you wanted to share with our audience about the new app and its role in your digital strategy?
JR: This is one of the biggest initiatives that we've ever had and will continue to be. If you talk to your customers, the customers will tell you what you need to do and how you stay ahead of that and really stay current.
Photos and video courtesy Hibbett Sporting Goods