The sporting goods industry, not surprisingly, bounced back in 2017 after a brutal 2016 marked by the liquidation of Sports Authority, according to the 2018 SFIA State of the Industry Report. But the report still finds a cautious outlook for most industry players with many struggling to adjust to the digital disruption of retail.
"The current sports industry is a conundrum," SFIA wrote in the report. "There is a mixture of brands that are winning and brands that are losing."
Overall, the report shows that the American sports and fitness products industry grew 2.4 percent in 2017, up from 2.0 percent growth in 2016 and 2015. The growth rate was slightly better than the 2.3 percent gain in the overall GDP and in line with historical patterns. With many products in the industry heavily reliant on "discretionary purchase," the industry tends to perform slightly better than the GDP in an improving economy and slightly worse in a challenging economy.
Underlying drivers of economic growth such as low unemployment, healthy corporate earnings and improving consumer confidence seen in 2017 and early 2018 should have propped up results for the industry's players. But SFIA's study finds the gains continue to be held back by consumer preferences "stuck on value and middle-market pricing" and the lingering effects of the bankruptcies. The report also indicates that some players are feeling the heat more than others.
"Okay, but not great," was how Tom Cove, president and CEO of SFIA, summed up the top-line performance. "It seems that most companies fall into one of three categories: successful and thriving, "grinding it out" and holding their heads above water and challenged and adjusting to the 'new normal.' This year, more than other years, it seems that the 'grinding it out' and holding their head above water group is significantly larger than the other two."
From a profit standpoint, 53.4 percent of industry participants reported an increase in profits while 19.3 percent reported a decrease. That's an improvement over 2o16 when 45.9 percent saw a profit increase versus 23.4 percent showed a drop. But worse than profit levels found in 2013, 2014 and 2015.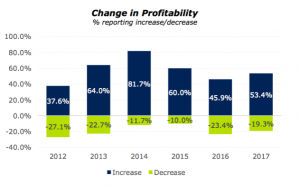 Looking ahead, most brands are predicting both domestic and international sales growth, but the last two years have seen a significant reduction in optimism. Nearly one in ten brands are predicting a decrease in sales. In 2015, 95 percent of brands were predicting domestic sales increase; this has now declined to 76 percent.
SFIA wrote, "This is indicative of brands recognizing the change in retail and consumer habits. It also reflects an increased realism following the uncertainties that retail failures brought to the market."
Probing concerns, the report found that Increasing Market Share has been the leading concern over the last several years. Retail Failures has moved into second place as a top concern, "indicating that brands fear it's not over." Slower Consumer Spending has moved into third place, up from eight last year.
Rounding out the top six concerns were Material Cost/Availability, Product Sourcing and Labor Cost/Availability. "Acquiring New Technology" ranked as the second greatest concern over the last three years but dropped to eight in 2017. Retailers Sourcing Direct/Private Label has also steadily declined from the fourth greatest concern in 2014 to 15 last year.
In response, the report finds companies are continuing to aggressively commit  to direct-to-consumer and omnichannel marketing. Customization, speed-to-market, innovative technology and consumer connections are leading strategies for future growth.
In an interview as part of the report, Mike Dowse, president,
Wilson Sporting Goods, agreed that while the industry will continue to see disruption, opportunities are also being presented. He said, "Before, the old retail experience truly dictated how we could connect with consumers, and in the new world, it's much easier to have a direct dialogue with the consumer and help tell your brand's stories.
Also interviewed was Richie Woodworth, president, Wolverine Boston Group, who said brands are increasingly challenged reaching today's digitally-empowered consumer.
"Whether it is through innovation, new technology, new fashion or quotient that they bring to the party, the consumer ultimately ends up voting and then ultimately ends up either pushing the story on or pushing the story out," said Woodworth. "And I think that has everything to do with the digital age that we live in today and how quickly that has transferred the power, if you will, to the consumer in a more dynamic and really provocative way."
The report also covered a number issues facing the industry, including the threat of tariffs, the positive and negative impacts of increased involvement of sport governing bodies and and extensive review of sports participation trends.
Among the findings:
Running's Revival: For the first time since 2013, total participation for the three major running activities (running/jogging, treadmill, trail running) increased from 2016 to 2017. Treadmill participation also increased for the fourth consecutive year.
Fastest growing sports: Bicycling (BMX) is leading sports/activity growth with an average increase in participation of 13.3 percent over the past three years. Rounding out to top-ten were Cardio Tennis, Triathlon (Non-Traditional/Off Road), Skiing (Cross-Country), Pickleball, Rugby, Hiking (Day), Trail Running, Cross-Training Style Workouts and Stand-Up Paddling.
Olympic Bounce: Like every four year, participation in Gymnastics, Swimming and Beach Volleyball shot up with the Summer Olympics in 2016 and dropped in 2017, but 2017 participation levels are still comfortably ahead of 2015's. SFIA wrote, "This dynamic speaks to the fundamental reality that retention rates–how many people continue playing a sport after being introduced to it–are just as important as overall participation rates in determining the true health and sustainability of any sport."
To purchase the 2018 SFIA State of the Industry Report, click here.
Photo courtesy SFIA