By Eric Smith
The $50 billion-a-year recreational vehicle market keeps finding new horizons to explore and the next leg of its journey begins this week when the industry gathers in Salt Lake City, UT, for a revitalized trade show that is aligned with the start of camping season.
"RVX: The RV Experience" is the new event offered by the RV Industry Association (RVIA), the Reston, VA-based national trade organization that represents RV manufacturers and their component parts suppliers.
RVX, which is being held March 12-14, represents an overhaul for the industry's signature trade show. The annual event used to be held each November in Louisville, KY, but over the last few years, it began seeing lackluster attendance, according to Liz Crawford, SVP, trade shows & events, who joined RVIA in 2016 from Emerald Expositions.
Soon after she joined the association, executives decided to revamp the show with a new name, new date and new locale—all of which would combine to give it a new vibe.
"In November 2017 it became pretty clear we had to act pretty quickly, so we spent pretty much the month of December retooling it," Crawford said. "In January 2018, we presented the new show to our board of directors, which is made up of manufacturers and suppliers of RVs. We announced the new launch and the board give us the approval to move forward, so we visited 12 different cities in six weeks and chose Salt Lake."
A New Trade Show Experience
The show will be different from its predecessor in a few ways. First, RVX will move to different locales; San Antonio, TX, was just named host city for the 2020 show.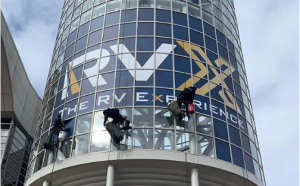 Next, RVX was designed to be smaller, at least to start. The trade show floor has been cut in half—from a million square feet to 500,000—as part of the retooling process, Crawford said. While RVX may eventually grow back to the larger floor size, the association designed the new event to showcase only the best and newest products that manufacturers are bringing to market.
"What we were finding was that the OEMs were bringing a lot of product to the show in Louisville," Crawford said. "There was new stuff, but you couldn't tell what was new because it was interspersed with everything else. We started talking to manufacturers, and they said, 'I had 40 vehicles there, but only two were new.' Now we're telling them, just bring the two. The manufacturers had to think about what was really going to move the needle right for the dealer and for the industry."
The event is expected to attract about 60 percent of the usual numbers of attendees, Crawford said, but even with fewer show goers, RVX has plenty of momentum based on a well-orchestrated media blitz and—representing another major change—an important calendar shift.
By holding the event in the spring instead of late fall, RVX coincides with the Kickoff to Camping Season, the marketing campaign headed by GO RVing, which is the industry's national promotional platform designed to attract more consumers to RVing and highlight dealer showrooms across America.
"We wanted to tie it in with the product coming to market in the spring and ultimately engage the dealers and the industry in launching the new product in the spring in time for camping season," Crawford said.
RVX is tapping into the excitement around springtime's new product premieres with The Reveal, a contest that features the best of the best industry products debuting at the show. Innovative new products being unveiled just before warmer weather arrives makes for an ideal pairing, according to Mike Happe, CEO, Winnebago Industries.
"Spring is always an exciting time of the year and RVX is perfectly positioned to showcase the new products and key initiatives heading into the primary selling season," he said. "With a great line-up of education, product reveals, and industry members coming together, we believe the event will do a great job celebrating the RV lifestyle and launching us into a fantastic 2019 year."
Click here to visit the RVX website to live-stream The Reveal
Industry Outlook
The RV industry is indeed heading into RVX and 2019 with momentum, yet there are a few bumps in the road ahead it will need to navigate.
According to the RVIA's January survey of manufacturers, the most recent one available, total RV shipments ended the month with 25,540 wholesale shipments, a 39.8 percent decrease from the 42,441 units shipped in January 2018.
Towable RVs, led by conventional travel trailers, totaled 21,623 units for the month, a 41 percent decrease compared to last January's total of 36,622 units. Motorhomes finished the month with 3,917 units, down 32.7 percent compared to the January 2018 total of 5,819 units. And Park Model RVs finished the month up 12.6 percent compared to last January with 330 shipments to retailers.
Meanwhile, RV shipments are expected to moderate slightly this year, according to a recently released forecast prepared by Richard Curtin, a longtime RV industry analyst who is also a professor at the University of Michigan's Survey Research Center.
In the spring 2019 issue of the RV RoadSigns newsletter, Curtin projected that total RV shipments will range between 475,500 and 444,500 units in 2019 with the most likely final total being 460,100 units. While this total would mark a 4.9 percent decline from the 2018 year-end total of 483,700 units, it would also place 2019 as the third-highest year for RV shipments on record.
Still, the industry is facing some concerns in 2019, including inventory management up and down the supply chain. RV manufacturer Thor Industries last week said it is adjusting its inventories to better align with dealer demand. And Camping World Holdings Inc. executives on last week's quarterly earnings call said they are closely monitoring low inventory levels across the marketplace.
Despite some headwinds, the overall mood remains upbeat, especially for dealers, according to Phil Ingrassia, president, RV Dealers Association (RVDA), who said near-term bumps in the road won't stymie the industry's prosperous path.
"The market is very strong," he said. And while the shipment numbers are indeed down, "retail sales have been holding on. I think there was a build of inventory for the end of 2017 and into early 2018, but we're still predicting a very good year for 2019."
"By and large, dealers are very bullish about the future," he added. "One of the things that we're seeing is dealers investing in their facilities, hiring more people. The number of dealerships isn't going up, per se, but certainly, the dealerships are getting larger and adding service capacity and things like that. They're investing in their business and I think that shows you they're optimistic about the future."
RVIA President Frank Hugelmeyer acknowledged the market's slight decline but also cited the industry's shifting demographics, something that will be front and center at RVX and which should sustain the overall market's prospects.
"The mild downturn in shipments reflects the impact of higher manufacturing costs for RV producers, and RV dealers adjusting their inventories due to changes in inventory carrying costs," Hugelmeyer said. "All relevant economic factors have been favorable for so long that slippage at some point was inevitable. The good news is that RV manufacturers are already responding in ways that will set them up for future success, meeting a new generation of RVers' demand for distinctive features and options."
Marketplace Trends
Two new categories of rigs, Outdoor Adventure Vehicles and Van Life Campers, will be showcased at RVX with hopes of further engaging a growing demographic for the RV industry—the outdoor community.
With the rise of overlanding, the blurring of consumers who engage in a motorized and human-powered activity is continuing at a rapid pace. That is one reason behind the formation of the Outdoor Recreation Roundtable, which unites organizations like the RVIA, RVDA, Outdoor Industry Association, and many others.
The Roundtable is a "coalition of outdoor recreation trade associations and organizations working to promote the policy and legislative reforms needed to enhance the outdoor recreation economy." As RVIA looks to grow its audience to consumers who might not have considered RVing before, the Roundtable becomes more critical.
"When we can bring those folks together as the business roundtable has for the largest companies in the world, we change the debate," Hugelmeyer, formerly the OIA president, said on a recent edition of Channel Mastery, the podcast hosted by Verde Brand Communications Founder and CEO Kristin Carpenter. "That was really what we strove to do with the Outdoor Recreation Roundtable."
One example of this took place at the recent Outdoor Retailer Snow Show in Denver, CO, where Go RVing exhibited and drew big crowds thanks to a pair of rigs attendees could tour. The goal for the show, according to Kevin Broom, director of media relations for the organization, was to highlight the synergies that exist between the outdoors and RV industries.
As more outdoor enthusiasts look to travel full-time in their sprinter vans or small rigs, they might look for their specialty shops—in both the outdoors and RV realms—to offer some crossover in both expertise and product offering. For example, Broom said, a maker of premium camp stoves or sleeping bags might want to get those goods into an RV channel.
"Most RV dealerships have a store and that there's an opportunity for all of these brands to get their products into those stores," Broom said. "A lot of RVers like to bike around the campground; that's one of the primary ways to get around. You see RVs going down the road that have three or four bikes on the back, so why not sell bikes at the RV dealership?"
Another industry trend, Broom noted, is more millennials buying RVs. This has been a boon for both vans and lighter towables that can be pulled by cars as small as a Subaru Outback.
"With the younger generation, they want to travel, they want to experience all kinds of things," Broom said. "The idea of travel is not a scary thing to them. They want the adventures and they want to check things off their bucket list while they're still young. RVs let people check a lot of things off their bucket list because you can take so many trips."
The increase in demand for these smaller and more affordable rigs—categories like van life, city escape and outdoor adventure—has dealers responding by supply more of them in their shops, RVDA's Ingrassia said.
"We're looking at some trends that are very positive for the long-term health of the business," he said. "The product mix is really shifted to a lot of towable product as far as where the volume numbers are. That's an affordable product for a lot of families. Not only are we seeing growth in the total product but on the vehicle side, we're seeing more pickups, more SUV, more crossovers, so there are a lot more tow vehicles in the market."
With that in mind, this segment will take center stage at RVX, according to Crawford, who noted that the current market shift will not only bring new product and new buyers to the industry but was also a key driver for infusing an old trade show with new energy.
"The market is such that right now the baby boomers and Generation X are the ones really buying the RVs, but the millennials are starting to look at the smaller RVs," she said. "Millennials purchasing this product is growing at an accelerated rate, when two or three years ago they weren't even on the graph. Now they're on the graph and they're growing pretty rapidly."
Photos courtesy Go RVing & RVIA