By Thomas J. Ryan
Sturm, Ruger & Company Inc.'s sales climbed 53.4 percent in the third quarter, accelerating on gains of 35.3 percent in the second quarter and 8.4 percent in the first. Ruger's CEO Chris Killoy told analysts the company is increasingly confident that the firearms buying surge during the pandemic will pack long-term benefits for the firearms industry.
"We are excited for the future," said Killoy. "Certainly, increased participation in firearms ownership might have come about due to the pandemic or civil unrest, but what we are starting to see now is a stickiness among new and established consumers who are enjoying all aspects of our industry, from personal defense to hunting to plinking and competitive shooting. We believe that the future is bright."
Killoy said consumer demand began to surge in the latter stages of the first quarter and continued to intensify in the third quarter. The estimated unit sell-through of Ruger products from independent distributors to retailers increased 50 percent in the first nine months of 2020 compared to the prior-year period. For the same period, the National Instant Criminal Background Check System (NICS), as adjusted by the National Shooting Sports Foundation, increased 68 percent.
Killoy said, "These staggering increases are attributable to increase consumer demand for firearms and have likely been constrained due to limited available inventory in the distribution channel."
Ruger believes the surge in demand likely continues to be driven by calls for the reduction in funding and authority of law enforcement organizations; protests. demonstrations and civil unrest in many cities throughout the U.S.; and concerns about personal protection and home defense stemming from the continuing pandemic. Killoy noted that in August, the National Shooting Sports Foundation (NSSF), the firearm industry's trade association, released an updated report that showed nearly 12.5 million Americans had purchase firearms this year alone. Of those purchases, 40 percent were by first-time gun owners.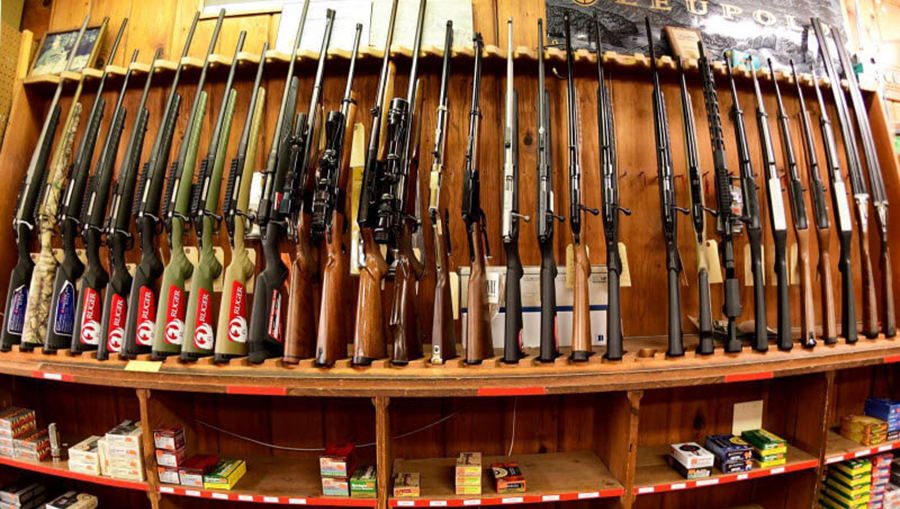 "Think about that," said Killoy. "Approximately 5 million Americans entered the firearms market for the first time in 2020. That is a tremendous opportunity for growth in our industry."
Other encouraging factors are that female consumers represented almost 40 percent of those new gun buyers and the industry is also seeing increases in hunter education, hunting license sales and participation in programs like NSSF's Field to Fork, a recruitment program for adults from non-hunting backgrounds.
In the quarter ended September 26, Ruger's sales rose 53.4 percent to $145.7 million. Earnings reached $24.8 million, or $1.39 a share, increasing five-fold from $4.8 million, or 27 cents, a year ago. Gross margin improved to 35.1 percent from 20.9 percent a year ago.
Sales of new products, including the Wrangler, the Ruger-57, the LCP II in .22 LR, the PC Charger, and the AR-556 pistol, represented $87.9 million or 24 percent of firearm sales in the first nine months of 2020. New product sales include only major new products that were introduced in the past two years.
For the nine months, revenues grew 30.8 percent to $399.6 million. Earnings jumped 143.7 percent to $58.7 million, or $3.13, from 24.1 million, or $1.37, a year ago.
During the third quarter, Ruger's finished goods inventory remained near historic lows. Distributor inventories of Ruger's products decreased 26,700 units, or 31 percent during the quarter.
Killoy noted that Ruger suspended hiring from the onset of COVID-19 in March until June when it resumed hiring at a modest, albeit growing, rate to ensure the health and safety of everyone involved. The CEO added, "This action has hampered our ability to ramp production, but we know the long-term benefits of maintaining a healthy workforce and clean facilities are well worth any short-term, adverse impact on our operations. And I am happy to report that despite the self-imposed limits on the size of our current workforce, the hard work and commitment of our dedicated employees allowed us to increase production 15 percent from the prior quarter and 50 percent from the third quarter of 2019."

Killoy provided an update on the company's recently announced approval to purchase substantially all of the Marlin firearms assets for $30 million as part of Remington Outdoor's bankruptcy proceedings. He said, "We are excited to broaden our catalog of rugged, reliable and exciting products with the addition of Marlin rifles, and the new product lines will be well-supported in our existing facilities. Customer response to our purchase has been overwhelmingly positive, reinforcing our assertion that the Marlin lineup is an excellent fit for Ruger. We anticipate closing on this purchase in the fourth quarter of 2020 and look forward to re-introducing shooters to Marlin rifles in the second half of 2021."
Cash provided by operations during the first nine months was $82 million. As of September 26, cash and short-term investments totaled $133.6 million, Ruger's current ratio was 3.2 to 1, and the company had no debt.
In the first nine months, capital expenditures totaled $8.0 million. Capital expenditures in the full year are expected to total approximately $20 million, most of which relate to new product introductions.