By Teresa Hartford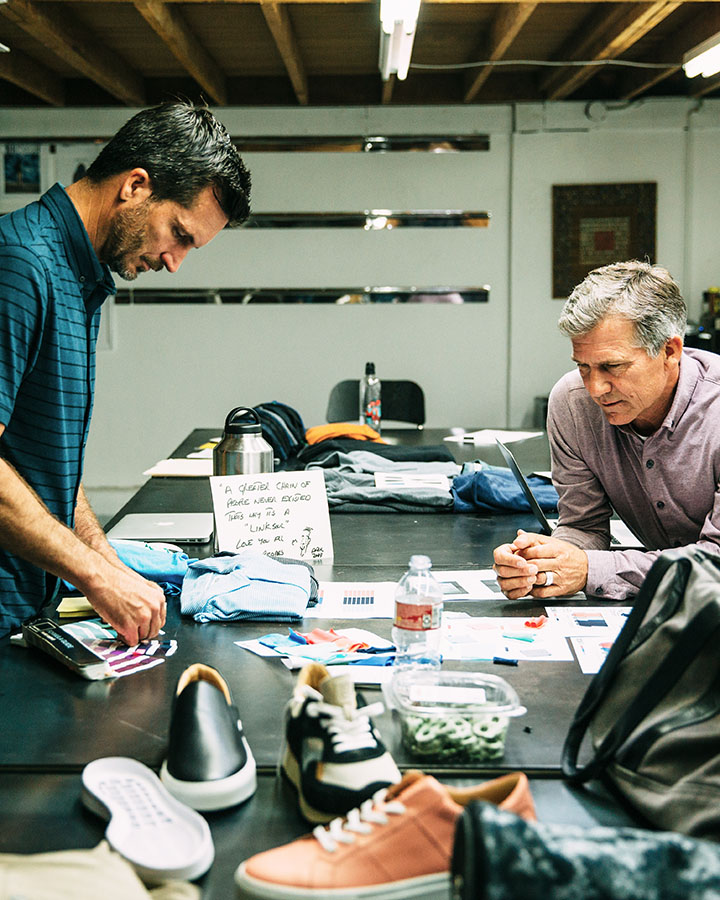 Escondido native and golf apparel industry veteran John Ashworth is known worldwide for the Ashworth golf label and the sponsorship of some of the greatest players in the game of golf—Fred Couples, John Cook, Scott Verplank, Mark Wiebe, Ernie Els, Dave Stockton, and CBS announcer Jim Nantz. In November 2008, Ashworth became a wholly-owned subsidiary of TaylorMade-Adidas Golf.
In 2009, Ashworth co-founded Linksoul with his nephew Geoff Cunningham, pictured right, and a close team of family and friends that have been in the men's lifestyle clothing business. The brand functions as a year-round apparel and accessories label with a loyal fan base known as "Linksouldiers." 
Ashworth and Cunningham don't consider themselves a golf brand per se, more like a practice—yoga, if you will—featuring clothing that is transitional in nature. "We're not looking for two different wardrobes, one that you put on for work and one that you change into to play golf," said Geoff.
For the Co-founders, golf is inspiring on many levels and definitely a pillar of the company, but "we are not a golf brand. We're a Southern California lifestyle brand" they told SGB Today when we sat down with them for a conversation last week.
"We've been involved in a mind melt that we feel represents our lifestyle. As Southern California natives, our business and our lives, live and breathe our lifestyle, and we make clothing that we feel people can get a lot of use out of. It's comfortable and can go to many places," said Ashworth.
The Ashworth golf label was famous for understated and sophisticated designs. The Linksoul label follows suit with collaborations from like-minded artisans including friends and family, like Geoff, John's nephew, who is himself a successful artist and Creative Director for the brand. 
→ Click here to read our post last week in SGB Today on Geoff's collaboration with Louisville Golf creating one-of-a-kind, hand-painted woods for Linksoul. 
The Linksoul collection, designed in collaboration with fashion designer and friend, Rebecca Bray, combines a color palette borrowed from nature. Their motto is "if we wouldn't wear it, we don't make it," said Geoff. "Our process is not complicated. We see something we like; we make it. From puffy coats to flannel shirts, everything in the line we wear," he continued.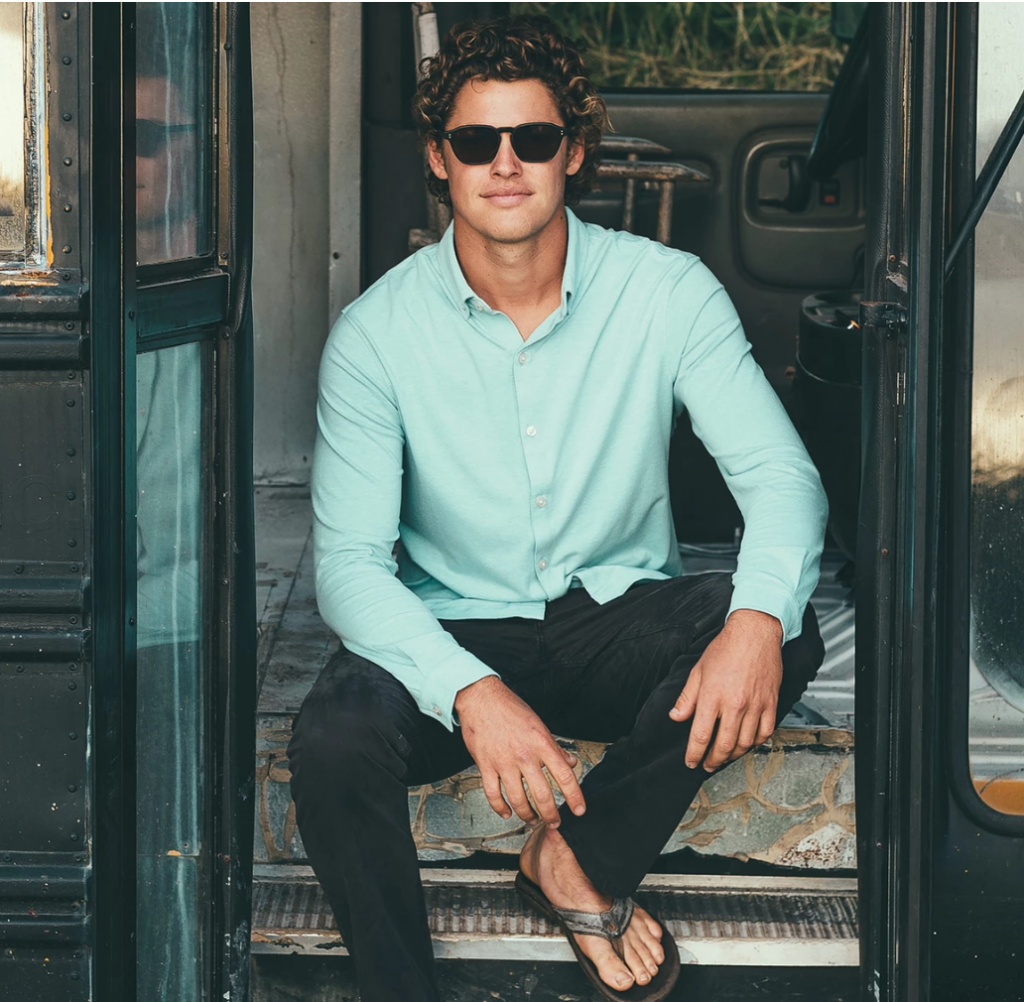 The Co-Founders travel the world and try to "make things that our customer will appreciate and would wear to go out. It's a complete seasonal collection of what we feel will translate to our little piece of the world," said Ashworth. Linksoul creates four seasonal lines a year which includes breakout capsule collections. 
Polos, jackets, boardshorts, tees—the collections are created using natural performance fabrics that are wash and dry, don't fade, don't pill, or shrink. They include recycled poly and organic cotton—luxury performance and softness of hand fibers with easy-care finishes—an Ashworth textile signature. 
The collection includes women's apparel that, according to Geoff, "was started with what they were wearing and their wives asking 'why can't I get that?' because everything we make is super soft and super comfortable. We call it cozy wear".
Linksoul sells predominately direct-to-consumer evenly spread "across the board from ages 18-to-65, every ten years buys a different part of the product line depending on how much money they're making. From ages 35-to-55, it's a little bit higher," said Geoff. 
The company's 5,000-square-foot headquarters houses a boutique storefront, design center, workspace, and art gallery which "is in keeping with the Linksoul philosophy," said John.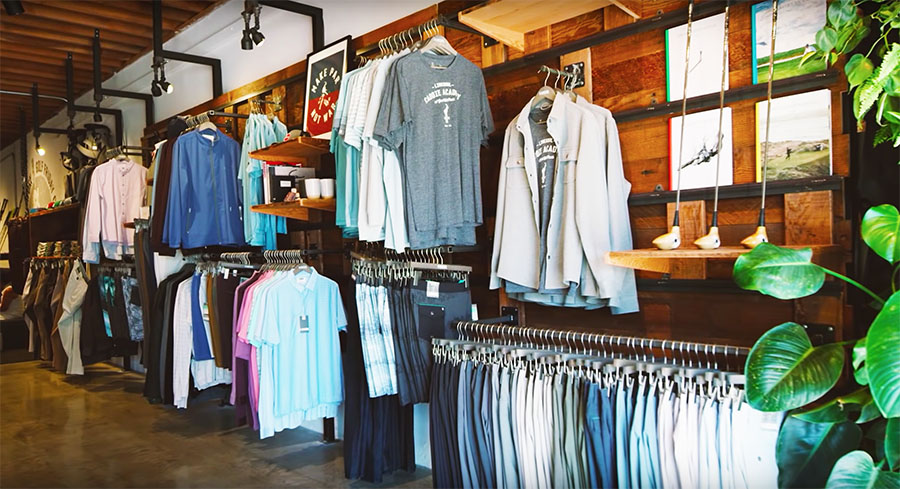 Linksoul has an ardent fan base known as Linksouldiers. Geoff explained that after starting the company, he was "listening to a song by the Killers, 'All These Things That I've Done' that has a lyric in it that goes 'I've got soul, but I'm not a soldier.'" Linksouldier "popped into my head, and we've been promoting that ever since," he said.
Their fan base believes in what Linksoul is creating and sees "our vision … we've captured what many men are looking for as a lifestyle brand and resonates [with them]. They're family men, their work is important to them, but they're active. Golf is something that they do, but it's not the only thing they do. They're just trying to do their best every day," said Cunningham.
Not many brands have the kind of cult following that Linksoul has. Some men have tattooed Linksouldier on their bodies. "It's pretty crazy," said Geoff. 
John Ashworth's great grandfather worked in a knitting mill outside of Boston when he first came to America. So, textiles are in Ashworth's blood just as much as his love for the game of golf is. For these reasons, his continued passion for creating clothing for the golfer is a natural marriage between the two.
The tagline "Make Par, Not War" is the brand's logo. The phrase means "do your best even in yourself…not making war within yourself. Just trying to do your best," said Geoff. The Linksoul label embodies that motto for the guy that's out there "permitting him to accept that he can look for life, when he's just trying to do his best, and be peaceful and not as aggressive in himself," continued Geoff.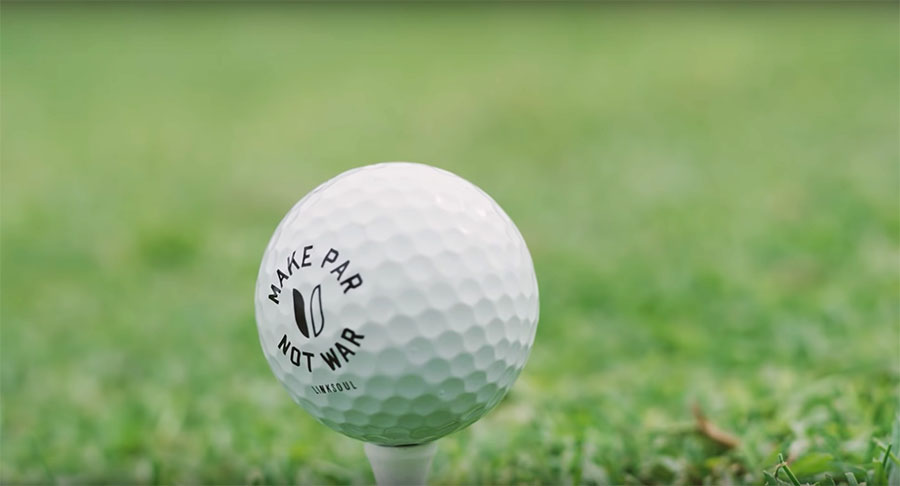 Linksoul works collaboratively with "the right partners that fit with our value system," said Geoff. Currently, they are working with TRUE Linkswear owned by PGA Tour player Ryan Moore and his partner Creative Director, Jason Moore. They created the TRUE x Linksoul Knit shoe to wear on the course or out for a coffee. Two new knit shoe styles are scheduled for release in 2020.
We asked Geoff what we're three of his favorites pieces in the collection and he replied, "Boardwalker Short, LS1184 Knit Shirt and all of the Tees."
Linksoul is heading into the future sustainably. Currently, the brand uses recycled poly, organic and recycled organic cotton. By 2021 they want to be using 100-percent recycled material and are about half-way there. All of their polybags are recycled poly, but they are looking deeper to converting to sustainable packaging and shipping methods company-wide.
Photos courtesy Linksoul