Analysis by eMarketer found online sales grew 44 percent year-over-year in the second quarter and the research firm predicted online sales would reach 18 percent of U.S. retail sales in 2021. Recent retail surveys and studies also explored growing comfort by consumers in returning to stores, the U.S. economy's recovery, 3D-shopping, and road trips.
…
›U.S. E-Commerce Sales Expanded Nearly A Third In Q2
Second-quarter retail e-commerce sales in the U.S. grew 31.8 percent from the previous quarter and were 44.5 percent year-over-year, according to the U.S. Census Bureau of the Department of Commerce (DOC) and according to a report by eMarketer.
Online sales totaled $211.51 billion the quarter (accounting for 16.1 percent of all retail sales), up from $160.41 billion in the year-ago period. Strong e-commerce growth, however, wasn't enough to offset losses from brick & mortar closures due to COVID-19 as total retail sales dropped 3.9 percent from the prior quarter.
E-commerce is expected to account for 14.5 percent of U.S. retail sales this year, up from 11.0 percent in 2019, according to eMarketer. EMarketer expects e-commerce will retain its increased share of the retail market going forward. The report stated, "Even as stores reopen and brick & mortar sales rebound, we forecast that e-commerce will lose just a 0.1 percent share of total retail sales in 2021, before gaining more than 1 percentage point each year through 2024. By then, U.S. e-commerce sales will surpass $1 trillion and represent 18.1 percent of total retail sales in the U.S."
›Two-Thirds Of Consumers Have Returned To Non-Essential Shopping In-Store
With COVID-19 lockdown measures around the world easing, just under three-quarters of global consumers (71 percent) now report feeling comfortable returning to physical stores since local lockdowns have eased, according to research published by Mood Media.
The new report, entitled "Shopper Sentiments: A September 2020 Global Mood Survey," surveyed consumers across four major markets – the UK, U.S., China, and France – finding that the largest portion of consumers surveyed (31 percent) are spending less money and less time shopping in-store than they did before COVID-19, compared with 21 percent spending the same amount of money but less time than before and only three percent spending both more money and more time than before the pandemic.
Key U.S. findings showcasing the impact of COVID-19 on in-store shopping behavior include:
Reassurance from Safety Measures in-store — More than three-quarters of U.S. consumers (76 percent) reported feeling at least somewhat comfortable with the new health and safety measures placed in stores, and 37 percent reported that the measures make them feel safer.
Non-Essential Shopping — Sixty percent of U.S. shoppers said that they have returned to non-essential retail stores but only at a rate of 51 percent for those ages 55 and older. U.S. shoppers ages 16-to-24 are returning to non-essential shopping more conservatively than other countries surveyed, at a rate of 54 percent, compared to a combined rate of 74 percent elsewhere.
Changing Shopping Habits Among US Consumers — Of those comfortable returning to physical stores, 28 percent of U.S. respondents reported spending less money and less time shopping than before COVID-19, while 20 percent in the U.S. are spending more money and less time in-store pre-pandemic. This highlights an overarching trend of consumers trying to spend less time in-store regardless of their spending.
Optimism Regarding A "Return to Normal" — Only 22 percent of U.S. shoppers expect their shopping habits to "return to normal" by the end of 2020 (29 percent of males and 16 percent of females) while 24 percent do not expect to fully resume their in-store shopping habits until the summer of 2021. Additionally, 16 percent said it would take until the end of 2021 before shopping norms will resume. The most optimistic group in the U.S. are males living in the Southeast, where 34 percent believe normalcy will return by the end of 2020. The least optimistic U.S. group were females in the Western section of the U.S., where 24 percent do not believe their shopping habits would return to pre-pandemic norms.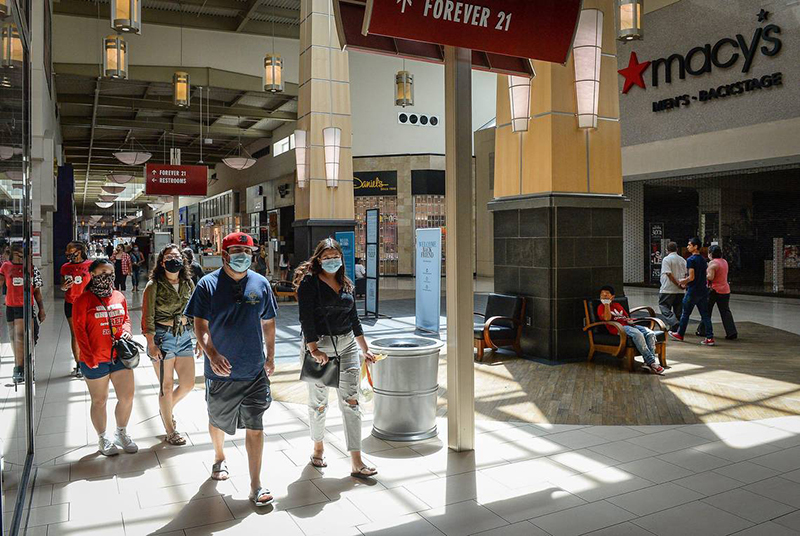 ›Consumers Continue To Return To Shopping Centers
Coresight Research's September 2 survey found that avoidance of public places remained level at 80 percent. However, a gradual declining trend in the avoidance of shopping centers/malls continued, dropping to roughly 10 percentage points for the week compared to the peak of two-thirds on July 22. The proportion of respondents that are currently avoiding shopping centers/malls fell for the third consecutive week to 57 percent.
The proportion of respondents that are currently avoiding food-service locations bounced back slightly, after declining last week to the lowest level in months. Some 54 percent are currently avoiding restaurants, bars and coffee shops, versus 58 percent last week. This rate is still considered low, compared to the level in July and the beginning of August.
Apparel remains the most impacted category by the pandemic, but this week, the category demonstrated a slight decline in the number of shoppers that are buying less and a gradual increase in the proportion that are buying more. Online, one-third of respondents had bought apparel in the past two weeks, consistent with the average level seen in July and August. This compares to the 22 percent of consumers that had bought apparel in a store.
›Minority See U.S. Economy Recovering In 2021
Only one-third of Americans believe the U.S. economy will recover in 2021, according to the August findings of an ongoing IBM Institute for Business Value (IBV) survey.
The broad global survey also found almost 7-in-10 Americans surveyed believe a COVID-19 vaccine will not be available until 2021 or later, and even when a vaccine is available, many consumers are not sure if they would be comfortable visiting many types of venues. Only 27 percent would definitely visit a shopping mall once a vaccine is available, 21 percent a movie theater and 18 percent a live sporting event.
Other findings among U.S. respondents:
70 percent of surveyed Americans said COVID-19 has made them more concerned about the safety and health of themselves and their families, consistent with July.
More than half of Americans are worried that sending students back in person would lead to further outbreaks. At the same time, 4-in-10 are concerned that their child(ren) would fall behind in their education if schools did not reopen this year.
Forty-seven percent feel strongly that their employer should provide special accommodation for childcare needs, up from 41 percent in July.
The percentage of responding Americans indicating they would like to continue to work remotely at least occasionally declined from more than 80 percent in July to 67 percent in August, and half of the respondents said they wanted remote work to be their primary way of working (down 15 points from July).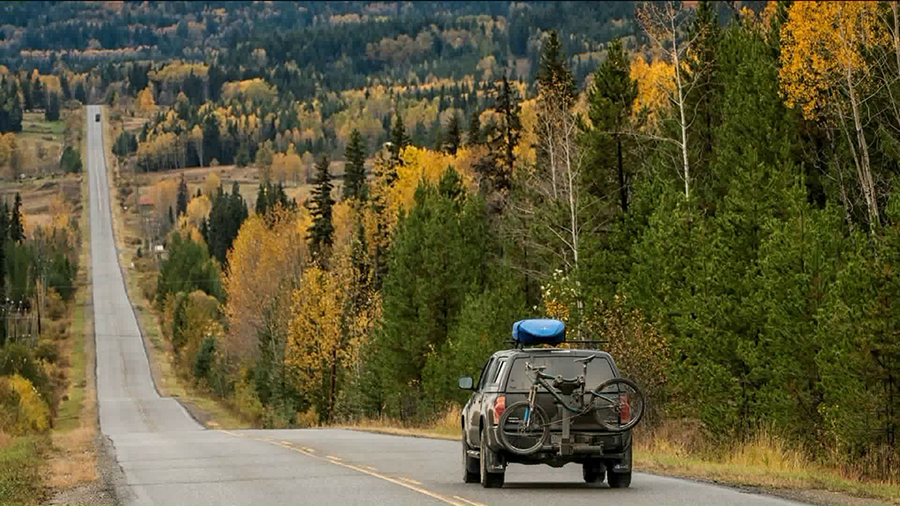 ›Americans Taking More Road Trips
Seventy-two percent of respondents have canceled a vacation since the onset of COVID-19 restrictions, but many have hit the road for weekend trips, a survey commissioned by Conoco found. The brand surveyed 2,000 Americans to gauge their travel concerns and plans.
Fifty-eight percent said they had changed travel plans from flying to driving since March, and 60 percent of those surveyed said they felt comfortable taking a road trip this fall.
Americans' main reason for road-tripping continues to be spending time with friends and family (48 percent pre-pandemic and 42 percent mid-pandemic). Weekend trips are still the most common, with the average length of a road trip 2-to-3 days before the pandemic, which has remained consistent. A new kind of road trip has also come about as a result of the number of people who can now work wherever there is a strong wi-fi connection. For those with the ability to work from home, the new idea of "working from anywhere" is appealing, with 81 percent who had the option would consider a road trip to work from a new location.
Safety is now a top concern when road-tripping with 49 percent of respondents saying they're concerned about putting themselves at risk of contracting COVID-19 and 44 percent worried about being around too many people.
"The road trip has long been an important part of American culture, and it's reassuring to see that some things don't change even in times of uncertainty," said Sarah Bolding, senior brand director at Conoco.
›3D Or Augmented Reality Encourages Purchase Intent
Sixty percent of 1,869 U.S. adults who shop online are more likely to buy a product if it is shown in 3D or AR, according to The Harris Poll in a new survey conducted on behalf of Threekit, the product visualization platform.
Other findings include:
66 percent said that 3D/AR visuals would increase their confidence that they're buying the right product.
66 percent said they would be more interested in shopping on a website if it offered 3D/AR images.
42 percent said they would pay more for a product if they could see it in 3D/AR.
"These findings prove that consumers want 3D/AR," said Ben Houston, Threekit's founder and Chief Technology Officer (CTO). "There is a growing gap between consumer demand and eCommerce technology preparedness. Although 3D and AR imagery has been around for a while, they're underutilized by retailers due to its perceived complexity — especially in advertising."
Photos courtesy AP