REI Co-op launched an ambitious new climate platform that will see the Co-op more than halve its carbon footprint over the next decade while also completing a 14-year commitment to be carbon neutral in its operations in 2020.
The Co-op has actively worked to reduce its greenhouse gas emissions since 2006 when then-CEO Sally Jewell declared that REI would be climate neutral in its operations by 2020.
With 2020's emissions, REI will now be holding itself financially accountable for each unit of carbon it emits across its own operations – expected to be a quarter-million tons of carbon in 2020. The goal encompasses not only the Co-op's own brands and operations but also emissions embedded in products from more than 1,000 brands it sells. REI is joining ClimateNeutral.org to support its accountability.
To accomplish its footprint reduction goal for 2030, investments are planned in projects that actively pull carbon out of the atmosphere, like planting more trees in cities and suburbs, reforestation, active forest management, and advocating for national policies that reduce future emissions, like cleaner transportation infrastructure and clean energy solutions. As part of the platform's launch, REI has joined the global 1 Trillion Trees initiative with a commitment to plant one million trees by 2030.
REI will continue to pursue recycled and lower impact materials in its manufacturing, efficiencies in its supply chain, the elimination of excess packaging, and opportunities to invest in renewable energy projects. Progress and REI's learnings will be open-sourced.
The co-op's approach is aligned with the latest guidance from the U.N. Intergovernmental Panel on Climate Change (IPCC), which states global emissions must be reduced by 55 percent by 2030 to avoid the worst effects of climate change.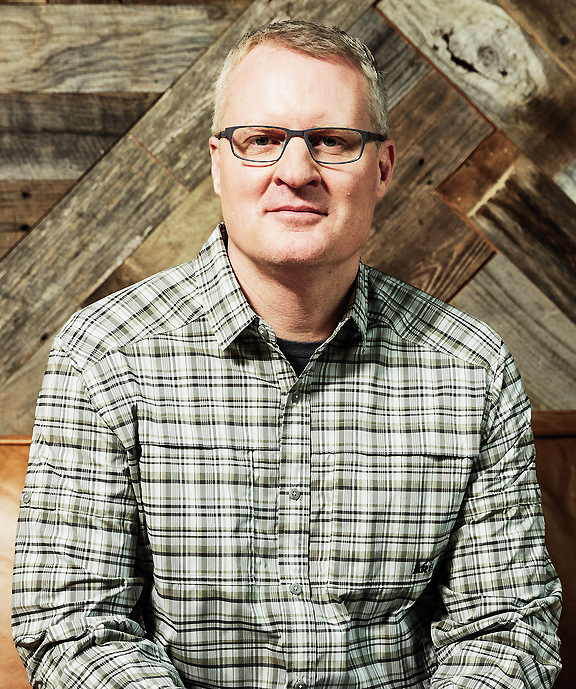 Here, SGB Executive talked with REI's President and CEO Eric Artz about the retailer's stepped-up climate goals, what it means for the Co-op's strategic partners and community, and how REI's business has adjusted to the economic disruptions from COVID-19.
Many initiatives are being born out of COVID-19. Was the platform-driven or accelerated by the emergence of the pandemic? Not necessarily. We had intended to take some actions in the spring when we normally do around the time we have our annual meeting at the beginning of May. As you know, that was a crazy time, so we did hit a bit of a pause button there. But, certainly, as we've come through the crisis and feel good about where our businesses are and where things are overall, we just felt it was time to get back to things that matter most.
REI, in the past, launched sustainability initiatives and goals — including going carbon neutral since 2006. What's new with this platform? The 2030 carbon footprint goals obviously. What's new is 'finishing well'. What I mean is, we're going to continue to progress. This isn't a new game for us. We've been at this for a long time. We've made a lot of progress since our commitments in 2006. We're focused on our emissions. We're going to align with science. We're going to reduce emissions by 55 percent by 2030. The new piece is the accountability of reducing emissions and going climate neutral now. We're investing in carbon credits to be accountable for the carbon that we emit, and we emit over time. We won't be able to get to zero in 2030. It was something that Sally [Jewell] recognized in 2006.
It sounds like a work in progress to reduce REI's carbon emissions goal by 2030. What are the most innovative parts of the platform? As you know, this is a complicated journey on multiple levels. If you look at where the majority of carbon is emitted in our business, it comes from our products. We have established sustainability standards, and we'll continue to push those standards with our vendors. We'll continue to work on clean energy. We've been green re-certified since 2013. But we're going to push into the sequestration space. Even when we think about carbon credits, I think we have an opportunity to innovate there and be on both sides of the equation. An example of that is the Trillion Trees Commitment that we're joining, again a nod to sequestration. We're going to look for innovation across our business, and that's the reason the credit practice is so important because we will push that into our business units and to our line leaders to force the conversation and decision making. Then the process hopefully sparks innovation that will continue to drive down our footprint.
In 2018, REI introduced product sustainability standards for vendors. What new requirements does REI's current climate platform place on them? I think the outdoor industry is committed. We have a very strong industry when it comes to this. We're all pushing in the same direction. We have great vendor partners. So, I think, they will receive this news as a call for continued partnership and cooperation for us to continue to work on materials and the inputs to our products; then also working on the other side of the equation, which is really the recovering side and being able to extend the life of products. So, I think the vendor community has, and will, continue to be big supporters.
What does the climate platform mean for members? We're a membership-based organization, and our ability to engage our members in their choices, their behaviors, whether it be the products that they buy or even just how they do life, we believe that we have the opportunity to participate in their journey. That includes improving their carbon balance sheets and that type of thing. So, you will see us over time with this platform look for ways to engage that member and customer community that goes well beyond just the purchases that they make. Living a better lifestyle that's lighter on the planet.
How will the changes impact your employees? I think they'll have a big smile from ear to ear. I think, as a Co-op, we join this organization because we believe in something more than just the job. This is a calling. This is a belief. We have a belief system here to fight for life outdoors for everyone and, I think, we all can see that if we don't make the adjustments that we need for future generations, we're going to be kicking the can down the road. So, I think, this is the type of stuff that our employees continue to just enjoy. They enjoy the challenge. They know it's going to be hard because we're going to force different types of dialogue, but they just love it and, I know, they'll be smiling from ear to ear.
REI plans to share progress and open-source learnings along the way. Can you share how that works? We work intimately first with the Outdoor Industry Association (OIA), and many of our partners there. But we also bridge into the broader apparel space, and we've made a practice annually to release a stewardship report. Within that, we are completely transparent with our progress, and we've been doing that for many years and that will continue. So, our members, and the public, will be able to see our scorecard.
We're hearing reports of outdoor products seeing a spike in demand. Is REI  launching the climate initiative from a position of strength? We find ourselves in what I would describe as a very strong position right now. The outdoors is clearly winning in this COVID environment. I think we all appreciate our time outside for even just walking to recharge our batteries or having a bike ride with your children, too. Since we can't travel, we're finding ways to enjoy the outdoors that are close to home. That's becoming more important to us. So, I think, the headline would be that the outdoors is definitely a place that we're all seeking. Our business is strong in the sense that if you step away from the severe months when we closed our stores or we were ramping back up, overall our business has been up over last year. So, we're seeing strength in the categories that you start to tip your hand to which are cycle, camp, outdoor fitness, watersports, etc. So, we've been chasing inventory and trying to do our best to stay in stock on those products, but we certainly see strength in what's core to us and what we're known for.
Has REI seen a major digital shift? Online has been extremely strong for us whether it be customers that are engaging because of our strong platform of expertise and information or just their desire to lean into capabilities like curbside pickup, or outfit scheduling we do. So, the digital platform is clearly the preferred way of engagement with customers. That being said, there's a strong desire for them to come into our stores, and we're continuing to see traffic recovery. And, as you know, we've got a significant amount of services that really are about being in-store, whether it be maintaining your bike, getting fitted for a pair of hiking shoes, getting fitted for the proper backpack to go on your first backpacking trip, etc. So, we're trying to use the digital platform to make those types of activities as seamless and as efficient as possible for customers. And we're going to continue to invest in that platform.
Is REI going to be able to grow sales in a pandemic year? In the early days of the crisis, when we closed our stores, we projected that we would be down 30 percent, and I believe we said that publicly. With the strength that we've seen in the business here, we are going to be much better than that, but we haven't talked about where we will end the year. I'll just frame it that we will not be up because of having to close our stores for, it depends on the location, a minimum of almost 60 days. But, outside of again kind of that severe stress period where we shut down, our business has been up overall.
REI recently sold its headquarters to Facebook and embraced on a distributed work model that includes setting up multiple satellite campuses and leaning into remote work. Can you touch about that decision and how it may impact your climate goals? When I think about COVID and what we've gone through, it's provided really a gift of clarity and focus. And when we use our purpose-based lens, when we think about what matters most to REI and we put that together with what we've learned and the way we're working during the pandemic, there are obvious choices that we were presented with. And having the ability to monetize an asset like that, turn it into immediate liquidity to support things like digital investment or things like the purchase of carbon credits and those types of things. that's pretty exciting. And, also, I think we have an obligation to look at all aspects of our business. So the distributed model has advantages for the climate as well as convenience for our employees. It has talent implications because we aspire to be able to draw talent frankly from almost anywhere in the country. Depending on the role, you may not have to move to Seattle to work for REI headquarters in the future and, I think, that's an advantage for us across a number of areas. But, it really came out of a strategic review from top to bottom of everything that we do through the lens of what matters most in terms of our purpose in our business. I feel very good about that decision.
Patagonia recently called on consumers to "Vote climate deniers out of office" and is openly "recommending" certain senate candidates. What should we expect out of REI's ramped-up efforts around advocacy? We're committed to championing and advocating for policies in accordance with our values, but we don't see the role of the business as endorsing individual political candidates. We will advocate for policies that support cleaner transportation infrastructure, clean energy solutions and carbon sequestration projects, and will continue to support civic participation and an informed electorate with tools like our current Gear Up to Vote effort.
The wildfires are in REI's backyard. Have they had an impact on the decision for the stepped-up climate commitment? This is something we've been planning for some time. The timing has more to do with the strength of our business coming out of the challenges of the spring and early summer as well as the fact that we've been working against a 2020 goal of climate neutrality for the past 14 years. With that said, we're a community of people who have built our lives around the outdoors, and we see the very real impacts of the climate crisis all around us – most recently with the wildfires impacting much of the Western United States and hurricanes battering the Gulf Coast. The extreme weather events we're now seeing every year are a continued reminder of the importance of our work in this space.
Photos courtesy REI