Aqua Lung America of Vista, CA has recalled about 53,000 Aqua Lung Powerline inflators because the inflation button can remain depressed and cause the buoyancy compensators to continue inflating, resulting in an uncontrolled ascent. This poses injury and drowning hazards to the diver.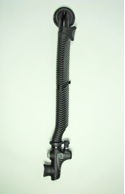 This recall involves Aqua Lung Powerline inflators installed on Aqua Lung and Apeks Black Ice buoyancy compensators. Buoyancy compensators equipped with Powerline inflators are used by scuba divers to establish buoyancy in the water. The black Powerline inflators measure about 20 inches long and 3.5 inches wide. Recalled Powerline inflators have a date code beginning with "H" printed on the inflator body.
The inflators were sold by Sport Chalet and authorized Aqua Lung stores nationwide from January 2015 through September 2016. The Powerline inflators were sold separately for about $30 and with Aqua Lung and Apeks buoyancy compensators for between $370 and $700.
While no injuries have been reported, the firm has received 60 reports of the Powerline inflators continuing to inflate. Consumers should immediately stop using the recalled Powerline inflators and contact Aqua Lung to receive a free repair, which consists of the replacement of the inflation button by an authorized Aqua Lung dealer.