Liberty Mountain recalled about 20 Stubai ice axes because the knife in the axe handle can detach and pose a laceration or impact hazard to the user or bystanders.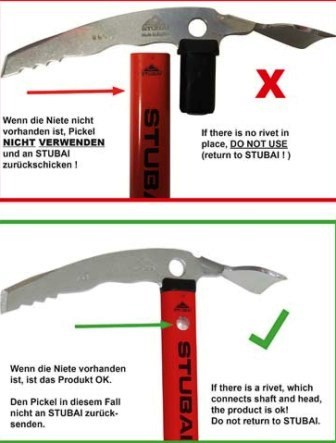 The recall involves the Stubai Tour Lite Telescope ice axe, which Liberty imports from Austria and distributes to dealers across the United States. The red and black axe ranges about 20 to 35 inches long with an aluminum head that is 9 inches long and 1 inch wide. "STUBAI" is printed on the top side of the axe above the black gripper. The axe weighs about one pound and can be adjusted from about 23 to 37 inches. The batch number is printed on the head and on the top of the shaft on the axe. The batch numbers included in this recall are: 865 on the head and 870 on the shaft.
Liberty Mountain has received no reports of injuries, but is telling U.S. consumers to stop using the axe immediately and contact Stubai directly for instructions on how to receive a free replacement.
The axes were manufactured in Austria by Stubai ZMV GmbH of Austria and sold to consumers by Hansen Mountaineering, International Rocky Trade, Mount Hunt Supplies and online at www.campsaver.com, from June 2015 through June 2016, for about $200. Liberty Mountain, which is based in Sandy Hook, Utah, is one of the nation's largest distributors of specialty outdoor recreation products.