WeThePeople, which is based in Cologne, Germany, has received five reports of the crankset spindles breaking. No injuries have been reported. The company has instructed consumers to immediately stop riding the recalled bicycles and cranksets and return to the store where purchased for a free inspection and free replacement spindle.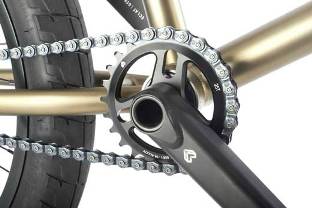 The recall involves WeThePeople's Envy BMX bicycles and aftermarket ECLAT Aeon BMX cranksets pictured to the right. The cranksets have a steel, two-piece construction. Printed on the left side of the spindle is ESS Eclat 22mm" and next to the pedal, on the crank arm is "Aeon." Printed on the inside of the crank arm is "Eclat Germany" followed by the crank arm length "170mm" or "175mm."

The Envy BMX bicycles have a 20.6 or 21 inch chromoly frame, painted
dark gold. The bicycle bottom bracket has an "ENVY20.6" or "ENVY21"
stamp.
The Envy bicycles were sold for about $1,100 and the aftermarket cranksets for about $180 by specialty bicycle dealers nationwide, QBP.com and other online BMX dealers.