By Teresa Hartford
Icebreaker has always looked to nature for the solutions—nature is an unending source of innovation and adaptation—and relentlessly searches for better, more sustainable solutions to continuously improve where they can.
As pioneers of natural performance clothing, Icebreaker set out to offer something different in the outdoor industry—clothes to wear in nature that comes from nature, both inspired by nature and made from natural fibers. We sat down with Jeremy Moon, Founder and Carla Murphy, Chief Brand and Product Officer, lead photo, to talk about Icebreaker's progress with natural fibers, a higher purpose beyond clothing, the incredibly loyal worldwide fan base, and making a positive difference.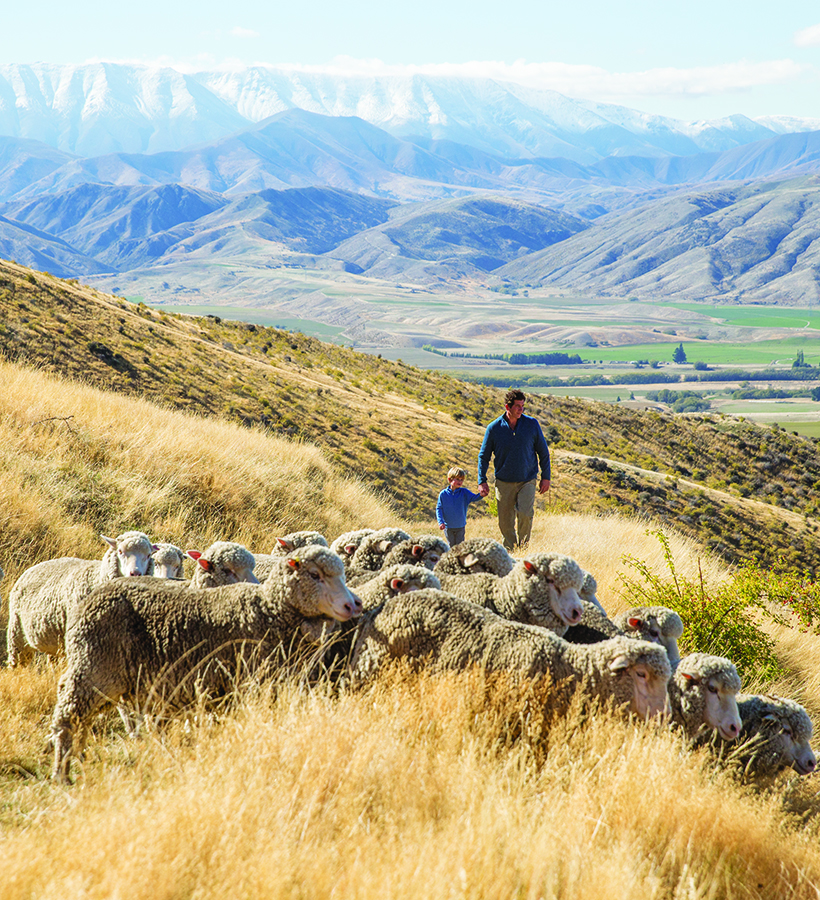 Why has Icebreaker continued to be the leader in the urban and outdoor space? JM | One of the trends now is that the consumer wants authenticity from brands. Authenticity for Icebreaker means that you have a strong sense of purpose – the whole design of the business is built on purpose. Our customers are connecting with the fact that we were born to create a natural alternative to synthetics right at the beginning.
The story of Icebreaker is a journey and case study to explore how to build not only natural products but a natural-based company, and people are connecting with that. It's on-trend now which amazes me. It certainly wasn't when we started in 1995.
CM | The casualization of lifestyle and the amount of information that people can access today around the choice of what to buy plays a part. And there are many factors leading people to choose quality and versatility as ways to use garments in more ways than one, and that's where some of our success has been from an outdoor to a lifestyle perspective. We're not chasing the fashion brands. Our clothes are classic and timeless. It's that combination of versatility and the ability to do more things in that garment which resonates with consumers and will connect with consumers in the future.
Are you speaking about the Millenial consumer? CM | The Millenial certainly has been a catalyst, but there has been a broader conversation that is happening that is bigger than one age group at the moment. More broadly, we are seeing age across the board coming to Icebreaker. The Millenial is leading conversations around ethical fashion and transparency in the digital age of communication. Self-education is evident, and it's everywhere. More people want to know where their clothes come from just like 10-to-20 years ago when we started reading the labels on the foods we were eating. JM | My observation is that it's about Millennial values. As a group, they are looking to do more, looking for natural alternatives around food and what they put on their body. There is a segment of customers that are connecting with those lifestyle shifts, and we've spent a lot of time adapting our product to fit in with how people are living now. That's what's driving so much of our growth.
How is Icebreaker addressing the consumer who experiences a brand digitally? JM | Before we talk about tactics, I want to talk about the design of the brand.
The design of the brand is not to be an outdoor brand. When Icebreaker was built in the 90s, the popular iconography was men climbing mountains faster than other men. The ethos was man conquers nature. Because we exist to provide a nature-based alternative, the philosophy was the opposite. It was about man and woman, it was about relationships with nature and it was about creating alternatives. We have gone through many brand evolutions because how you connect that story in a relevant way changes over time, but the fundamental design of why a brand exists and the choices that it is trying to offer, that plays into it. Carla is doing a fantastic job addressing keeping things contemporary against the trends that we are talking about – digitalization, etc.
CM | It's about many things. It's less about how to reach the right target audience. If we use Millennials as an example, there has to be immense value in just having the conversation before we even get to the product, and that conversation is multi-layered from education, from participation, from being part of a movement and standing for something —all those points that Jeremy talked about around authenticity—but also experience, and then the product proposition starts to fulfill against some of those elements that are true to the way Millenials are living.
To experience and be the early adopter and to be that movement maker is who we are as a brand. To do that, any conversations we have, we make them useful to the end customer, and that is about pairing interesting topics that are relevant in consumption to a natural alternative, and then we try to enable people to lead conversations and ask more questions. As a brand, our responsibility is to be a platform for questions. It's not necessary to say 'do this' or 'do that.'
Millennials want to participate, they want to co-create the shared economy, and they want to know about the lifecycle of everything and that there is less harm happening. That's where we are connecting with Millennials and more broadly with our core older age groups.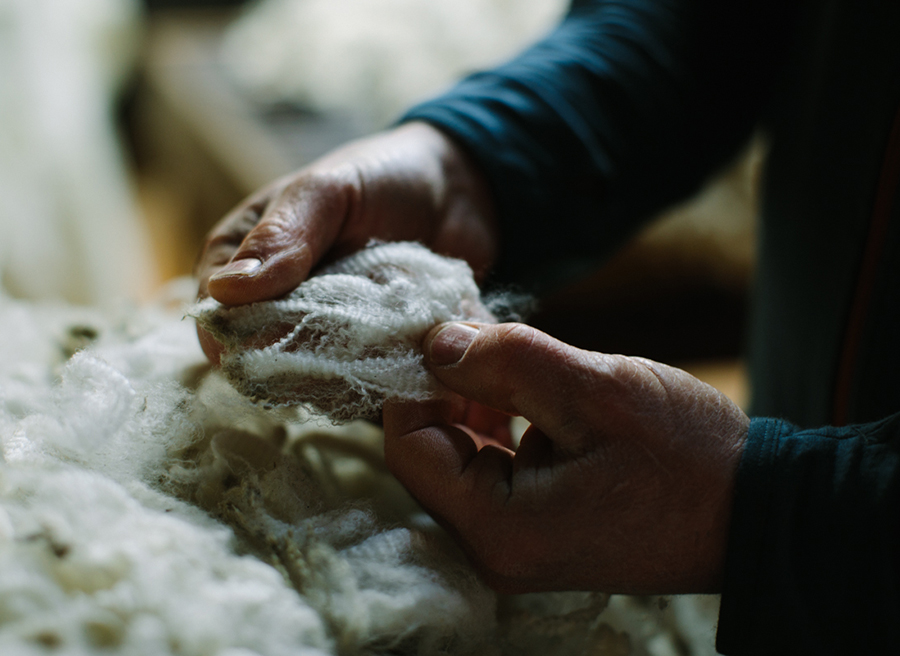 So, it's the social initiatives that Icebreaker has underway that are communicating that visceral experience of Merino wool and in the garments that Icebreaker creates? JM | There's one step in between. It's about first trying to create a conversation about the consciousness of what you are wearing against your body and why. Asking questions about is it worthwhile to pursue a life based on plastics and being part of the solution of offering natural-based alternatives.
Jeremy, what was the catalyst for your starting Icebreaker? JM | I felt like I had been tricked, hoodwinked and lied to by a lot of the products that I was buying when I dug in and started to understand more about synthetic clothing and that it was plastic against your skin, and that only happened because I met a Merino wool farmer. He showed me the prototype of clothing he had created from sheep that lived in the mountains behind his house. I went running in that product, mountain biking in that product, I slept in it, and I wore it to work. I was so amazed. I started digging into the science behind merino wool, and I realized, how technical the fiber was in terms of its ability to move moisture vapors through the inside and repel liquid moisture on the outside.
Merino wool was designed by nature to keep sheep alive. The proof point was that if it didn't work, the sheep would die, and yet the sheep were thriving. Then when I looked into how the synthetic industry worked—melting plastic, extruding it and adding chemicals—it felt like such a stark contrast and lit a fire in me. I wanted a chance to bring nature to the forefront as opposed to thinking that humans can solve everything in the laboratory.
The technology we used at the very beginning was pretty simple. It was actually about trying to find the best quality wool and making all the fabrics ourselves, and that's what was so different. Other apparel companies were buying fabric, but we couldn't. We had to make it, and when we learned, that's when we realized there was so much you could do with Merino. Although it's more expensive, the benefits were so compelling that I knew we could build a global brand if we could understand how to use it and connect people emotionally to it.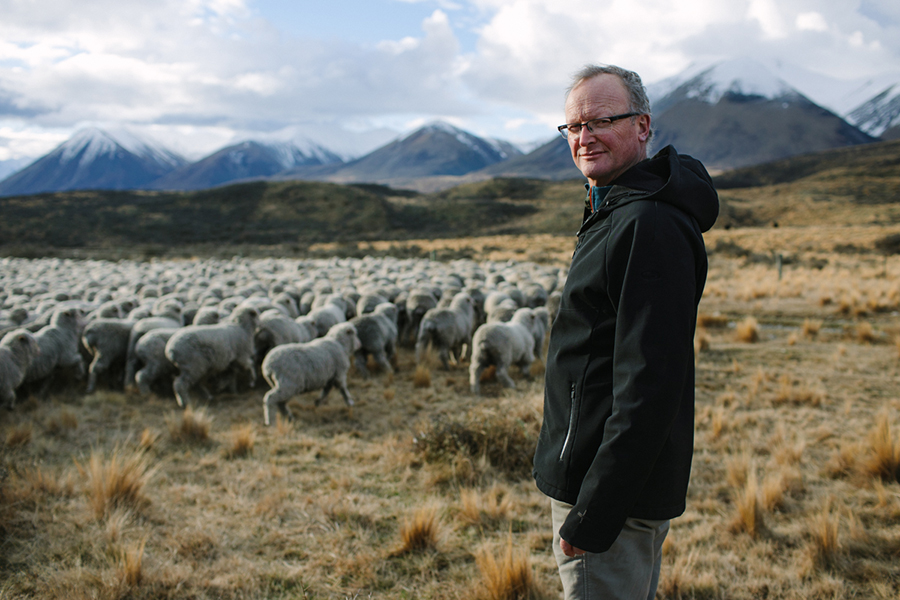 You have 81 wool suppliers with 65-percent of your production volume led by partners you've been working with for 13 years or longer, and you have 10-year contracts with the growers. That's a pretty amazing stat. Is that because of the emotion attached to the process and a belief system?* JM | Yes, the spiritual essence of Icebreaker is in the Southern Alps of New Zealand. That's where the ranches are located. They typically range in size from 20 to 40,000 acres with some as big as 100,000 acres. When you put all the ranches together, that's roughly 3 million acres of the Southern Alps. That's a very, very powerful eco-system because principals are being used where humans have co-existed in a very long-term way with not only the land but also the animals. It taught us the values of environmental conservation, animal welfare, understanding the stewardship and skills that the farmers had, and we learned how to procure the best fibers and the impact Merino could have on fabric quality.
The connection with the growers started as a trial in 1997 because we had a bad batch of yarn in 1996 and almost went bankrupt. As a response to that, I realized that we had to work directly with the ranchers if we wanted to understand Merino wool and get it to be the best in the world. The result turned into how to create symbiotic supply relationships.
The reason we have 10-year contracts, which is unheard of, is because it gives long-term price stability and locks in profitability for the farms and that lets them make long-term decisions and makes it an inter-generational business. The status of agriculture in so many countries is on a knife-edge. Corners are cut, and futures are often lost. We work opposite to that.
CM | Jeremy talks about the spiritual essence, and it's absolutely a collective, shared belief that working with what nature provides can yield far better solutions for our planet and our partners believe that, too. That is extremely rare in an end-to-end business to be working toward the same goal and vying off each other with different roles and responsibilities to do better collectively. JM | We are not here to be the only supplier of Merino. We are here to start a movement. The more people that are adopting this mindset or interpreting this belief system that we've been shaping into their belief systems will reflect through better products and customer relationships.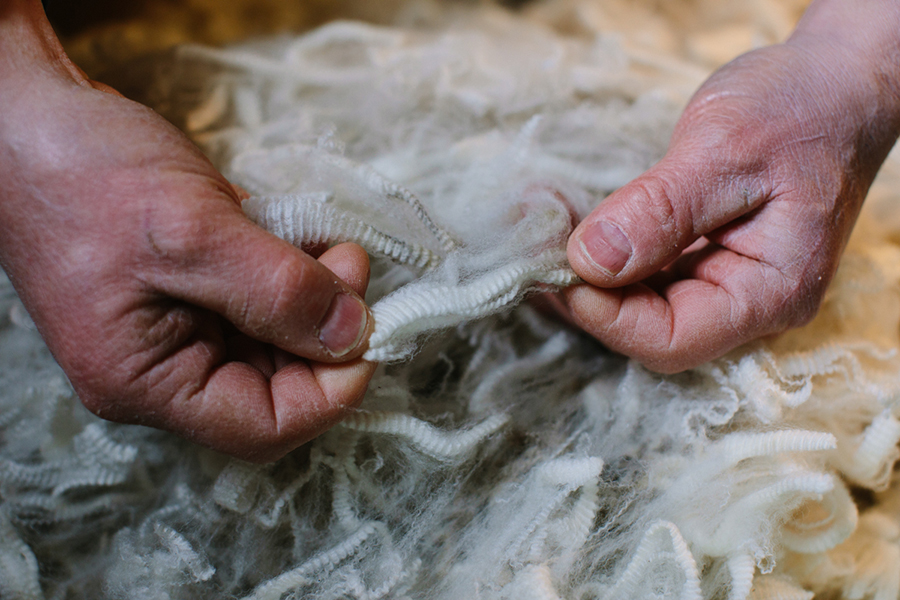 You have created an economy in and of itself with the ranchers to the finished product. Are you amazed? JM | As I got more into it, I had a great and powerful epiphany that Icebreaker is not just a label that you put on clothing, it's an eco-system that starts in the mountains with the merino wool growers and finishes with our customers, and we take responsibility for everything in between. To do a good job we needed to better understand how nature works.
Three principals drive eco-systems in nature, and that drives our business.
• Symbiosis, in nature, is how organisms work together for the benefit of the overall system. Symbiosis at Icebreaker plays out in how we work with our suppliers and how they work with us; how we work with our retailers and independent Icebreaker stores; and through our manufacturers and merino growers.
• Adaptation is another critical component of an ecosystem. We've had so many Adaptations as we've grown the brand that the principals of had to be applied to build long-term relationships.
• Sustainability is everything in nature to minimize waste with the inputs/outputs for another organism. Icebreaker is a whole eco-system. It's a beginning to end arch of Sustainability with so many steps between them.
There were so many choices that we didn't know that we had until we started asking questions. The more rocks we uncovered and the more visibility we had on where we were doing a good job, and where we were not, and the steps we could take, that's when Icebreaker started to grow up because it became a living entity in and of itself and that's how the business runs now. It's a very organic, living organism. The whole eco-system of Icebreaker has been an exercise in building a conscious company.
In 2020 Icebreaker will launch three natural innovations. What are they? CM | We are launching Nature Dye, seamless and Cool-Lite. We've recently launched a small capsule collection of Nature Dye which will launch fully in SS20, a dying technique which reduces the amount of water in the process down to just one glass, which is 80-percent less than traditional dying techniques. Secondly, an innovation in fabric construction, seamless technology uses a single and continuous knitting process resulting in low waste, reduced seams and minimal offcut fabrics.  The third is the next evolution of our Cool Lite technology, a Merino and Tencel combination that marries lightweight luxury with versatility and a soft hand for both active and every day.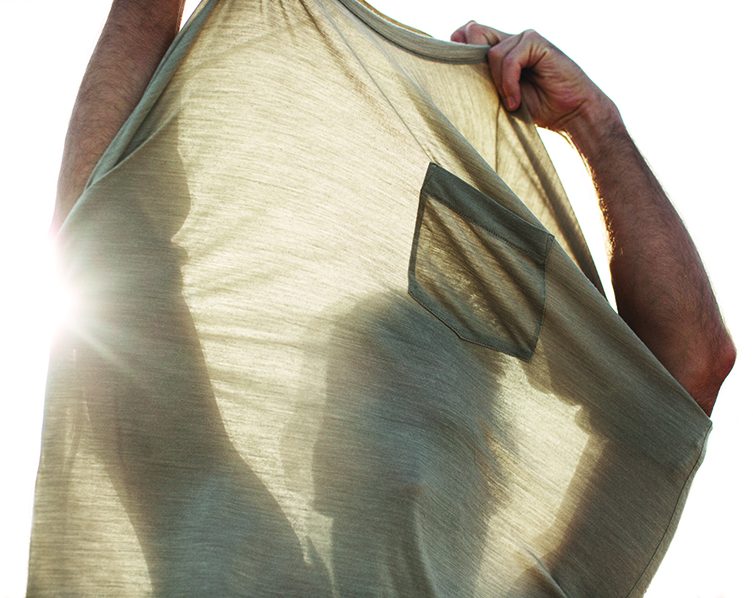 Merino wool is still an unknown for all of the properties it can provide. We are always looking to work with Merino in different ways and reduce reliance on small amounts of nylon and lycra. Our total line is 86-percent natural fibers. The difference is made of some of those fibers based on consumer need and consumer use.
We focus our design principals on the consumer first, making sure that the creations are useful and reduce the need to have multiple versions—it's more conscious and better to have one rather than three of everything. We're working hard to look at new innovations to further drive out any of the upfront impact in the manufacturing process rather than looking at solutions for the end of the process. That's really the future of design. Prevention before trying to find solutions at the other end.
Are today's designers changing the way we approach design? CM | Yes, it's a creative time. Designers have ideas around waste products, around natural variants that have not been in the mainstream, and are mature in their thinking and design talents. They continue to look under every stone to make sure we do better. With that brings the creativity that will drive significant outcomes for the future. Young designers today are concerned and are considerate about what they are producing, and it's going to be an absolute game-changer in terms of what the future of the apparel industry will look like. JM | The old ethos "form follows function" while true at the highest level; it's missing a whole lot. Materials are important; manufacturing processes are important. When you apply contemporary thinking to "form follows function," you get quite a different approach to design, especially when you put design in nature-based principals at the forefront. It's quite an exciting shakeup. The freshness and energy that comes with that.
Why did you call your company Icebreaker? JM | Before we started designing product, we spent three months trying to create the company and the brand. We called it Icebreaker because we realized that the big thing here is about new relationships between people and nature and between Merino wool and your skin. Icebreaker is a metaphor for icebreaking – trying new ideas with a different sense of adventure.
Photos courtesy Icebreaker that includes Merino wool grower and examples of the merino wool selection process.