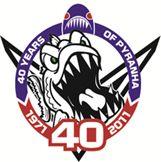 Pyranha has chosen Brian Day to head its U.S. operations. Day is a 25 year veteran of the paddlesports industry who has spent the past five years working closely with former director Jim Hager to make Pyranha, P&H and Venture the premier brands among specialty dealers in North America.

Jim Hager will be moving into a position with Joy Sports/Feelfree Kayaks to develop their new North American sales and distribution network.
This new sales division will allow Joy Sports to better support its private label molding production for volume retailers and to develop new product lines. Pyranha US will continue to support and distribute Feelfree Kayaks through July 31st, at which point Joy Sports will assume all sales and distribution of the Feelfree brand.

Pyranha founder and owner Graham Mackereth explains why he thinks the change makes sense. Joy Sports are choosing to strengthen their programme with 'box movers and thats never been our focus. Weve always been by enthusiasts, for enthusiasts, and our focus has always been supporting specialist dealers alone.

Change brings challenges but also opportunities, says Mackereth.
Weve spent a lot of effort over the past several years helping Feelfree to develop their products and sales. Were looking forward to the opportunity to redirect that energy into our own brands. Were very much looking forward to showing our new products and expanded direction at Outdoor Retailer.