Puma SE at its Capital Markets Day revealed intentions to re-enter the performance basketball category. The company also said it expects currency-adjusted consolidated net sales to grow around 10 percent on average per year until 2022.
The brand left the basketball category in 2001 and has hinted that it may return to endorsing a major American sport in recent years. The sports focus has recently been soccer, running and golf.
According to slides prepared for the presentation to investors, Bjørn Gulden, CEO, listed "American Sports – Reenter Basketball" as the sixth of its midterm priorities.
The first four priorities – Create Brand Heat, Fix The Product Engine, Improve Quality Of Distribution and Simplify Organization & Build Competitive Infrastructure – were formed in 2013 when it set its turnaround plan. In 2015, Build Comprehensive Offering For Women was added as the 5th priority.
According to the slides, Puma plans in basketball to "focus on the culture around the game" with products "grounded in performance" and partners "that are culturally relevant to the game (performance & entertainment.)"
Puma has already signed Skylar Diggins-Smith of the Dallas Wings of the WNBA in July 2017.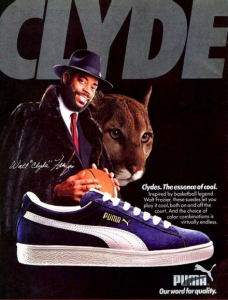 As far as its history, Puma in basketball is best known for the Puma Clyde, the suede model made for Walt "Clyde" Frazier in 1973, when he starred for the New York Knicks. Other former stars who have worn Puma include Isiah Thomas, Vince Carter and Cedric Ceballos.
Gulden noted that the "American kid" is interested in four American sports: baseball, American football, golf and basketball.
But he underscored the strong connection between basketball and urban culture. He noted that basketball styles continue to dominate footwear sales, showing a chart of the top U.S. best sellers for 2017 with five Jordan models, two each by Nike and Adidas and one from Converse.
Gulden also noted that that a number of retro styles from the past are already helping Puma's lifestyle offerings. These include the Slipstream (Snake OG), Avenue Hi, Basket Super ('85 catalogue), Sky Lo ('92 catalogue) and Sky Hi ('92 catalogue).
Gulden spent much of his presentation discussing Puma's turnaround over the last three years that began with the brand establishing a mission to become "the fastest sports brand in the world."
Areas to address when the turnaround plan was launched in 2013 included poor sell-through, poor distribution, lack of clear stories, lack of brand heat and lack of commerciality.
In its progress toward its goal to "Create Brand Heat," Puma has relied on its ambassadors and sponsorships. These include:
Sports stars: Lexi Thompson, Antoine, Griezmann, Usain Bolt, Rickie Fowler and Lewis Hamilton
Sports teams: Arsenal, Dortmund, AC Milan, Chivas and Italy
Entertainers: Rihanna, The Weeknd, Cara Delevingne, Big Sean and Selena Gomez
Gulden also emphasized how important social media has been, particularly with its celebrity ambassadors, and marked by the shift from classic marketing to "storydoing."
To revive its product engine, Puma has focused on five principles: Keep it simple, Make it powerful, Create something relevant, Be courageous and Make it fast. Key 2017 launches include Heart, Tsugi, Limitless, Netfit, Fierce, Rapid Response, Platform and Future.
In its women's focus, Puma believes it's positioned as "the most fashion-forward global sports brands" backed by its strong line-up of celebrity endorsers. The mantra in women's remains "where the gym meets the runway."  The focus in women's is on its collaborators, marketing campaigns, product and in-store merchandising.
In his presentation, Bob Philion, president of Puma North America, said Puma the North America is experiencing momentum "based on unique sport and fashion heritage and engagement with young core consumers," according to the company's slides. Puma is expected to benefit from the trend toward athleisure, as well as retailers' efforts to diversify product offerings.
The slide states, "Substantial upside for Puma brand in America market based on cross-category offering, product and design innovation, strong partnerships and a healthy order book."
Philion likewise traced revived momentum in the U.S. to its range of U.S. ambassadors that also includes Jozy Altedore, Skylar Diggins and Julian Edelman on the sports side and Yo Gotti and Justine Skye among entertainers, as well as its success in story telling, product launches and improved in-store presence.
On basketball, Philion said that in the U.S., "Puma has been an influencer of culture, but an outsider in basketball," according to the slides. "We believe this offers a unique and fresh perspective on the American basketball market."
The three-pronged aim in basketball for Puma includes:
Connect to the consumer through culturally relevant storytelling.
Product built for the court made for the street.
Partners that are relevant to the culture of the game.
Under the title, "Bright retailer outlook," Philion concluded by stating four trends backing Puma's momentum in the region: brand momentum, sport & fashion proposition, speed to market and future potential.
Puma's overall priorities for 2018 include accelerating growth in men's, continuing momentum in women's and igniting the global football (soccer) business.
For 2018, Puma expects net sales to grow approximately 10 percent on a currency-neutral basis, gross margins to improve slightly, and EBIT to improve to euro €305 to €325 million from €345 million in 2018.
Under its "midterm ambition" goals, Puma expects by 2021/2012:
Sales to grow over the next five years at a 10 percent CAGR. Sales were €4.1 billion in 2017.
Gross profit margin to expand to between 49 to 50 percent, up from 47.3 percent in 2017.
Operating expense ratio to range to between 39 to 40 percent of sales, down from 41.3 percent in 2017.
EBIT margin to improve to 10 percent of sales, up from 5.9 percent in 2017.
Driving the top-line gains is expected to be "accelerating growth" in the APAC region, which includes China and Japan. "Solid growth" is expected for both the Americas and EMEA. As of 2017, the EMEA accounted for 40 percent of sales; Americas, 36 percent and APAC, 24 percent.
Puma noted that one goal is to capitalize on its brand awareness. According to a survey from Yougov, Puma's brand awareness is highest in Mexico, at 93 percent; and lowest in China, 44 percent. In other regions, UK is at 91 percent; Brazil and Germany, both 88 percent; Japan, 87 percent; France, 84 percent and USA, 83 percent.
Puma is counting on its key partners at wholesale, listing Intersport, JD, Sports Direct, Foot Locker, YY Sports, Sports 2000, Dick's, Decathlon and Zalando, to be the "main contributor of absolute growth" with gains expected. But faster growth is expected from its e-commerce and its own stores.
Along with online growth, 40 stores per year are expected to open globally over the five years. Puma ended 2017 with 292 full-price stores and 411 outlet stores, up from 284 full-price stores and 380 outlet stores in 2016.
By the 2021/2021 period, retail and e-commerce is expected to expand to account for 30 percent of sales, up from 23 percent in 2017. Wholesale is expected to be reduced to 70 percent from 77 percent.
The higher contribution from direct-to-consumer (DTC), which carries higher margins than wholesale, is expected to positively impact gross margins. By category, gross margins are expected to most significantly improve in footwear, where margins have lagged other categories. In 2017, gross margins in footwear were 45.5 percent versus 49.0 percent for apparel and 48.5 percent in accessories. Footwear margins have improved significantly from 41.2 percent in 2015.
Overall, gross margins over the five-year period are expected to be helped by regional mix, channel mix, sourcing and engineering improvements and better sell-through.
The lower operating expense rate is expect to be impacted by continued investment in marketing and retail that will offset improved efficiencies from better systems and processes.
Capital expenditures were 3 percent of sales in 2017 and are expected to range between 2.5 to 3 percent of sales by the 2021/2022 period with continued retail store expansion and refurbishments, as well as investments in IT infrastructure.
In addition, Puma will propose to the Annual General Meeting a distribution of a dividend of between 25 percent and 35 percent of the consolidated net earnings, starting with the dividend payout in 2019 for the financial year 2018.
Photo courtesy Puma