Houston, TX, August 21, 2020 — TAXA Outdoors, the leading manufacturer of lightweight, mobile human habitats for outdoor adventure, expands its collection with updates and renovations to its Mantis and Cricket habitats for 2021. In conjunction with the 2021 launch, TAXA will debut 360-degree virtual tours of the new models on taxaoutdoors.com to offer an inside look at the key new interior and exterior features and updates.
With the considerable lifestyle changes many have experienced in 2020, the TAXA design team worked to pivot its design to accommodate the new needs of consumers. TAXA has always prioritized flexibility and minimal spaces, and how the consumer can maximize the adaptability of the habitats — the updates to the 2021 Mantis and Cricket reflect that more than ever before. With many people now working from home, and rethinking travel and school, the updated models will allow consumers to adapt to different lifestyles and activities in a simple and efficient way.
"At TAXA, we strive for continuous improvement," said CEO and founder Garrett Finney. "We listened to customer feedback to make thoughtful changes that we hope are reflected in our 2021 model year update. We can't wait for people to get out, relax and explore the outdoors in these two new models."
MANTIS
The Mantis offers more living space for bigger families and an open-air design intended to bring the outdoors in. Innovations to the 2021 Mantis include an upgraded air conditioner unit, thoughtful updates to the kitchen area, and increased storage throughout the rig.
The 2021 Mantis has been upgraded with an 8,000 BTU Air Conditioner on a lockable sliding base with a hinged exterior cover. Changing the position of the AC unit inside of the Mantis allows better circulation and improved cooling performance while also creating a micro closet out of the extra storage behind the kitchen cabinetry, by the bed.
Kitchen updates include a separate Dometic sink and Dometic 2-burner stove, which offers more space to cook, and a newly created 'open shelving' concept – made from baltic birch plywood and powder coated steel – for additional kitchen storage. The new high density polyethylene (HDPE) backsplash panel behind the sink and stove offers more durability in the 'splash zone.' And redesigned kitchen cabinetry concentrates electrical and plumbing systems in one spot and allows for easier maintenance and repair.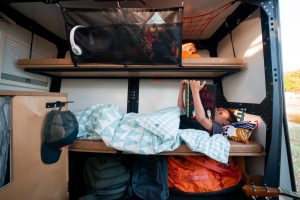 Additional storage has been added with two storage towers made from a milk crate drawer system. Each tower comes equipped with a trio of full size milk crates that act as drawers, secured with bungee cords while traveling, and can be easily removed for effortless loading and unloading. Plywood cabinetry under the bed has been updated to powder coated steel supports to open up storage space and allow for more customized storage, divided by bungees. And to solve an everyday problem, the new 2021 Mantis offers a solution for garbage with a new 16-gallon trash can that is standard in every 2021 model.
CRICKET
The lightweight and rugged 2021 Cricket takes on adventures big and small, with space for the whole family. This NASA-inspired human habitat comfortably fits two adults and two kids, and features integrated plumbing and electrical systems for more comfortable trips off-grid.
TAXA prides itself on intentionally designed small spaces, and the fully redesigned kitchen of the 2021 Cricket is no exception. Kitchen cabinetry has been redesigned to concentrate electrical and plumbing systems in one spot, allowing for easier maintenance and repair. An HDPE backsplash panel, tough birch plywood and high-pressure laminate countertops offer an improved kitchen workspace, and a new separate Dometic sink and two-burner stove allows for more space to cook.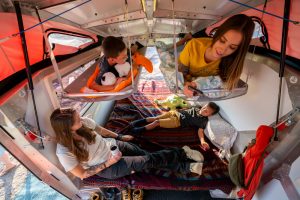 Like the Mantis, the 2021 Cricket features additional storage thanks to a milk crate drawer system, secured with bungee cords, perfect for storing camp essentials. An under-bed update features powder-coated steel supports, rather than plywood cabinetry, for more open and customizable storage.
For those hot days on the road, the addition of a window on the rear driver side allows for a better, more aerodynamic air conditioning placement.
The 2021 models will be available at local RV dealers. To view the new 360° virtual tours, visit the Mantis and Cricket product pages. To stay updated on news from TAXA Outdoors, follow @taxaoutdoors on Instagram or head to taxaoutdoors.com.
About Taxa Outdoors: TAXA Outdoors is an outdoor lifestyle company formed to design and manufacture high performance adventure equipment that helps people reach their goal of connecting with the outdoors. Its products are crafted by hand in Houston, TX from durable, premium, eco-friendly, high performance material. TAXA's vehicles are designed to make camping fun, comfortable, and secure. TAXA Outdoors attracts a diverse demographic groups including some RV users, but primarily those who love camping and the outdoors but require more than a tent. https://taxaoutdoors.com/