Portland, OR, April 2, 2020 – In efforts to support local and national personal protective equipment (PPE) shortages across the US in the wake of COVID-19, Smith joins the Goggles for Docs movement to provide ski goggles to healthcare workers who currently have no eyewear protection while treating patients.
The Goggles for Docs program materialized in just a few days to support hospital need, and is based solely on volunteer support and product donation. Smith is currently sending new and used goggles to fulfill hospital requests, and will continue to promote the program, encouraging its community to volunteer and donate on the individual level.
Beginning this week, Goggles for Docs is hosting a virtual Après Ski Music Series of live-streamed sets by featured artists – including Stephen Kellogg and Pete Kilpatrick Band – where listeners can tune in and donate goggles or cash contributions that will directly purchase additional protective gear for medical staff.
For more information, to donate or volunteer, please visit GogglesForDocs.com.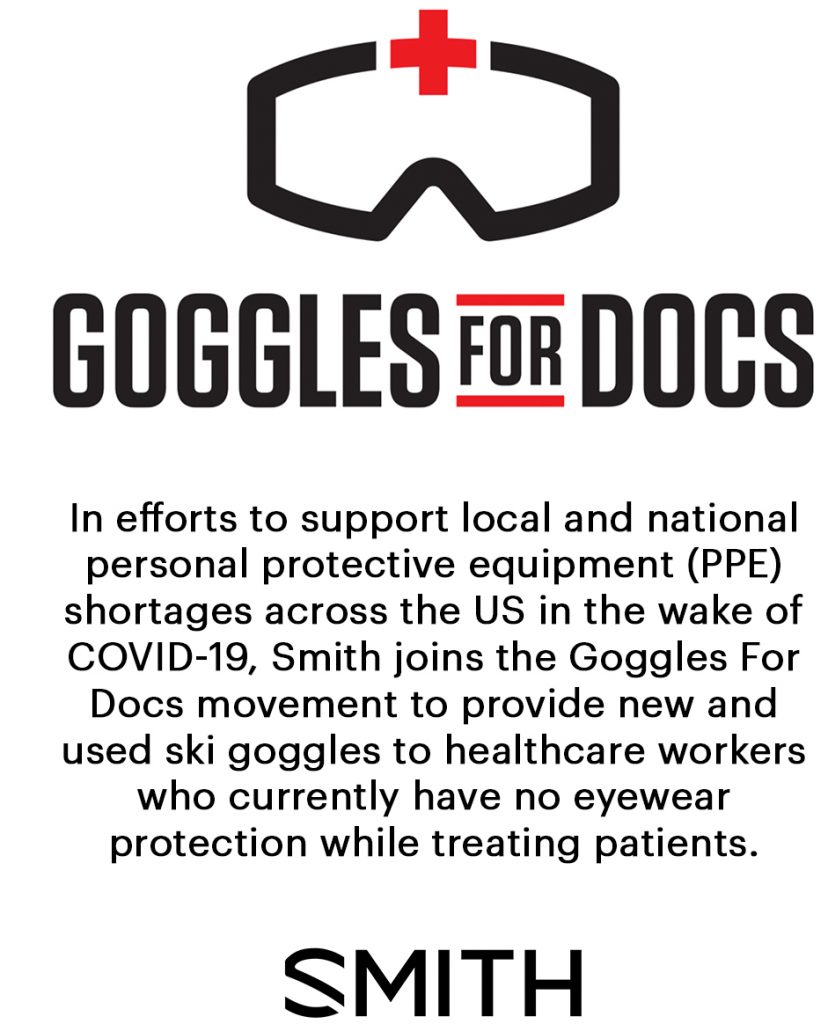 About Smith: Originating from Sun Valley, Idaho, Smith was founded in 1965 with the invention of the first snow goggle featuring a sealed thermal lens and breathable vent foam. With over 50 years of innovation and design experience, Smith is widely known today as an industry leader that pioneers advanced eyewear and helmets that incorporate dynamic technologies, optimized performance and clean styling to fuel fun beyond walls. Smith seeks to power thrilling experiences in snow, surf, bike, fish and peak performance outdoor adventures with a comprehensive collection that exudes modern style and vibrant personality. To Smith, the experience is everything. Smith is part of Safilo Group. Additional information is available at smithoptics.com.