Salomon's newest alpine ski boot collection takes home top industry award
Ogden, UT, September 9, 2019 —Salomon's new S/PRO ski boot receives the 2020 Gear of the Year Award from SKI Magazine, thanks to its unrivaled comfort and performance. To deliver the all-new, lightweight S/PRO, the Salomon alpine ski boot design team utilized consumer feedback, foot biomechanic research and findings from the development of Salomon's freeride and backcountry boot range.
"Our alpine boot design team set new standards for comfort and fit when they developed the all-new S/PRO," says Chris McKearin, the U.S. alpine commercial manager for Salomon. "The S/PRO is the best fitting and most comfortable, yet high-performing, alpine ski boot we have ever made. We are honored to be recognized by SKI Magazine, and other members of the ski industry, for this new take on the industry's best-selling boot line."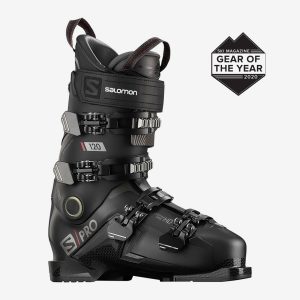 The SKI Magazine Gear of the Year Award is granted annually to products that are rigorously tested by the SKI Magazine editors. The distinction is based on top design and performance in a variety of conditions. The complete list of SKI Magazine Gear of the Year Award winners will be announced in the magazine's Buyer's Guide, hitting newsstands on September 24, 2019.
"The fit on this boot is awesome. To nail it, Salomon used state-of-the-art technology to scan over 5,000 feet in both Europe and North America. The result is a 100mm last and a shape that fits 70% of people right out of the box," says Jon Jay, digital content editor at SKI Magazine. "In terms of performance, Salomon is using the same CoreFrame shell inserts from their World Cup race boots. Our test crews in Utah and Vermont were especially impressed by the S/PRO. Commending the boot for its quick edge to edge responsiveness, superior turn initiation, and finish, and top tier overall performance. With the Seamless liner, Custom Shell HD and Coreframe 360 construction, the S/PRO is the complete package for any skier."
In addition to being awarded the Gear of the Year award from SKI Magazine, the S/PRO was also awarded top accolades from well-known publications throughout the ski industry.
The S/PRO collection is now available for men and women in a range of flexes nationwide at Salomon Ski retail partners. To read SKI Magazine's review of the S/PRO, please visit www.skimag.com/gear/salomon-spro-2020. For more information on the full S/PRO collection, or any other Salomon products, please visit www.salomon.com.