Ogden, UT, March 17, 2020 – Salomon ultrarunning athletes Courtney Dauwalter and Francois D'Haene today announced their race plans for the 2020 running season. The star athletes have recently taken the ultrarunning world by storm, each earning Ultrarunner of the Year recognitions and podium finishes across the board. This year, the American and Frenchman will both take on two of the most iconic 100-mile trail races in the world, the Hardrock Hundred Endurance Run in Silverton, Colo. and the Ultra-Trail du Mont Blanc (UTMB®) in Chamonix, France.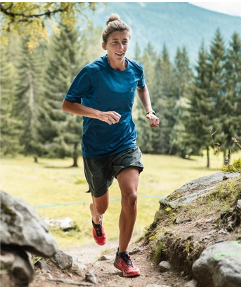 "Hardrock 100 is a beautiful mountain race in Colorado that has a rich history and family-like community feel. I am honored to be able to participate in this race," says 2019 UTMB® first place winner, Courtney Dauwalter. "UTMB® was a race I experienced for the first time this past year and I absolutely loved it. The terrain is tough but gorgeous, and the festive atmosphere of Chamonix during race week was energizing. I can't wait to take another lap of Mont Blanc!"
The opportunity for both athletes to finally take on the legendary Hardrock 100 comes a year later than planned, as the 2019 event was canceled due to snow.
In 2017, D'Haene raced in the 106-mile tour around the Mont Blanc Massif and won what was arguably the most competitive ultra-distance race in the sport's history, capturing his third UTMB® title. While that race gives him confidence in his return, he says every race is different.
Dauwalter, who has won a host of ultras in recent years ranging from 50- to 240-mile distances, will also race in the Big's Backyard Ultra, a last-person-standing race in Tennessee.
"Big's Backyard is one I couldn't miss. This format provides the perfect opportunity to really push our own limits and see what we are capable of," Dauwalter says. "I am really looking forward to this race and hope to show up ready to go for 300 plus miles. It is a physical challenge for sure, but an even more interesting mental challenge."
Product and Training
Both D'Haene and Dauwalter will start their respective seasons at the Salomon Running Camp in April, which brings together the brand's international trail running team in the Canarias Islands, Spain. The camp will consist of product testing and development as well as logging miles before the races begin.
For the 2019 season, Dauwalter raced in the Salomon S/LAB Ultra 2 shoe, a product originally developed for D'Haene's fastest known time (FKT) on the John Muir Trail in California. In 2020, she will be training and racing in the S/Lab Ultra 3, which launches in Fall 2020, as well as the Sense Ride 3, available now.
Inspired By One Another
Dauwalter and D'Haene say they were both curious about what races the other would be running in this season.
Dauwalter says that racing the same races alongside D'Haene is motivating for her as well. "Seeing what talented athletes like Francois put together for their schedules is always inspiring. It's also cool because I live in Colorado, where we will both run Hardrock, and Francois lives in France, where we will both do UTMB®. We get to share our home mountains with each other!"
Courtney Dauwalter 2020 Schedule:
April – Salomon Running Camp – Canarias Islands, Spain
July – Hardrock 100 – Colorado, USA
August – Ultra-Trail du Mont Blanc (UTMB®) – Chamonix, France
October – Big Backyard's Ultra – Tennessee, USA
Francois D'Haene 2020 Schedule: 
April  – Salomon Running Camp – Canarias Islands, Spain
April – Penyagolosa – Spain
July – Hardrock 100 – Colorado, USA
August – Ultra-Trail du Mont Blanc (UTMB®) – Chamonix, France
About Salomon: Born in the French Alps in 1947, Salomon is committed to pushing the boundaries of mountain sports through the creation of innovative equipment that allows people to play, progress and challenge themselves in their chosen outdoor sports. The company produces and sells premium footwear, winter sports and mountaineering equipment, hiking equipment, and apparel specifically designed for all those disciplines. Products are developed in the company's Annecy Design Center, where engineers, designers and athletes collaborate to create innovative solutions that continually improve the outdoor experiences of those who see nature as a vast playground. salomon.com
Contact:
Emily Banks
emily.banks@rygr.us
970-924-0704 ext: 103