Louisville, CO, March 2019 – Rab, an industry leader in merging the development of quality outdoor gear and apparel with sustainability and environmental awareness, added another accolade today as Backpacker honored the company's Phantom Pull-On jacket with an Editors' Choice award.
Released ahead of the new spring season, the lightweight Phantom Pull-On jacket offers all-day protection and peerless packability, and is the ultimate stash-and-forget waterproof shell for stripped back mountain runners and adventurers.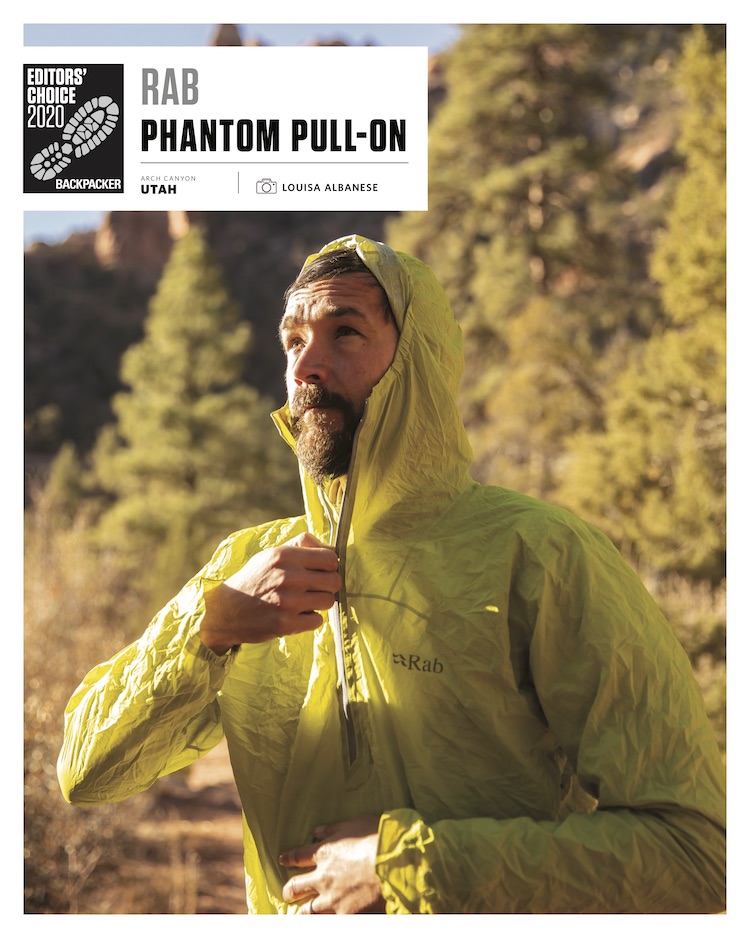 "We're thrilled that the team at Backpacker has honored the Phantom Pull-On with an Editors' Choice award," said Jon Frederick, U.S. Country Manager at Rab. "The Phantom was designed for people who need protection from unpredictable weather but don't want to sacrifice performance when they're hiking or running on the trail. They'll never get weighed down by this jacket, but they'll also never have to sacrifice staying warm and dry."
The Phantom Pull-On shell uses waterproof two-layer construction, as well as a low-volume elasticated hood and half micro elasticated hem and cuffs, enabling it to pack down into a palm-sized storage sleeve.  The absence of pockets and a hooded peak also helps keep the weight down (it weighs just 90g), and a lightweight half-length zip helps deliver effective weather protection without excessive weight.
"Backpacker gear reviews set the benchmark by which all others are measured," Backpacker Editor-in-Chief Shannon Davis said. "That's because no other magazine or website conducts field testing as rigorously or impartially as the crew led by our Gear Editor, Eli Bernstein. Our core testers each have years of backcountry experience and expertise. Our transparent process has earned an unrivaled level of trust from readers, retailers, and manufacturers. The result? Best-in-class reviews that lead consumers to best-in-class gear."