Following its move into the gravel category in 2021, Pinarello, the Italian bike maker, announced its Scuderia ambassador team for 2022.
"The Scuderia brings together athletes and community leaders from unique corners of the cycling and adventure sports sectors to motivate and inspire others to tap into the power of riding bikes. Whether racing at the highest level or introducing someone to their first gravel event, Scuderia members will advocate for creating space for women, aging athletes, kids, and BIPOC athletes within the cycling community and highlight the bike as a fundamental tool for all athletes to push their personal boundaries," said Pinarello.
Building on its launch in 2021, Pinarello will "evolve the Scuderia into a three-tiered program with distinct rosters for Competitive, Community Leader and Adventure tiers. The Scuderia is designed to foster excellence, while at the same time, open doors to underrepresented communities in cycling by giving athletes the support they need to reach their full potential in whichever discipline or initiative they are dedicating themselves to," said Kim Rogers, Pinarello's US marketing director and visionary of the Scuderia program. "We believe that if you put someone on a Pinarello, it's limitless as to what they can achieve. We aim to empower each member to motivate and inspire each other as well as their respective communities to tap into the power of bikes," she continued.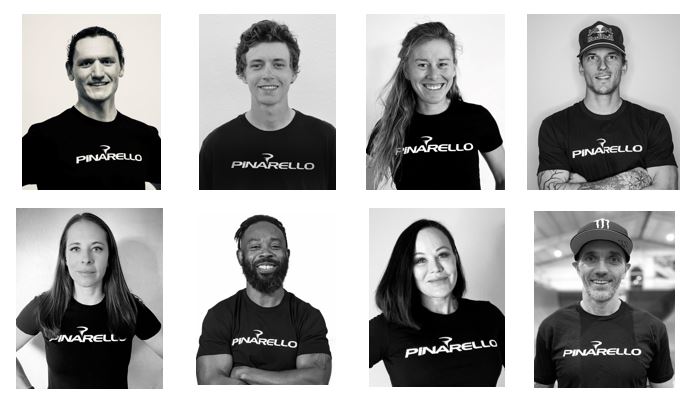 The 2022 Scuderia roster includes the following cyclists: 
Competitive Tier, which "supports emerging talent in gravel racing and provides the support they need to achieve the next level in their racing career through a robust program of support."

Brennan Wertz, a former national team rower, turned gravel racer Finished Top 3 in 2021 BWR overall standings.
Bradyn Lange, a multi-disciplined bike racer in MTB, XC and gravel. Finished 4th at the 2021 Big Sugar and will compete in the Lifetime Grand Prix in 2022.

Community Leaders Tier, "represents returning Scuderia members from 2021 who have strong leadership and mentorship goals going into 2022. These athletes embody the brand's dedication to supporting and growing underrepresented communities at large. Each athlete will focus on a series of clinics throughout the year with their own unique focus."

Mari Holden, Olympic Silver Medalist, TT World Champion and Community Director for USA Cycling.
Jess Cerra, a former UCI pro rider, co-founder of The Last Best Ride Gravel race in Montana and creator of JoJe Bar.
Anthony Carter, a director and Coach of Get-It-In Cycling, a club for BIPOC cyclists with over 5,000 members.

Adventure Tier "features prominent athletes that use cycling as a tool to enhance their primary sport. Whether it's cross-training, recovering from an injury or exploring new landscapes, each athlete will have the support of Pinarello in energizing their professional and athletic endeavors."

Hillary Allen, an Ultra trail runner, US Skyrunning Champion and author of 

Out & Back: A Runner's Story of Survival and Recovery Against All Odds. 

John Collinson, the Utah-based big mountain skier and cyclist and youngest person to complete the Seven Summits.
Jamie Bestwick, BMX 14-time X Games gold medalist and Olympic coach for Team GB BMX. Raced Unbound Gravel 200 in 2021.
Photo courtesy Pinarello