Judith Wyder Wins Women's Race Over Ruth Croft and Maude Mathys
If Italian trail runner Davide Magnini announced his presence in this year's second edition of the Golden Trail World Series with his win at the Marathon du Mont Blanc in late June, this weekend he solidified himself as one of the favorites in the season-long series. On Sunday morning, the 21-year-old Italian runner from Team Salomon took apart another impressive field, this time in his homeland, winning the Dolomyths Run in 2 hours and 28 seconds.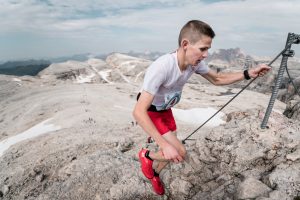 At 22km, Sunday's race in the Italian Dolomites was considerably shorter than his previous victory in Chamonix, but it was just as impressive. Magnini led from early-on, climbing the 1,700 vertical meters in record-breaking time. It was all downhill from there for the Team Salomon runner.
As he was in Chamonix, Italian Nadir Maguet (Team La Sportiva) was 2nd to Magnini in 2:02:54. This time, he had company, finishing alongside Morocco's Elazzaoui Elhousine (Team Tornado), who was credited with the same time.
In the women's race, Switzerland's Judith Wyder (Team Salomon) took the lead from fellow Swiss Maude Mathys (Team Salomon) on the downhill to win in 2:18:51. New Zealand's Ruth Croft (Team Scott) continued to impress with a 2nd place finish. She also passed Mathys on the downhill to finish in 2:21:56. Mathys, who was the first to crest the high point of the course at Piz Boè (elevation: 3,152 meters), held on to the final spot on the podium in 2:22:08.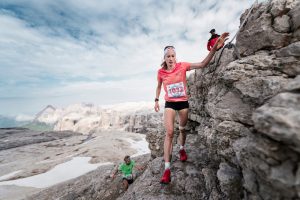 "I didn't know I passed Maude, actually," Wyder said at the finish line. "You have to charge hard somewhere and you have to be smart. I knew that I had a fast downhill so I took my chance when I knew I was just 40 seconds behind. I love it here. I was really successful here years ago and it's great to come back and have a strong race again. The downhill fits me really well. The uphill was really tough. I tried to stay behind Ruth and push a bit when walking."
Magnini has been one of several young talents that trail running aficionados have pointed to as the next generation to lead the sport on the men's side, and he is certainly living up to that billing this season. On Sunday, he made it a double win weekend after his victory in the Vertical Kilometer race on Friday. The 22km race on Sunday required a more lengthy effort, but the young Italian seems comfortable at any distance at the moment.
A host of familiar names gave chase to Magnini on Sunday. Team Salomon's Jan Margarit finished 4th and Team Salomon's Bart Przedwojewski (Poland) was 5th. Last year's winner, Norway's Stian Angermund-Vik (Team Salomon), was 6th.
In the women's race, France's Elise Poncet (Team Scott) was 4th, Italy's Elisa Desco (Team Scarpa/Berg Outdoor) was 5th, France's Anaïs Sabrié was 6th, Italy's Silvia Rampazzo (Team Tornado) was 7th and South Africa's Meg Mackenzie (Team Salomon) had another top-10 finish in 8th at 2:37:05.
The next stop on the Golden Trail World Series is the always entertaining Sierre-Zinal race in Switzerland, where the field will include Spain's Kilian Jornet, who won there in 2018 for the sixth time.
Photo credits Jordi Saragossa