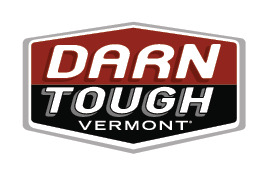 Vermont's Tough Conditions Inspire the New Season
Northfield, VT, January 14, 2020 – As the snow begins to fly, Darn Tough Vermont, the fastest growing American manufacturer of premium performance outdoor and lifestyle socks, proudly debuts its new Fall 2020 collection. With new socks in the Snow category, Darn Tough is also expanding its compression offerings as well as introducing the brand's softest yarn yet. And no matter the season, Darn Tough's award-winning socks are always backed by a lifetime guarantee and deliver the best comfort, durability and fit available.
"We didn't earn the saying 'if you can ski the East, you can ski anything' for nothing. The conditions and terrain in Vermont is difficult, at best, which is precisely why we love having this testing ground in our backyard," explains Lyn Feinson, VP of Product Design and Development. "Add in the impressive experience of our new athletes, Jake Blauvelt and Michelle Parker, and you have a winning combination in producing our best Snow collection to date."
Fresh Snow, Fresh Faces
Professional freeskier Michelle Parker and pro snowboarder Jake Blauvelt lent their expertise to the creation of new styles that are dialed-in with updated performance features like segmented cushioning on the shin, re-engineered flex windows and multi-zone mesh for optimal breathability, as seen in the all-new Edge. There are also new designs like the Sea to Sky, inspired by landscape photography throughout the USA, which keep the socks looking as stylish as they feel.
Go with the Flow
Compression, a go-to feature that increases blood flow from the ankles back to the heart, is already benefiting those who wear Darn Tough Run socks. The brand is now integrating graduated light compression into additional categories including Lifestyle, with the women's Chakra, and Snow, with the men's and women's Camo.
Getting Twisted
Darn Tough is showing its softer side with the introduction of a new twisted yarn in the Fall 2020 Scout Hike sock. The new styles are constructed with yarn using their finest micron fiber for ultra-soft comfort. But don't mistake the soft feel for going soft on tech and features. Already the preferred sock of thru-hikers across the world, Darn Tough has engineered another unstoppable style that still delivers the best comfort, durability, and fit.
The new Fall 2020 socks and the entire Darn Tough collection can been seen at SHOT Show (Las Vegas, Jan 21-24), ISPO (Munich, Jan 26-28), Outdoor + Snow Show (Denver, Jan 29-31) and FN Platform (Las Vegas, Feb 5-7).
About Darn Tough Vermont: Darn Tough Vermont is an American manufacturer of premium, all-weather outdoor and lifestyle socks backed up by the industry's only lifetime guarantee. The company offers both Specialty and Tactical product lines. Darn Tough Vermont's Specialty line of socks includes Hike, Lifestyle, Snow, Run, Athletic, Work, Hunt and Juniors' styles.
Darn Tough's product is distinguished from industry competitors by 100 percent USA manufacturing; exceptional comfort, durability and fit; True-Seamless™ technology; and an exclusive blend of either ultra-fine, premium Merino wool or Coolmax®/Thermolite®.  Founded by Ric Cabot in 2004, a third-generation sock maker, Darn Tough Vermont operates out of Cabot Hosiery Mills. For more information about Darn Tough Vermont socks, please visit DarnTough.com.