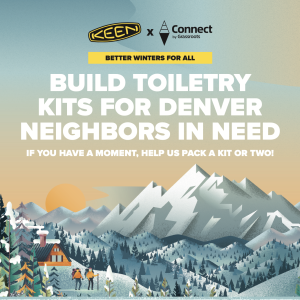 Portland, OR, November 15, 2019 — KEEN, Inc. (KEEN), the Portland, Oregon-based brand on a mission to create original and versatile products, improve lives, and inspire adventures outside, worked with attendees of the Grassroots Outdoor Alliance (GOA) Grassroots Connect Tradeshow this past week to assemble over 1000 toiletry kits. The kits will be distributed to homeless populations in Denver by the Denver Rescue Mission (DRM) and the Denver Health Paramedic Division (DHPD), two local non-profits.
Tables were set up with supplies at the KEEN booth near the entrance of the GOA Connect tradeshow. As attendees entered, they were encouraged to fill bags with socks and toiletries including shampoo, deodorant, shave gel, razors, and combs.
"At KEEN we believe in taking a stand for the things we care about and are committed to putting those values in motion," says Tim Corliss, VP of sales at KEEN Footwear. "One of those values involves giving back to communities in need which is why we were thrilled to partner with GOA, the Denver Rescue Mission and DHPD to turn this idea into reality."
Paramedics will carry the kits in their ambulances and be distributed to those in need as they are on calls and while driving around Denver. Excess materials were donated to the Denver Rescue Mission to build similar kits for veterans in need.
KEEN has been giving back and providing grants to numerous non-profits since 2003 in efforts to build stronger communities, inspire responsible outdoor participation, and protect open spaces. In addition to aligning with regional partners like the DRM and DHPD, KEEN works closely with domestic and international groups like The Conservation Alliance, Leave No Trace, the Outdoor Alliance, and many others.
You can learn more about KEEN's give back initiatives at keenfootwear.com/keen-effect.html.
Please direct KEEN media inquiries to Ashley Williams at ashley.williams@keenfootwear.com.
About KEEN: Driven by a passion for life outside, KEEN is a values-led, independently owned brand from Portland, Oregon, that's on a mission to create original and versatile products, improve lives, and inspire adventures outside. Founded in 2003, it launched a revolution in the footwear industry with the introduction of the Newport adventure sandal and has continued to launch disruptive products and establish new standards for performance, comfort, and design. As a family-owned company, KEEN has made doing good part of doing business since day one. By working with non-profit partners, consciously creating its products, providing grant funding to grassroots organizations, and activating communities and individuals to protect the places where we work and play, KEEN puts its values in motion to leave the world a better place. Learn more at keenfootwear.com