Hillsound Equipment announced the addition of Mountain Mic to its Ambassador Team. Mountain Mic is the first of many ambassadors to come as Hillsound grows its community of elite athletes and outdoor enthusiasts.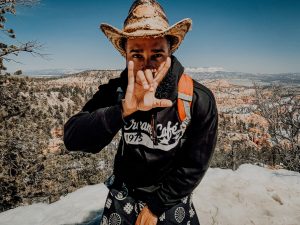 The Hillsound team sees Mountain Mic as a natural fit for his Destination HL and Trap Hike offerings providing a space for people to gather and recreate in the outdoors. Hillsound Equipment is eager to engage with the Southern California audience in Mountain Mic's backyard.
"We want to be a brand that can cater to all levels of outdoor enthusiasts ranging from beginners to experts, and we believe Mountain Mic will be a great leader in this area. He is also working to remove the stigma around mental health and connects the benefits the outdoors can have on mental health, something we strongly believe in as well and that feels more relevant now than ever as we are heading into colder and darker months and COVID-19 continues to disrupt our lives," said Marketing Manager, YooRa Kang.
Photo courtesy Mountain Mic