SylvanSport announced it "updated and improved" its Cloud Layer Mattress — a self-inflating camping mattress designed for standalone use or to nest with its Cloud Layer sleeping bags.
A total redesigned two-valve system with inflating connectors and tethered valve caps make inflating and deflating easier and faster. The mattress self-inflates in 30 seconds and can be "topped off" to a user's comfort level by connecting the waterproof storage sack to a valve, rolling the sac and pressing air from the sack into the mattress. No additional pump is necessary. To deflate, users flip the valves to the deflate setting and roll the mattress down to its 11″x 34" pack size.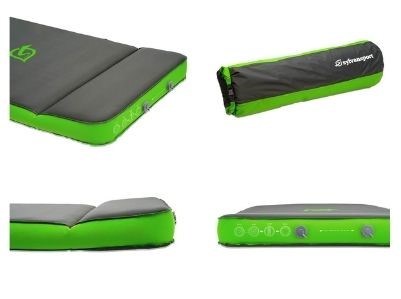 Oversized for maximum comfort, the 80″ x 34″ mattress is padded with fast-fill foam, includes a 34″ x 12″ built-in pillow and expands to 4″ thick when inflated.
The dimensions were designed to fit on its GO bed frame and to nest inside its Cloud Layer sleeping bags, but the mattress can also be used separately.
A durable bottom fabric protects the mattress while soft, stretchy side panels and a velvet touch top fabric provide next-to-skin comfort. The 11″ x 34″ carry case is waterproof and comes equipped with an integrated carrying handle with clips.
"The Cloud Layer sleep system is designed to give people the best night's sleep they've ever had while camping," saod Kara Errickson, creative director, SylvanSport. "The latest upgrades to the Cloud Layer mattress emphasize not only comfort but convenience so you can bring home-like comfort to the campsite and spend less time setting up."
For more product information, go here.