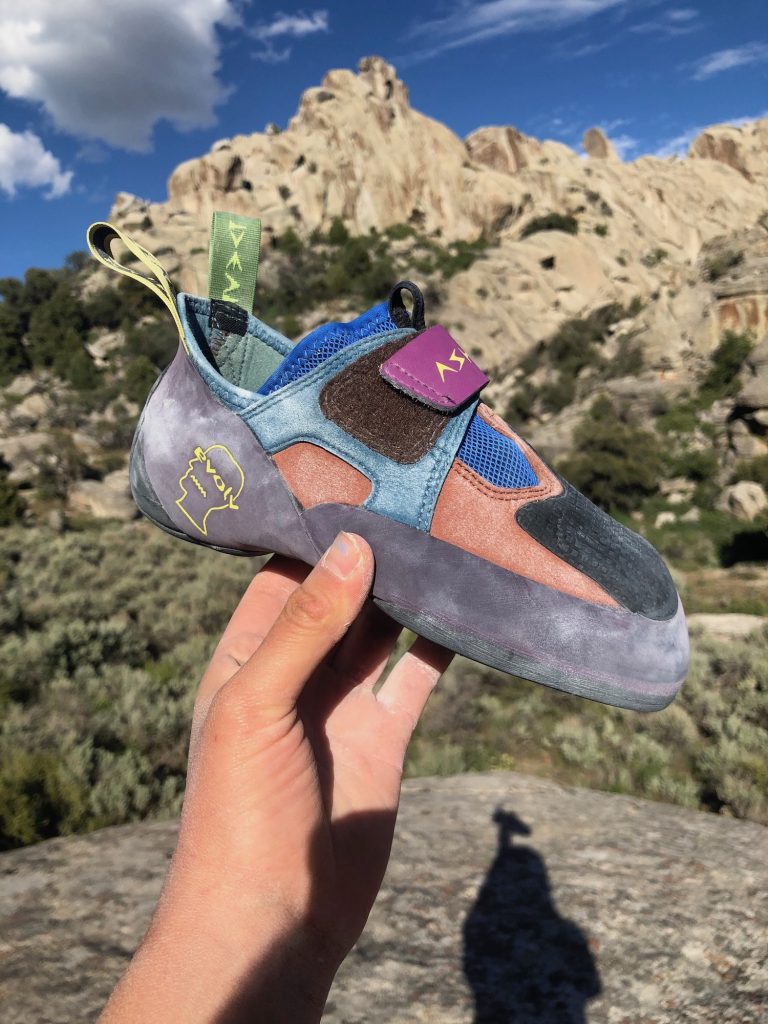 Orange County, CA, July 2020) – Evolv, the southern California modern climbing company rooted in progression and creative self-expression, today announced that it has donated $50,000 to five different DEI organizations focused on diversity in climbing after the wildly successful recent presale of its new Ashima X Brain Dead Zenist shoe.
Evolv unveiled the Ashima X Brain Dead Zenist – a collaboration with world-renowned climber Ashima Shiraishi and celebrated Los Angeles creative firm Brain Dead – in June, and customers from more than 14 different countries quickly purchased approximately 600 pairs of the new competition-level shoe. As promised before the shoe's launch, Evolv has donated all profits during the presale to five organizations working to help diversify the sport of climbing: Young Women Who Crush (YWCC), Adaptive Climbing Group, OWNYOUR Media, Brown Girls Climbing and Long Beach Rising.
"This was such a unique initiative because it wasn't just brands or affluent individuals who supported this. This was a collective effort from people within the entire climbing community," Ashima said. "The product we released was only a vessel. The community raised this money because its members wholeheartedly realized the importance of the work these organizations do to make climbing more accessible to underrepresented communities."
The launch of the Zenist traced back to an idea from Ashima and Kyle Ng, a Los Angeles-based climber, photographer and co-founder of Brain Dead, a firm that specializes in designing exclusive product lines with leading apparel companies. Ashima then took the concept of a unique collaboration to Evolv, which began work immediately on a stylish competition-level shoe that will help support the growth of climbing and access to the sport.
"Embracing and furthering all aspects of inclusivity and trying to make a positive impact in the climbing and outdoor industry has been one of our founding core values," said Brian Chung, Founder of Evolv. "We are very excited to see that the climbing community also supports the value of inclusivity and we plan to continue doing our part directly through our own initiatives and indirectly through supporting other DEI organizations like our partners."
"Thank you Evolv, Ashima and Brain Dead for taking authentic and actionable steps to support DEI in the outdoors and organizations like YWWC that empower young women of color," said Alexis Krauss, YWWC Co-Founder. "We are blown away by the scale of the support and honored to hold this space with such impactful community organizations." 
"Evolv has always stood alongside initiatives of diversity and inclusion in the sport of climbing strongly, quietly, innovatively, and consistently," said Kareemah Batts, Founder and President of the Adaptive Climbing Group. "It's no surprise they would team up with other innovators of style and sport like BrainDead and Ashima to continue this work."
"It means so much to be partnering with individuals and companies like Ashima, Braindead and Evolv, that I have looked up to for the years I've been climbing," said Grayston Leonard, founder of Long Beach Rising. "Thank you, from the bottom of my heart, for the support. It reiterates what a special community this truly is."
"Actions speak louder than words. We are proud to partner with companies that are willing to invest in our communities instead of their bottom line," said Mikhail Martin and Asia Irons, Co-Founders of OWNYOUR Media.  "It is refreshing to be seen as a partner and not just another marketing tool."
"It's a unique opportunity crossing paths with Evolv in this project," said Emily Taylor, founder and CEO of Brown Girls Climbing. "Our girls feel so honored to have the attention of a rockstar like Ashima supporting them."