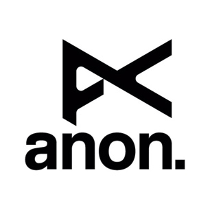 Burlington, VT, July 29, 2020 – Anon, makers of ski and snowboard helmets, goggles and accessories, has partnered with Backbone Media, the country's top active lifestyle media agency, to increase awareness for Anon as a leader in helmet safety and goggle technology in the snowsports space. Backbone will assist with public relations, communications, and marketing to further enhance the brand's reach.
For the past twenty years, Anon has brought innovation and style to the ski and snowboard market with its goggles and helmets. From some of the first helmets with integrated audio, to the standard-setting MFI (magnetic facemask integration), Anon prioritizes technology and style in all of its designs. Today the Burlington, VT-based brand works with world-class athletes such as Michelle Parker, Anna Gasser, Liu Jiayu, Eric Pollard, Ben Ferguson, Karl Fostvedt, and more, for on-snow testing and product development.
Anon will continue its advances this Fall with the launch of its Perceive lens collection and two new goggle frames. Perceive lenses will offer high contrast without dramatically altering lens tints, clarity across all snow surfaces that outperforms the and protective treatments that help prevent moisture build-up and smudges. Perceive will be available throughout Anon's goggle collection, as well as the new WM3 and best-selling M4 goggle frames.
"Backbone Media's extensive work with leading brands in the outdoor and active lifestyle space and relationships with key snowsports media made them our agency of choice to partner with for our upcoming product launches," says Mark Wakeling, Anon's Global Business Unit Director. "We have the opportunity to define ourselves as a leader in safety and innovation in the snowsports space. We will get there by educating people about the most effective ways to prevent injuries and offering the most innovative technologies to elevate everyone's on-mountain experience."
Backbone Media has more than 20 years of experience working with outdoor recreation-focused organizations and outdoor industry leaders. The team will support Anon on initiatives educating consumers about the importance of protecting the brain and the helmet and goggle technology that can help prevent injuries. The shared goal between both organizations is to provide consumers with proper safety information and cutting-edge gear to perform their best on the mountain and reduce the number of injuries each season.