Croakies, the original manufacturer of industry-leading outdoor retention products, unveils an exciting new website and interactive shopping experience through croakies.com.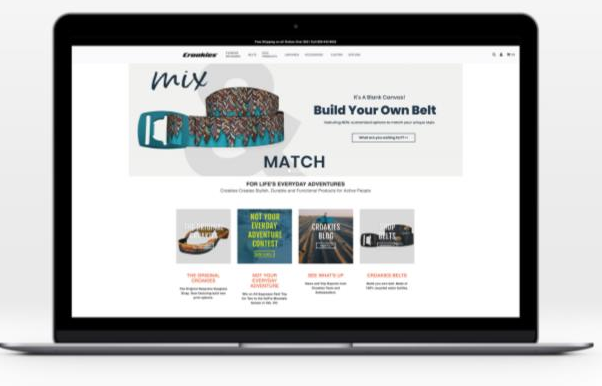 The brand's new website was developed to more optimally showcase the breadth of Croakies' industry-leading product collection, highlighting the brand's diverse array of print, color, fit, and function options. Using improved filter features and a refined site architecture, consumers can more easily navigate the brand's growing product collections and build curated product search results based on color, print, or material.
The most notable change to the site comes from the launch of the brand's interactive Build your own Belt program, giving consumers a best-in-class, personalized shopping experience, mixing and matching buckle and webbing combinations to create a belt designed to fit their individual style.
"Whether saving your shades, your keys, or keeping your dog safe while out on a run, the Croakies brand has long been delivering the best assortment of prints and colors in the industry, now we have an opportunity to truly present this to our consumers in a fun and interactive way," explains Chris McCullough, Croakies' Director of Marketing.
The unveiling of Croakies' new website is a concerted step forward for the brand in delivering to its consumers the best possible digital shopping experience, while also providing new customers and brand partners with an interactive view into the full breadth of Croakies' growing portfolio of outdoor retention products. Earlier this year, Croakies also introduced a Lifetime Warranty Policy, part of the brand's commitment to providing the best possible service to its dedicated consumer base.
About Croakies: Often imitated but never duplicated, the original Croakies were invented in 1977 by a local ski patrolman from Jackson Hole Mountain Resort in Wyoming. Today, Croakies products are still proudly designed amidst the mountains of the American West, with most of its production in Bozeman, Montana. With Yellowstone and Grand Teton National Parks as a backyard, the brand's inspiration remains unchanged: to create best-in-class retention products that inspire everyday adventure and provide comfort, style, durability, and functionality to active people of all ages. For more information about Croakies and its latest product line, please visit croakies.com or follow the brand on Instagram, Facebook, and Twitter using @croakies. Croakies is part of the Hilco Vision portfolio of brands.