Miami, FL, December 3, 2019 — An incredible back nine saw longstanding Callaway Apparel ambassador Pablo Larrazabal claim his first European Tour win since 2015 and fifth victory overall. Pablo's victory represented the second European Tour win for
Callaway Apparel in 2019.
Pablo drew strength from his idol on the back nine to overcome some errant shots and bogeys midway through the final round where he also experienced severe blisters on his feet that made walking the fairways and swinging a club a struggle.
"I woke up this morning and I didn't think I was going to play," said Larrazabal. "I couldn't put my shoe on, I couldn't walk to the buggy. I really struggled on the back nine. I said to myself 'If Tiger can win a US Open with a broken leg I can win with a blister.' I just fought hard."
Pablo wore a combination of 2019 summer and autumn polos at Leopard Creek, South Africa to keep cool and dry with temperatures soaring north of 100 degrees. Wearing his customary red polo on Sunday, Pablo completed a relentless display of 'Spanish flair' golf
over the back nine, to win by 1 shot with a birdie on the 18th hole.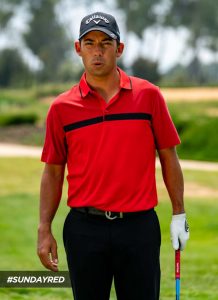 PABLO WEARS RED ON SUNDAY
Top: Swing Tech Fine Line Color Block Polo – Tango Red
Technology: Swing Tech / Opti-Dri / Stretch / UV Block / Cooling+
Pants: Lightweight Stretch Tech Pant – High Rise
in colour: 281 Silver Lining
Technology: Opti-Dri / Active Waistband / UV Block
Belt: Chev Belt – Caviar
Watch The Highlights of Pablo's Winning Round
"Performance is the heart of Callaway Apparel, incorporating game-changing innovation to authentic golf apparel," said Lupe Benitez, Vice President of Product Design for Callaway Apparel. "The 2019 collection provides exceptional variety along with the latest technologies and fabrics to keep players cool and dry-enabling them to perform their best
on the world's biggest stages."