Miami, FL, December 3, 2019 — An incredible back nine saw longstanding Callaway Apparel ambassador Pablo Larrazabal claim his first European Tour win since 2015 and fifth victory overall. Pablo's victory represented the second European Tour win for
Callaway Apparel in 2019.
Pablo drew strength from his idol on the back nine to overcome some errant shots and bogeys midway through the final round where he also experienced severe blisters on his feet that made walking the fairways and swinging a club a struggle.
"I woke up this morning and I didn't think I was going to play," said Larrazabal. "I couldn't put my shoe on, I couldn't walk to the buggy. I really struggled on the back nine. I said to myself 'If Tiger can win a US Open with a broken leg I can win with a blister.' I just fought hard."
Pablo wore a combination of 2019 summer and autumn polos at Leopard Creek, South Africa to keep cool and dry with temperatures soaring north of 100 degrees. Wearing his customary red polo on Sunday, Pablo completed a relentless display of 'Spanish flair' golf
over the back nine, to win by 1 shot with a birdie on the 18th hole.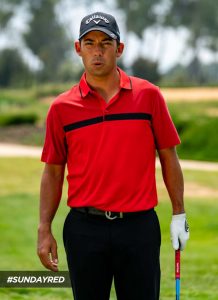 PABLO WEARS RED ON SUNDAY
Top: Swing Tech Fine Line Color Block Polo – Tango Red
Technology: Swing Tech / Opti-Dri / Stretch / UV Block / Cooling+
Pants: Lightweight Stretch Tech Pant – High Rise
in colour: 281 Silver Lining
Technology: Opti-Dri / Active Waistband / UV Block
Belt: Chev Belt – Caviar
Watch The Highlights of Pablo's Winning Round
"Performance is the heart of Callaway Apparel, incorporating game-changing innovation to authentic golf apparel," said Lupe Benitez, Vice President of Product Design for Callaway Apparel. "The 2019 collection provides exceptional variety along with the latest technologies and fabrics to keep players cool and dry-enabling them to perform their best
on the world's biggest stages."
About Callaway Apparel: Innovative. Performance-Driven. Authentic. At Callaway® Apparel, we celebrate golf's rich heritage by creating products that honor its past while defining its future. Callaway® Apparel is the ultimate combination of golf authenticity, classic styling and technically advanced construction because apparel that offers quality, performance, and functionality is as important to golfers as the equipment they use. Learn more about Callaway Apparel at callawayapparel.com and follow on Facebook, Instagram, and YouTube.
Callaway® Apparel men's and women's golf apparel is licensed and developed by Perry Ellis International, Inc., a global leader in fashion apparel.
About Perry Ellis International: Perry Ellis International, Inc. is a leading designer, distributor and licensor of a broad line of high-quality men's and women's apparel, accessories and fragrances. The company's collection of dress and casual shirts, golf sportswear, sweaters, dress pants, casual pants and shorts, jeans wear, active wear, dresses and men's and women's swimwear is available through all major levels of retail distribution. The company, through its wholly-owned subsidiaries, owns a portfolio of nationally and internationally recognized brands, including: Perry Ellis®, An Original Penguin by Munsingwear®, Laundry by Shelli Segal®, Rafaella®, Cubavera®, Ben Hogan®, Savane®, Grand Slam®, John Henry®, Manhattan®, Axist®  and Farah®. The company enhances its roster of brands by licensing trademarks from third parties, including Nike® for swimwear, and Callaway®, PGA TOUR® and Jack Nicklaus® for golf apparel. Additional information on the company is available at pery.com.
For more information, contact:
Stuart Goldstein
RG Narrative Inc.
(W) 212-863-4109
(M) 201-681-0618
Alex DePallo
Callaway Apparel
(W) 267-451-0959