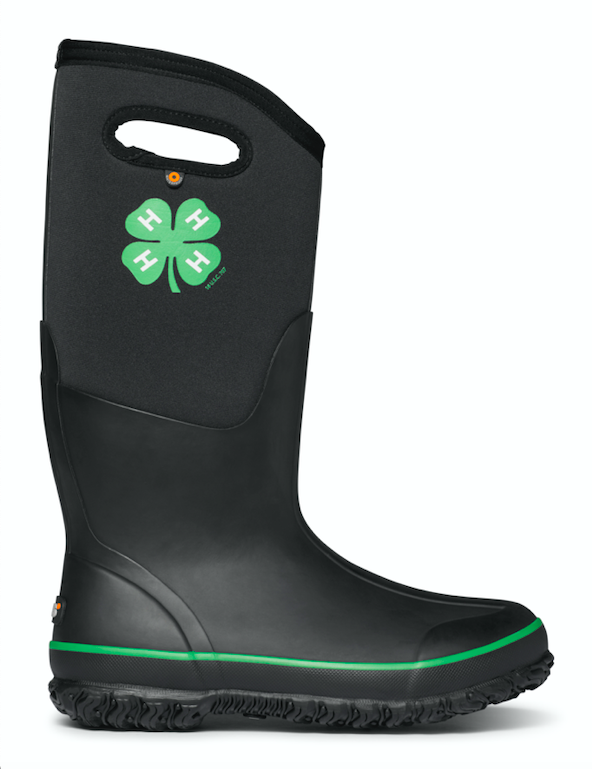 Portland, OR, June 18, 2020 – BOGS, the footwear brand known for innovative materials and original prints, proudly announces a national partnership with 4-H, the nation's largest youth development organization empowering young people across the U.S. through hands-on experiences that develop critical skills for life today and careers tomorrow. With roots in agriculture, BOGS' collaboration with 4-H is not only a natural fit, but also provides the brand and its customers the opportunity to broaden its support of outdoor education through a donation program.
"With early beginnings in rural communities throughout the country, both BOGS and 4-H take a very 'hands-on' approach to outdoor education and connecting with the next generation of leaders. The opportunity to work with such an iconic brand that's synonymous with youth development and learning, is something BOGS is extremely excited to share with our retailers and fans," explains Dustin Combs, President of BOGS Footwear.
"4-H is proud to partner with BOGS, a great leader in outdoor footwear, to help America's Cooperative Extension System deliver hands-on-learning experiences to more young people across the country," said Jennifer Sirangelo, President and CEO, National 4‑H Council. "These educational experiences go beyond simple classroom learning and help youth build confidence and skills to face life's challenges and become leaders in their lives, careers and communities."
Available July 2020, boot styles for men, woman and kids will be found on-shelves and online at retailers across the country. For each pair of the BOGS boots, featuring the well-known 4-H Clover name and emblem, $5 will go to 4-H and support programs including animal science and agriculture.                                                
About 4-H: 4‑H, the nation's largest youth development organization, grows confident young people who are empowered for life today and prepared for career tomorrow. 4‑H programs empower nearly 6 million young people across the U.S. through experiences that develop critical life skills. 4‑H is the youth development program of our nation's Cooperative Extension System and USDA, and serves every county and parish in the U.S. through a network of 110 public universities and more than 3,000 local Extension offices. The research-backed 4‑H experience grows young people who are four times more likely to contribute to their communities; two times more likely to make healthier choices; two times more likely to be civically active; and two times more likely to participate in STEM programs. Learn more at 4-H.org, find us on Facebook at Facebook.com/4-H and follow us on Twitter at Twitter.com/4H.
About BOGS°: You probably know that BOGS° are from Oregon, land of lumberjacks, trailblazers, dairy farmers, and cycling baristas with big, bushy beards. They have those beards because Oregon can be wet and cold and gloriously miserable. But with BOGS°, your feet are never miserable. Because we've devoted our lives to making boots that are lighter and more comfortable than any other boot, in any kind of weather. Then we put them through the kind of testing that you wouldn't wish on your worst enemy, if you had one. The result? Boots that are warmer, dryer, more comfortable, easier to get on and off, and more lovable than just about anything you can put on your feet. That's just who we are. We're BOGS°, and we are 100% comfortable in our own boots. We guarantee that you will be too. For more information about BOGS°, please visit www.BOGSfootwear.com, "like" us on Facebook at www.facebook.com/BOGSfootwear or follow @BOGSFootwear on Instagram.